About the President‑Elect
Dr. Deep Saini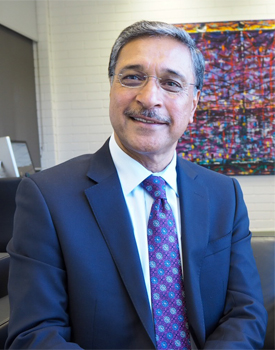 Dr. Deep Saini, who will begin his term as Dalhousie President on January 1, 2020, is an accomplished leader who combines significant Canadian post-secondary experience with a global outlook; a distinguished scientist whose belief in the transformative power of education has defined his life's journey; and a warm, genuine and inspiring individual ready to build on Dal's 200 years of achievement and chart a course towards even greater success in our third century ahead.
Born and raised in India, Dr. Saini earned his PhD in Plant Physiology from the University of Adelaide in Australia. He has worked at four different U15 universities in Canada, beginning his academic career at the University of Alberta before becoming a leading researcher in plant biology at the Université de Montréal's Plant Biology Research Institute. In 2006, he became Dean of the Faculty of Environment at the University of Waterloo, launching several new programs and increasing both operating and facilities funding during his term.
For most of the past decade, Dr. Saini has been either President or Principal of a major university campus, with transformative results. First, as a Vice-President at the University of Toronto and Principal of University of Toronto Mississauga, he led major internationalization efforts, oversaw a significant facilities expansion and increased faculty complement by nearly 100 professors. Then, as President of the University of Canberra — a young university of comparable size and international ranking to Dalhousie — he led the development and implementation of a new strategic plan which positions the school as a national leader in professional education and experiential learning, as well as in equity, diversity, inclusion and access.
Dr. Saini is multilingual, fluent in English, French and three South Asian languages. He loves listening to music and cooking and is a lifelong advocate for fitness and athletics: he played field hockey and track-and-field as a student-athlete, and is now an avid golfer and expects to be a familiar face at Dalplex. He and his wife, Rani, have two grown daughters, Preety and Kavita, and two grandchildren.
Dr. Saini has been honoured by the Canadian Society of Plant Physiologists, Nanjing University, the Sikh Foundation of Canada, the Royal Society of New South Wales, the Punjab Academy of Sciences and the Indo-Canada Chamber of Commerce. He was featured in India Abroad's "2011 Power List" and is the recipient of a Queen Elizabeth II Diamond Jubilee Medal.