Inland Region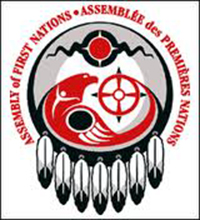 The Assembly of First Nations (AFN) is the national representative organization of the First Nations in Canada. There are over 630 First Nation's communities in Canada. The AFN Secretariat, is designed to present the views of the various First Nations through their leaders in areas such as: Aboriginal and Treaty Rights, Economic Development, Education, Languages and Literacy, Health, Housing, Social Development, Justice, Taxation, Land Claims, Environment, and a whole array of issues that are of common concern which arise from time to time.
Ms. Audrey Mayes, and Mr. Tonio Sadek are the Fish-WIKS partners from AFN

The University of Guelph is ranked as one of Canada's top comprehensive universities because of its commitment to student learning and innovative research.  It is dedicated to cultivating the essentials for quality of life – water, food, environment, animal and human health, community, commerce, culture and learning. The University community also shares a profound sense of social responsibility, an obligation to address global issues and a concern for international development.
The academic partners for Fish-WIKS at University of Guelph are Dr. Steve Crawford, Assistant Professor, Department of Integrative Biology and Dr. Jeji Varghese, Assistant Professor, College of Social and Applied Human Sciences.

The University of Toronto was founded as King's College in 1827 and has evolved into a large and complex institution. It now occupies three campuses: Scarborough and Erindale and the historic St. George campus. It has federated with three smaller universities which are on the St. George campus, and is affiliated with several colleges and institutes. There are ten fully affiliated teaching hospitals in metropolitan Toronto. Faculty conduct research in many places in Canada and around the world. The University is Canada's most important research institution and has gained an international reputation for its research. It enrols more students, employs more faculty, and offers a greater range of courses than any other Canadian university.
The academic partner for Fish-WIKS at University of Toronto is Dr. Deborah McGregor, who is now at York University in Toronto.