Dan Middlemiss

Email: dan.middlemiss@dal.ca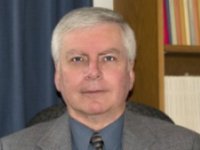 Address: Centre for the Study of Security and Development
Dalhousie University, 6299 South Street, PO Box 15000, Halifax, NS B3H 4R2

Danford W. Middlemiss, was educated at the University of Toronto (BA: 1967; MA: 1968; PhD: 1976). From 1973 to 1976 he was engaged in Canadian maritime enforcement studies with the Institute of International Relations at the University of British Columbia. From 1976 to 1981 he was Director of the Centre for Strategic Studies at the University of Alberta. Since 1981, he has been with the Department of Political Science, Dalhousie University and attained the rank of Full Professor in 1993. From 1987 to 1993, and again from 2005 to 2008 he served as the Director of the Centre for Foreign Policy Studies at Dalhousie University.  
Prior to retirement Dr. Middlemiss taught courses in international security, contemporary civil-military relations, and Canadian defence policy for nearly 40 years. He also lectured at the National Defence College, the Canadian Forces Maritime Warfare Centre, and at the Canadian Forces Command and Staff College. He has published numerous book chapters, articles, and papers on the economic and other aspects of Canadian defence policy, and on Canadian maritime policy, and is co-author with Joel Sokolsky of a textbook on Canadian defence policy entitled, Canadian Defence: Decisions and Determinants.  
He has testified on many occasions before various parliamentary committees on the maritime and other aspects of Canadian defence and security policy. He has been an external advisor to the Auditor General of Canada's Comprehensive Audits of the Department of National Defence (1991-92, 1993-94, and 1997-98). From 1993 to 1994 he was a member of the Board of Governors of the National Defence College, and was also a member of the Advisory Committee of the Cooperative Security Competition Program, Department of Foreign Affairs and International Trade. In 1995 he was appointed to the Board of Directors of the Atlantic Council of Canada. He is currently on the Editorial Board of the Canadian Naval Review.
Select Publications:
Co-author with Denis Stairs, "Is the Defence Establishment Driving Canadian Foreign Policy", in Jean Daudelin and Daniel Schwanen, editors, Canada
"Among Nations 2007: What Room for Manoeuvre" (Montreal, QC: McGill-Queen's University Press, 2008), 66-90.
"The Canadian Forces and the Doctrine of Interoperability: The Issues" (PDF) Policy Matters, vol. 3 no. 7, June 2002, with Denis Stairs