Adam MacDonald
Deputy Director, Centre for the Study of Security and Development
Email: adam.macdonald@dal.ca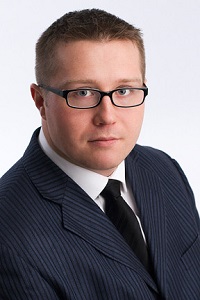 Phone: (902) 229-2669
Address: Centre for the Study of Security and Development
Dalhousie University
Halifax, NS
B3H 4H6
Canada
Adam P. MacDonald is a third year PhD student in the Political Science Department and the Deputy-Director of the Centre for the Study of Security and Development at Dalhousie University. Originally from a small town in Ontario, Adam is a former officer in the Royal Canadian Navy. He holds a B.A. in Political Science from the Royal Military College of Canada and a M.A. in Political Science from the University of Victoria. He regularly tweets at @AdamPMac
Research Interests

International Relations Theory: great power relations; power transitions and the nature of revisionism; international and regional order formation, evolution, and contestation; and nuclear weapons and deterrence
Canadian defence and foreign policy: naval acquisition and deployments; military operations, specifically in East Asia and the Arctic; and continental defence
Select Publications

"The Case for Canadian Naval Ballistic Missile Defence." Canadian Naval Review 14:3(2019): 4-9.
"Perpetual Transitions: The Institutionalization of Military Tutelage Systems in Myanmar and Thailand." Asian Affairs: An American Review 45.3-4 (2018): 139-64.
"China Looking North: Compromising Canada's Arctic Sovereignty and Security?" Canadian Military Journal 18.1 (2017): 4-15.
"China's Evolving Nuclear Forces: Changes, Rationales and Implications." Journal of Military and Strategic Studies 18.1 (2017): 116-144.
The Canadian Armed Forces and the Arctic: Maintaining a Suitable and Sustainable Role. Ottawa, ON, CA: Conference of Defence Associations Institute, 2016.
"A Canadian Naval Turn to East Asia in the Making? Interests, Expectations and Challenges." Canadian Foreign Policy Journal 20.3 (2014): 334-47
Select Conference Papers

"Asian Pressures, Arctic Implications: Canada's Freedom of Navigation Challenge" presented at the CDA Institute E3 Symposium at the Balsillie School of International Affairs on 07 May 2019.
"The Manifestation of Great Power Competition at Sea: The Rise of Exemptionalism", presented at the Past, Present, and Future of International Order Conference at the University of Copenhagen on 06 May, 2019.
"Precarious Existence or Staying the Course? The Foundations and Future of Arctic Stability", presented at the 2019 RCMI Defence and Security Studies Conference: Global Challenges to Canadian Sovereignty in the Arctic on 24 April 2019 in Toronto, Ontario.
Professional Affiliations

Nova Scotia Health Authority Research Ethics Board, 2015 – Present
Royal United Services Institute (Nova Scotia), 2016 – Present
International Studies Association, 2017 – Present
Canadian Political Science Association, 2018 – Present
Scholarships
Killam Scholarship, 2019-2022
SSHRC - Joseph-Armand Bombardier Canada Graduate Scholarship, 2019-2022