Keith Barrett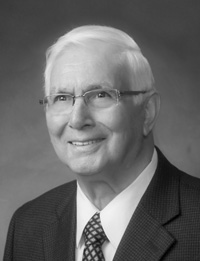 Keith Barrett's contributions to his community and the dairy industry are well recognized in Prince Edward Island. He has provided outstanding dedication to the Milking Shorthorn breed, and created a lasting legacy through his leadership.
In 1930, Keith Barrett was born in Belmont Lot 16, PEI. At the age of 20 he joined his father John on the family farm. Oceanbrae Farms bought its first Milking Shorthorn (then dual purpose Shorthorn) that same year, commencing what would become a long and remarkable career in breeding. In 1976, Keith's son Fred entered into partnership with him, and after farming together for many years assumed full responsibility for the operation upon Keith's retirement in the mid-2000s.
The quality of Keith's herd has been held in high regard for many decades. He first began showing the herd in the 1960s, taking home numerous championship honours from the Royal Agricultural Winter Fair. Keith's expertise with the breed was recognized when he was asked to judge at this show, as well as the Canadian National Exhibition. During his career, Keith aimed to elevate the Milking Shorthorn breed through responsible breeding. His reputation for breeding high-quality cows is well known, and his breeding stock and embryos have achieved international demand. The herd has been the top Breed Class Average (BCA) Milking Shorthorn herd in Canada for several years, and maintains one of the highest BCA herd averages in Atlantic Canada.
Diversification has been an important philosophy at Oceanbrae Farms. What began as 165 acres of land has grown to a 600-acre farm, including land for potato, corn, mixed grain, forage, hay, and pasture. For over 40 years the farm produced Elite Seed Potatoes, and it still maintains a small cow-calf operation.
Keith has provided leadership to numerous agricultural organizations, including serving as President of the Canadian Milking Shorthorn Society (CMSS), PEI Shorthorn Association, and Summerside Agro Coop. He was Director of PEI Milk Marketing Board (now Dairy Farmers of PEI), Chair of the PEI Crop Insurance Board, and a National Board Member for what is now known as Farm Credit Canada. Keith has been recognized for his accomplishments on several occasions, including by the Prince Edward Island Institute of Agrologists with their Award of Recognition, and the CMSS Distinguished Service Award for contributions to the breed. Keith has provided generous leadership to his local 4H group and his church. He was also the Founder and Director of PEI's first community pasture, Lot 16 Grasslands, and taught agricultural training courses in partnership with the provincial government and Holland College.
Keith is married to Sylvia and together they had six children, including John, Alice, Fred, Kelly, Rob, and Kim.
Nominated by the Dairy Farmers of Prince Edward Island for his contributions to the future success of the Milking Shorthorn breed and his leadership to agricultural organizations in rural PEI, Keith Barrett is a worthy inductee to the Atlantic Agricultural Hall of Fame.