John S. Eyking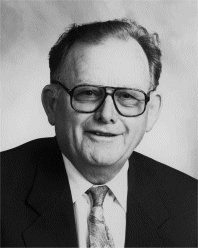 John S. Eyking was born in Beverwyk Holland. A graduate of the Land and Agricultural School, John worked with his father on the home farm and also served two years in Holland's army.
In 1953, John and Jeanne Eyking immigrated to Canada, settling in Millville, Cape Breton. John's diligence to establish his family saw him working in various jobs, all with a linkage to agriculture.
Following the establishment of Eyking Farm, John Eyking has continued a leader in the agricultural industry. He was a founding participant in forming a local co-operative, United Farmers Co-op, serving as president for ten years. The Co-op was able to bring feed costs to a minimum for farmers. John has served his community as an executive member of the local School Board, Cape Breton Federation of Agriculture, North Sydney Rotary Club, Nova Scotia Vegetable Producers' Association, Bras d'Or Farmers' Association and Nova Scotia Federation of Agriculture.
John was involved from the beginning in supply management for eggs, and with a small committee, encouraged producers to organize the Nova Scotia Egg and Pullet Producers Marketing Board. Over the past 22 years, he has held every office - chairman, vice-chairman, director, CEMA director, on the board. John also represented Nova Scotia on the Canadian Egg Marketing Agency Board of Directors in Ottawa for a period often years.
The establishment of the Eyking Farm introduced vegetable production to the Boulardarie area. Over the years, many different crops have been tried and many varieties have been successfully produced. Today over 200 acres of field vegetables are planted.
John Eyking Sr. and his wife Jeanie, along with their ten children (2 daughters and 8 sons), have built a large commercial farm enterprise which consists of 80,000 laying hens, pullet operation, 50 head of beef cattle, strawberries, approximately 200 acres of vegetables, one acre hydroponics vegetable greenhouse and a sheep farm with 150 ewes.
The Eykings credit their strength to the co-operation between family members. Grandchildren are now active in the farm enterprise.
John S. Eyking hopes that farming will stay with the family for generations to come as it has with past generations. He feels that some of his Dutch upbringing and love for the land, along with the support of his wife and children, has contributed to their overall success.
Nominated by the Nova Scotia Egg and Pullet Producers' Marketing Board, John S. Eyking is a worthy inductee into the Atlantic Agricultural Hall of Fame.