Edward F. Lorraine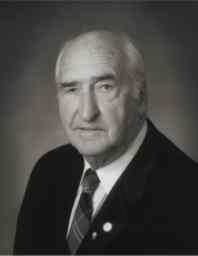 Edward F Lorraine was born on a family farm in Onslow, Colchester County. He began farming on his own in 1956 in the dairy and beef industries. While the family farm has now been passed on to the next generation, Ed still plays an active role in the family farm and in the farm community both locally and on a provincial basis.
Ed developed one of the most successful cattle operations in Atlantic Canada. Once the family farm was fully established, he began to devote more of his time to his community. Ed's quarter century of service to the rural community and agricultural community began as secretary to the Board of Trustees of the North River Elementary School. His interest in education extended to a six year term on the Colchester East Hants Amalgamated School Board. Through his leadership, opportunities for rural students were significantly enhanced.
His belief that real human problems meet government at the community level led Ed to the local government. He was elected to Colchester Council in 1972 and the Council chose him as Warden in 1973. During Ed's time as Warden, Colchester County
Council became a model for efficient and responsive decision making. That responsive decision making had a large impact on the development of rural communities not only in Colchester County but across the province through Ed's involvement in the Union of Nova Scotia Municipalities.
The next stop in Ed's political career was the provincial legislature. He was elected to the House of Assembly in 1981 and in 1997 he was sworn in as Minister of Agriculture and Marketing serving in that capacity until his retirement from politics in 1999.
By the time Ed retired he was regarded by many as one of the most popular and effective Ministers of Agriculture in the Province's history. He never let economic realism interfere with his concern for farmers and their industry. No problem was too small to get his attention and when farmers were in difficulty, whether it was in Yarmouth or Cape Breton, he was there to work through the issues with them.
Ed and his wife Shirley raised their five children on their farm in Onslow. During his political career Ed still found time for his farm and the industry. He was a pioneer in the development of the Murray Grey breed in Canada, importing some of the first Murray Grey breeding stock into Canada. Ed was instrumental in the establishment of the 'feeder sale' that provides cattlemen with a place to market their calves. His commitment to developing this market for Nova Scotia cattle extended to signing a personal note to raise the capital needed to get the sale going.
Nominated by the Nova Scotia Federation of Agriculture for almost half a century devoted service to farmers and rural Nova Scotians, it is fitting that Edward F. Lorraine be inducted into the Agricultural Hall of Fame.