Albert Earl Ings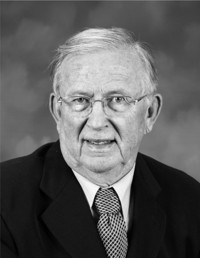 Bud Ings grew up on a farm in Mt. Herbert, PEI. He worked tirelessly milking cows, tending to sheep, chickens, horses and pigs and working in the family's grist mill. In the late 1940's Bud made the trip to Guelph to pursue his interests in veterinary medicine, graduating from the Ontario Veterinary College in 1952.
Bud, his wife Connie and their eldest daughter returned to PEI where he began his practice in Souris. He worked in a time when drugs were minimal, as was the pay. He was the only practicing veterinarian in King's county and as such had to be available 24-7 without time off or holidays. In his Volkswagen Bug, he trudged through the red island clay roads in all weather conditions to treat animals of all shapes and sizes. The dedication he had to the profession and the work ethic required of him in that time is unparalleled today. He is PEI's very own James Herriot.
Bud and his family moved to Montague and established a practice in the basement of their home. In the late 1960s he established the Montague Veterinary Clinic.
Entering politics, Bud was elected as an MLA in 1970. He was appointed Minister of Agriculture in 1974 and Minister of Health in 1978. When the government fell in 1980, he returned to practice and established the Brudenell Animal Hospital, retiring in the early 1990s after mentoring countless young veterinarians and supplying superior vet service to the residents of King's county.
Bud served on the committee which, after a hard battle, brought the Atlantic Veterinary College to PEI. For his key role in this endeavour, he received the Honourable Eugene F. Whelan Green Hat Award, the highest honour bestowed by AVC.
In addition to practicing veterinary medicine, Bud has been and continues to be a pillar in his community. He served on town council in the 1960s, has been an active member of the Rotary Club in Montague since the 1980s, is an exceptional fiddle player with a life membership in the Queen's County Fiddlers and has been actively involved with the Hillcrest United Church. He is a gifted photographer and always has his camera with him.
A writer, Bud published his first book "Mud, Sweat and Tears" which recounts his adventures as a country vet. All proceeds from the book sales have been donated to the PEI Humane Society. His philosophy is that he "made a living off of four legged critters his whole life and it is time to give something back". In appreciation of his generous donation, the Humane Society has renamed their "getting acquainted room" the "Dr. Bud Ings Room".
Bud and his wife Connie, raised three daughters, Jeanne, Joanne and Jayne.
Nominated by the PEI Federation of Agriculture for being a respected leader in the province and a founder of veterinary medicine as we know it in Prince Edward Island, Albert Earl (Bud) Ings is indeed a worthy inductee into the Atlantic Agricultural Hall of Fame.