Social Responses to the 'Big Lift'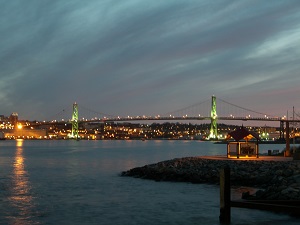 The Angus L. Macdonald Bridge. Sprocket at the English language Wikipedia [GFDL (http://www.gnu.org/copyleft/fdl.html)
Panel discussion
Date
Wednesday, June 1, 2016
Time
11 am – 12:30 pm
Location
Paul O'Regan Hall, Halifax Central Library
5440 Spring Garden Road, Halifax NS B3J 1E9
Free and open to the public
Hosted jointly by the MacEachen Institute for Public Policy and Governance and the School of Public Administration at Dalhousie University.
The panel will feature research from a team of local and international scholars about the impact of bridge closures to traffic flow, the public's and media's use of social media in response to the re-decking, and the results of two large surveys of public attitudes towards the bridge re-decking.
Speakers:
Calvin Burns, Business School, University of Strathclyde
Anatoliy Gruzd, Ted Rogers School of Management and The Social Media Lab, Ryerson University
Ahsan Habib, School of Planning and Dalhousie Transportation Collaboratory (DalTRAC), Dalhousie University
Kevin Quigley, MacEachen Institute for Public Policy and Governance, Dalhousie University
Contact us for further information.
Background
Up to 48,000 vehicles, 700 cyclists and 750 pedestrians cross Halifax's Macdonald Bridge every day.  In March 2015, Halifax Harbour Bridges (HHB) began an 18-month, $150-million project to re-deck the suspended spans of the Macdonald Bridge. This significant technical achievement has been dubbed The Big Lift, and is only the second time in history the suspended spans of a bridge have been replaced at night and in use during the day. The Social Sciences and Humanities Research Council (SSHRC) has provided support to this team of scholars to study different community aspects of the project.  The panel will report some of its findings to date.