Dr. Emmanuel Yiridoe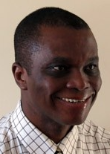 Professor and Associate Dean Academic
Email: emmanuel.yiridoe@dal.ca
Phone: (902) 893.6699
Mailing Address:
Department of Business & Social Sciences
Agricultural Campus
PO Box 550
Truro, NS, B2N 5E3
 
Research Topics:

Agricultural production economics
Resource and environmental economics
Agribusiness and farm management
Economics of renewable energy systems
Eduation 
B.Sc.(Honours) Agriculture U.S.T., Ghana
M.Sc. (Agricultural Economics), Guelph
Ph.D. (Agricultural Economics), Guelph
Teaching


Undergraduate Courses

ECOA2000: Intermediate Microeconomics

ECOA0202: Production Economics

ECOA3003: Mathematical Programming
SPEC4005: Special Topics In Agricultural Economics and Business

RESM4005: Research Methods for Economics and Business

Graduate Courses

SPEC5XXX: Production Economics

AGRI5705: Mathematical Programming for Applied Economic Analysis
Professional Affiliations
Research Interests
Agricultural Production Economics
Agribusiness and Farm Management
Natural Resource and Environmental Economics
Publications
·         Mudasser, M., E.K. Yiridoe, and K. Corscadden. 2015. Cost-benefit Analysis of Grid-Connected Wind-Biogas Hybrid Energy Production, by Turbine Capacity and Site Renewable Energy. Renewable Energy. 80: 573-582.
·         Yiridoe, E.K., Q. Chen, R. Fry, D. Lynch, and G. Price. 2015. Cost Analysis and Lifecycle Environmental Impacts of three Value-Added Novel Bioproducts: Processing and Production.  Natural Resources Research. 24(1):  65-84.
·         D'Souza, C. and E.K. Yiridoe. 2014. Social Acceptance of Wind Energy Development and Planning in Rural Communities of Australia. Energy Policy. 74: 262-270.

·         Mudasser, M., E.K. Yiridoe, and K. Corscadden. 2013.  Economic Feasibility of Large Community Feed-in Tariff-Eligible Wind Energy Production in Nova Scotia. Energy Policy. 62: 966-977.