News & Events
September 5th, 2018 – Comedy Night Fundraiser

Sustainable Oceans 2018 is hosting a comedy night fundraiser! On Thursday, September 13th join us at Yuk Yuk's Halifax Comedy Club (1181 Hollis Street) for a night of fun with ocean enthusiasts. The line-up of comedians include Robert Barr (headliner), Ryan Dillon (co-feature) and Steve Mackie (opening act). Show starts at 8:00pm. Tickets are $15 with proceeds going towards supporting the student-led Sustainable Oceans Conference. Please email oceansconf@dal.ca if you would like to purchase tickets for this event.
June 1st, 2018 - Oceans Week

June 1 to 10 is Oceans Week Halifax! Stemming from the increased desire for more events to celebrate World Oceans Day on June 8th, the Halifax community now participates in a full week of fun, free events, aimed at promoting ocean awareness.
This year, Sustainable Oceans will be at 5 different events throughout the week to chat about the conference, play ocean trivia, and sell tickets to an amazing ocean-themed raffle basket to fund raise for the conference!
Come join us on:
June 2 at the Halifax Seaport Farmers Market from 8am-3pm

June 3 at the Steele Ocean Sciences Building for Doors Open Halifax from 10am-4pm

June 7 at Ocean Tracking Network's free screening of Bluefin at the Halifax Public Library from 6-8pm

June 8 at the Maritime Museum of the Atlantic for the Ocean and You event from 10am-3pm

June 10 where Sustainable Oceans is hosting an Urban Beach day from 11am-3pm at Black Rock Beach in Point Pleasant Park. Visit our facebook event for more information and to RSVP!
Raffle basket tickets are being sold for 1 for $5 or 3 for $10, with all proceeds going back to the conference! The basket is valued at over $300 dollars and contains reusable items such as a water bottle, coffee mug, coffee sleeve and tote bags, as well as beach treasures such as a sand picture frame and sea glass necklace! Thank you to our amazing partners: Anchored Coffee, East Coast Beach Sand, Miss Foxine Couture, Making Waves Creations, East Coast Lifestyle, Jane Whitten, 4Ocean, and the Tare Shop for making this raffle possible! The draw for the basket will take place on June 10 after Urban Beach Day wraps up!
Can't make it to our events but still want to purchase tickets to the raffle basket? Send us an email at oceansconf@dal.ca to arrange purchase!
We can't wait to connect with you during Oceans Week!
April 28, 2018 - Photography Contest!

H2O: Inspiring Happy & Healthy Oceans Photography Contest
 
The 2018 Sustainable Oceans Conference is calling all photographers to channel their inner National Geographic and submit marine-related photos to the conference's photography contest. We ask that the photo exemplifies one of the three conference sub-themes:
Connection – exploring personal and spiritual connections with the marine environment
Innovation – new and inventive approaches to addressing complex ocean issues
Optimism – recognizing the positive strides and solutions to improve the health of our oceans
The top four photos from each theme will be selected to be displayed at the conference, based on fulfillment of the subthemes and image quality. Prizes will be awarded to the 1st and 2nd place winners, of $50 and $25 respectively, determined by a people's choice vote throughout the weekend. The winners will be announced at the conference on Sunday, September 23rd, where your attendance is required to win. We ask that your image be 11' x 14', water marked with your name, and given a unique title. So get out your camera, head to the ocean, and snap that winning picture!
Submission Deadline: August 31st, 2018
Questions? Email: oceansconf@dal.ca
April 19th, 2018 - Abstract Selection
Today, our submissions committee sat down and deliberated over the incredible abstracts we received to participate in the 2018 Sustainable Oceans conference! We received over 30 exceptional submissions for our oral and poster presentation spots. Over the next few weeks we will be confirming the attendance of all the presenters. Once all oral and posters are confirmed we will announce the names and topics of each presentation, and have them available on the program page. So keep an eye out for those updates - it's sure to be an amazing conference!
April 16th, 2018 - Goodwill Bot


Today we hosted our first fundraising event to support our student-led initiative! Every Monday, Good Robot Brewing Company hosts #goodwillbot, where one dollar from all beer sales goes to support a non-profit organization. The Sustainable Oceans crew was at Good Robot today from 5-9pm with Ocean Trivia , interacting with all the amazing people who came out to support us. It was a successful night, raising over $280 for the conference! Thank you to all our supporters who continue to come to these events so that we can continue to ensure the best possible conference in September!

March 22nd, 2018 - Call for Abstracts Extended!

The Sustainable Oceans conference is proud to support and showcase student research and initiatives. As such, we are now accepting submissions to our call for abstracts from undergraduate, master's or PhD students. The conference is seeking a total of nine oral presentations (three per sub-theme) and up to 24 poster displays (up to eight per sub-theme). Prizes will be award to the overall top speakers and poster presentations, as well as the best speaker will have their research published in the Marine Affairs Technical Series Report. A $30 stipend will be provided for the poster presentations.
To submit, interested participants are asked to submit an abstract (250 words) detailing their research, the actual or anticipated results, as well as the major take-home messages. Please submit your abstract through our online form.
The current deadline to submit is April 15th, 2018. Applicants will be notified of our decisions in April 2018. Please contact us if you have any further questions.
March 1st, 2018 - Registration is open!

Registration for the 2018 Sustainable Oceans Conference is now open! Please register online for the days you will be attending the conference, as well as for the Saturday evening reception. The first 100 people to register will be given a special early bird gift on the day of the conference! We hope to see you there!
February 28th, 2018 - Monthly Bake Sales going strong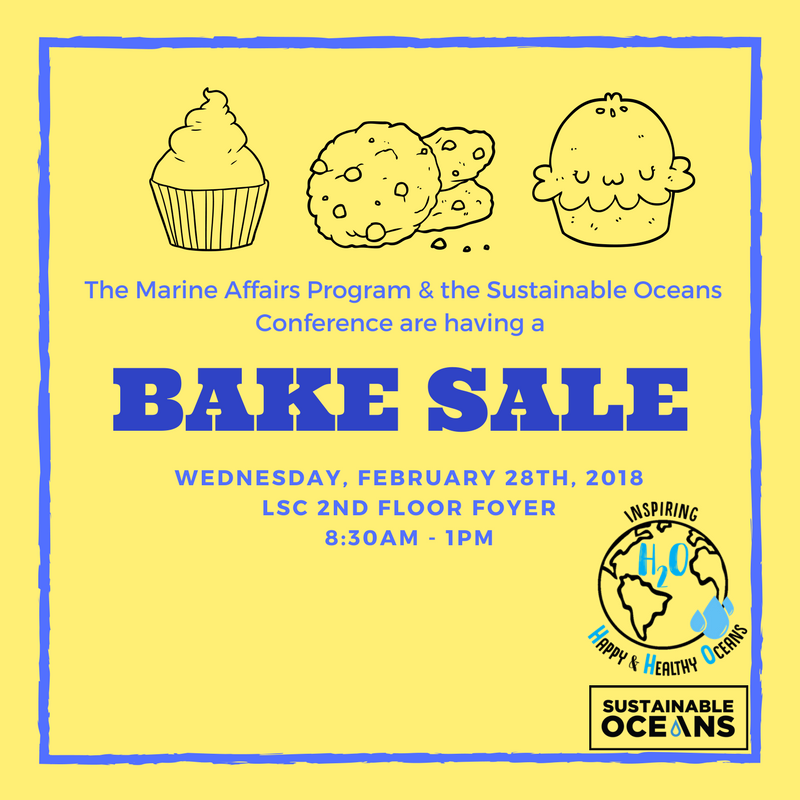 This year, the Sustainable Oceans Conference has many exciting fundraising events planned to help support the conference's efforts and raise ocean optimism awareness. One of these events includes our monthly bake sales, where all items are purchased by donation and funds directly support the conference's initiatives to deliver an engaging and informative event. If you looking to support your sweet tooth and ocean sciences, keep an eye out for our bake sale announcements through our social media pages for the dates and locations!