News & Events
March 5th, 2018 - Call for Abstracts


The Sustainable Oceans conference is proud to support and showcase student research and initiatives. As such, we are now accepting submissions to our call for abstracts from undergraduate, master's or PhD students. The conference is seeking a total of nine oral presentations (three per sub-theme) and up to 24 poster displays (up to eight per sub-theme). Prizes will be award to the overall top speakers and poster presentations, as well as the best speaker will have their research published in the Marine Affairs Technical Series Report. A $30 stipend will be provided for the poster presentations.
To submit, interested participants are asked to submit an abstract (250 words) detailing their research, the actual or anticipated results, as well as the major take-home messages. Please submit your abstract through our online form.
The current deadline to submit is March 21st, 2018. Applicants will be notified of our decisions in April 2018. Please contact us if you have any further questions.
March 1st, 2018 - Registration is open!

Registration for the 2018 Sustainable Oceans Conference is now open! Please register online for the days you will be attending the conference, as well as for the Saturday evening reception. The first 100 people to register will be given a special early bird gift on the day of the conference! We hope to see you there!
February 28th, 2018 - Monthly Bake Sales going strong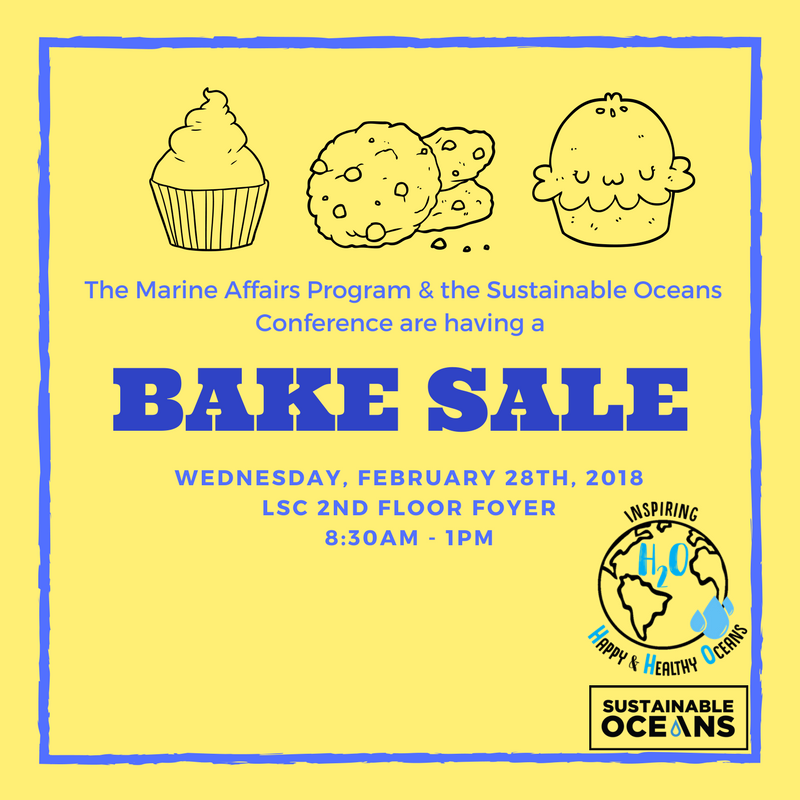 This year, the Sustainable Oceans Conference has many exciting fundraising events planned to help support the conference's efforts and raise ocean optimism awareness. One of these events includes our monthly bake sales, where all items are purchased by donation and funds directly support the conference's initiatives to deliver an engaging and informative event. If you looking to support your sweet tooth and ocean sciences, keep an eye out for our bake sale announcements through our social media pages for the dates and locations!