Events, By Category and Date:
»
Go to news main
Françoise Baylis Wants to Help You Understand Genome Editing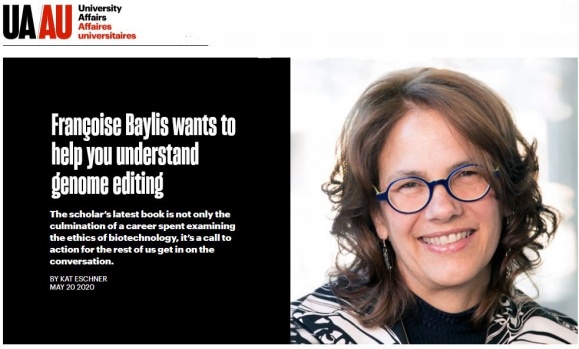 Eschner, K. (20 May 2020). Françoise Baylis want to help you understand genome editing. University Affairs / Affaires universitaires.
When Françoise Baylis got her start in academia, genome editing was still in the future. Today, Dr. Baylis is a leading scholar in the ethics of the biotech revolution. After nearly three decades of working with academics, medical professionals and policy-makers, the philosopher has turned her attention to explaining the genome-editing revolution to a general audience – a shift that's come with some reflection on the career that's gotten her to this point.
Dr. Baylis's recent book, Altered Inheritance: CRISPR and the Ethics of Human Genome Editing, is an effort to demystify the science and ethics of this world-changing technology and bring a conversation about genome editing from academia to where she says it belongs: in the public sphere. Read more ...