NTE Events Archive
»
Go to news main
How Do We Make Health Care Accessible For All?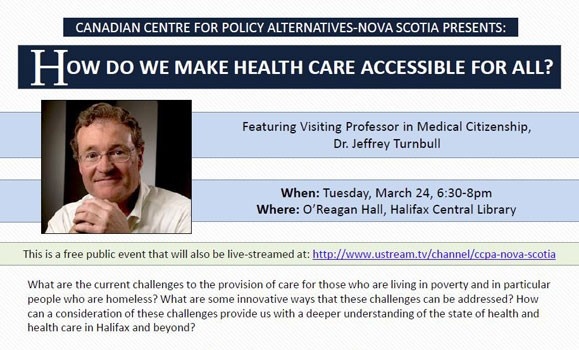 NTE Impact Ethics together with the Canadian Centre for Policy Alternatives-Nova Scotia presents a keynote address and an interactive panel discussion with Jeffrey Turnbull, Visiting Professor in Medical Citizenship.
On March 24, 2015, from 6:30 - 8:00 pm
Keynote: Addressing the Health Needs of People who are Homeless
Interactive Panel: Poverty, Health and Homelessness in Halifax
This event is part of the Dalhousie School of Medicine's Visiting Professorship in Medical Citizenship. It has been organized with the following partners: Adsum for Women & Children, Canadian Doctors for Medicare, Halifax Central Library, Mi'kmaw Native Friendship Centre, North End Community Health Centre, Nova Scotia Citizens Health Network, and NTE: Impact Ethics.