Ethical Leadership Award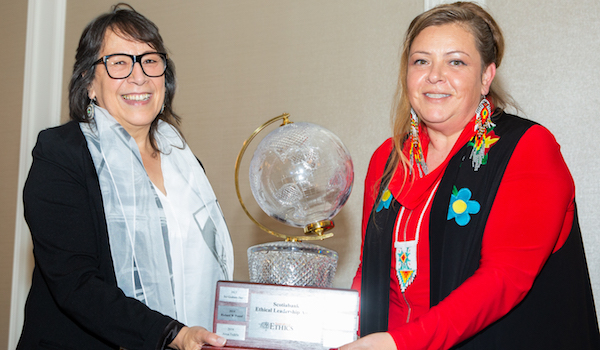 Christa Big Canoe (pictured above with faculty member Sherry Pictou) was presented with the 2022 Scotiabank Ethical Leadership Award on November 5, 2022.
2022 Recipient: Christa Big Canoe

Ms. Big Canoe is an Anishinabek lawyer and mother who advocates on behalf of First Nations women and children. She is a member of Georgina Island First Nation and currently the legal director at Aboriginal Legal Services in Toronto.  
Ms. Big Canoe was lead commission counsel to the National Inquiry into Missing and Murdered Indigenous Women and Girls. She's led an Aboriginal Justice Strategy aimed at removing the barriers to accessing the justice system for First Nations, Inuit and Metis people. And she represented the families of students whose deaths are the subject of an inquest in Thunder Bay. 
 
Named one of Canada's most influential lawyers in 2017, she has dedicated herself to being an advocate for justice and rights, and a changemaker who maintains the highest of ethical standards. We are honoured she will accept this award.  
The Scotiabank Ethical Leadership Award recognizes ethical leaders who, through their actions and decisions, have demonstrated character, courage and adherence to ethical principles. Leaders from any sector—public, private or not-for-profit—are eligible to be nominated. The winners will serve as an inspiration to other practitioners and to today's students.
Download the Ethical Leadership Award Rules and Regulations [PDF - 75 kB]