Case Competition
Fall 2020
Dates for the Fall 2020 Ethics in Action case competition will be announced in Summer 2020.
 
2019 Winners
Undergraduate Case Competition:
1st: Concordia University
2nd: Acadia university
3rd: St. Francis Xavier University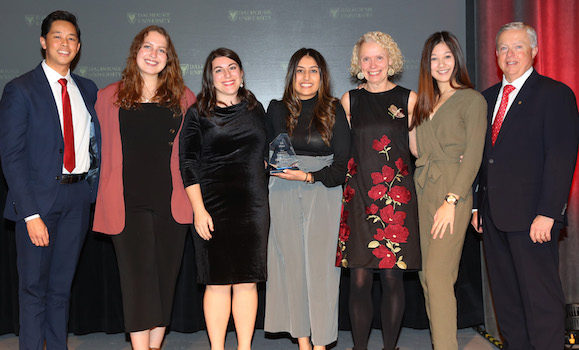 Graduate Case Competition:

1st: McGill University
2nd: University of Manitoba 
3rd: McMaster University



2019 Case Competition Details
Early bird travel subsidy: Register by October 7, 11:59 pm, ADT
The first 10 non-local teams to register by the early bird deadline of October 7 will receive a $2500 subsidy toward eligible travel expenses. The subsidy includes approx. $1500 for three rooms for three nights only at the Lord Nelson Hotel in Halifax (two double occupancy rooms for team members and one single occupancy room for a coach). The remainder of the $2500 can be applied to non-accommodation travel expenses eligible under the Dalhousie Travel Policy and Procedures. Individual participants will be required to submit a Travel Expense Claim Form in order to receive reimbursement of travel expenses. This additional funding should not be claimed if the team is already receiving travel funding from their home institution.
Teams and eligibility
The Dalhousie Ethics in Action case competition is based on written case studies and has two distinct streams: one for undergraduate students and one for graduate students. All teams will be given the opportunity to present both a prepared and a live case. Teams will be made up of four students.
**Please note: Registration in the case competition is limited to one team per program per stream (example: a school may enter a BBA team, a BComm team and an MBA team). Teams will be accepted on a first come, first served basis.**
Cases
Prepared cases will be released 10 days prior to the competition, on November 12. Presentations begin the morning of Friday November 22.  
Unprepared cases begin the morning of Saturday, November 23. Each team is given a three-hour isolation period to respond to a fictional ethical dilemma.
Undergraduate teams enter isolation at twenty-minute intervals and are given twelve minutes to present, followed by a three-minute question period.

Graduate teams enter isolation at thirty-minute intervals and are given fifteen minutes to present, followed by a five-minute question period.
Cash Prizes
The top undergraduate and graduate teams will receive:
First place: $2000
Second place: $1500
Third place: $1000
Events
Meet and Greet Networking Event
An opportunity to connect with competitors across Canada.
Date: November 22
Time: 5:00-6:30 pm
Dress: Casual   
Gala and Awards Presentation     
The event will conclude with the Ethics in Action Gala where we will announce the winners of the case competition and present the Ethical Leadership Award to the Hon. Louise Arbour, CC, GOQ.                                                                                                                                  
Schedule
 

Thursday, November 21, 2019

Friday, November 22, 2019

Saturday, November 23, 2019         


Morning & Afternoon

 
Prepared Case Presentations
Unprepared Case Presentations

Evening 

Teams Arrive
Hotel Check-in

Meet & Greet Networking Event
Ethics in Action Gala and Awards Presentation