Case Competition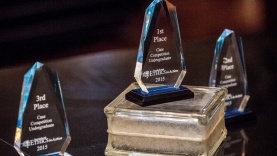 We challenge students with complex ethical dilemmas they are likely to face in today's corporate world. Dates for the 2020 case competition will be announced in the summer.

Ethics in Action Gala
Each year, students, alumni and community celebrate the Case Competition winners and the Ethical Leadership Award recipient at the Ethics in Action Gala.

What We Believe
In addition to holding strong ethical values, leaders must focus the attention of their organization on being ethically responsible. In addition, they must infuse the organization with ethical principles to guide the actions of employees through:
consistent, visible actions that serve as models for others
open and honest communication

the provision of specific guidelines regarding what constitutes ethical conduct
the design of systems to support and hold employees accountable for ethical behaviour