From Coutts to Kyiv: Shifts in World Order
As part of the series of events commemorating the life and work of Canadian ambassador Glyn Berry, the Department of Political Science and the Centre for the Study of Security and Development will be hosting a lecture by guest speaker Dr. Andy Knight.

W. Andy Knight connects the dots between the local (the recent truckers' protests in Canada) and the global (Russia's illegal invasion of Ukraine) in this lecture about our current period of flux, uncertainty, disorder and violence. He argues that throughout history there have been periods similar to this one that signal a transitional moment from one world order to another. He calls this moment an "interregnum" — a moment of challenge to the existing structure of the post-1945 world order.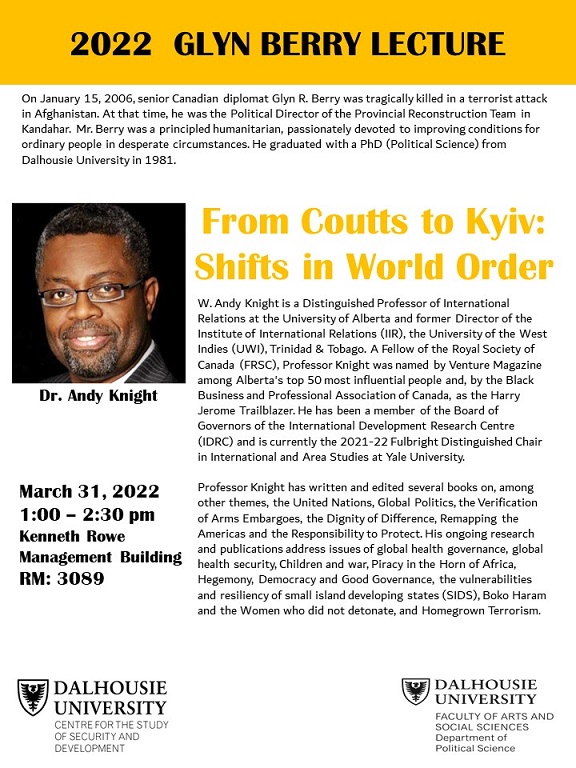 Time
Starts:
Ends:
Location
March 31, 2022
1:00 – 2:30 pm
Kenneth Rowe Management Building
RM: 3089
Cost
Free and open to the public.
Additional Information
To join the lecture remotely:

Join Zoom Meeting
https://us02web.zoom.us/j/83049193676?pwd=YjlFUHUwZk02SUdVb0hLbTZJeEFJdz09

Meeting ID: 830 4919 3676
Passcode: 878729


Contact
For more information, please contact:
Mary Okwese
Administrative Secretary
Centre for the Study of Security and Development (CSSD)
T: 902.494.3769 | centre@dal.ca
www.dal.ca/cssd
From Coutts to Kyiv: Shifts in World Order