A NEW BEGINNING WITH PRESIDENT BIDEN: EUROPEAN PRIORITIES FOR THE TRANSATLANTIC AGENDA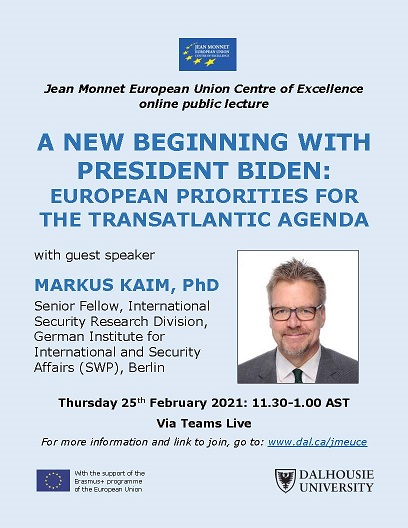 Time
Starts:
Ends:
Location
Link to join this Teams Live Event:
https://teams.microsoft.com/l/meetup-join/19%3ameeting_ZDVjZDJjNmMtMjFiNC00NTg1LTk1YzItOTBkOTY4ZTMxOGMw%40thread.v2/0?context=%7b%22Tid%22%3a%2260b81999-0b7f-412d-92a3-e17d8ae9e3e0%22%2c%22Oid%22%3a%2223e0f68a-30bc-4548-a0f0-3f1952caa496%22%2c%22IsBroadcastMeeting%22%3atrue%7d
Cost
All welcome for the presentation and subsequent question period via Q&A chat box.
Additional Information
BIO:
Dr Markus Kaim is a Senior Fellow in the International Security Research Division at the German Institute for International and Security Affairs (SWP). He was a Helmut Schmidt Fellow at the German Marshall Fund of the United States in Washington until July 2020. He has taught as a Visiting Scholar at the Institute of European, Russian, and Eurasian Studies at Carleton University, Ottawa, as a DAAD Professor for German and European Studies at the University of Toronto, and as an Adjunct Professor of Foreign Policy and International Relations at the University of Konstanz. He is an adjunct professor at the University of Zurich, at the Hertie School of Governance, Berlin, and at Bucerius Law School, Hamburg.
Contact
For further information: jmeuce@dal.ca.
A NEW BEGINNING WITH PRESIDENT BIDEN: EUROPEAN PRIORITIES FOR THE TRANSATLANTIC AGENDA