Today@Dal
»
Go to news main
Shout‑Out summary
Posted by
Communications, Marketing and Creative Services + Human Resources
on June 18, 2021 in
Community Highlights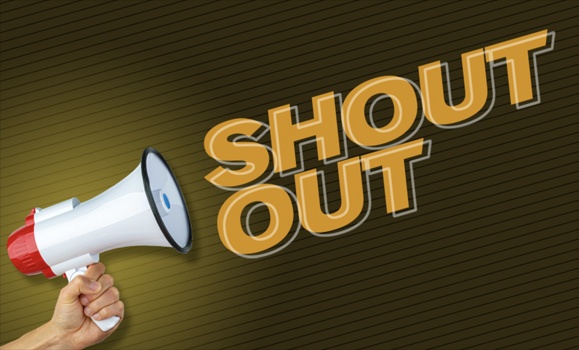 Shout-Out is a new peer-to-peer recognition program that allows you to informally give a shout-out to someone in your faculty, department or unit, or in the broader Dal community, who has helped you or your team in some way — big or small, during the past year.
Each day in Today@Dal for the next couple of weeks we'll be featuring just some of the many shout-outs submittted. It will take us some time to feature them all, so make sure to visit the Shout-Out site in myDal for all of the latest kudos and thanks!
Submit your own "shout-out" on myDal.
--
Jason Stephanian   Law
Jason took on the role of VP Academic at the LSS, and supported the upper year students through course registration. His hard work and willingness to answer questions is very appreciated!
Serena Feeney
Stephanie Bernier   Faculty of Computer Science
I really appreciate Stephanie for her help on getting me involved and engaged in the faculty and university's activities, meetings, and information about teaching. I felt I was involved and welcomed to the faculty because of her ongoing support and help.
Lu Yang
Tiffany MacDonald   Faculty of Open Learning and Career Development
Tiffany has been the kindest and most dedicated colleague I have ever had the privilege to work with, despite so many obstacles and challenges she always raises her game and supports and encourages me to do the same. Tiffany is a huge advocate for change at Dalhousie and is working hard to bring new opportunities to our learners.
Keiron Lock-Lawton
Sarah O'Brien   Student Development
Thanks for helping all the students finding their co-op jobs in the pandemic, especially students who never had work experience before.
Nhi Ly
Benjie Nycum   Faculty of Architecture and Planning, School of Architecture
Benjie is an immeasurable asset to the Faculty of Architecture and Planning and the School of Architecture, as well as the Dalhousie community at large and our region. With exceptional vision and openness/hunger to change, he is actively supporting the challenging work of decolonialization here at Dal. He isn't afraid of discomfort--he somehow manages to encourage everyone to come to the table ready to share and discuss challenging ideas and concepts. He is also very supportive of team members and goes the extra mile to ensure those he works with feel heard and valued. Beyond this, the work he does for the community--particularly in healthcare architecture as reflected in the impacts of Covid-19--have put a spotlight on the societal changes required for the vision of true equity to emerge. We are very, very lucky to have him at Dal.
Tiffany MacDonald
Laurie Creelman   Human Resources
Several months prior to my recent retirement, my mother became ill and subsequently passed away. With everything that was happening in my personal life, I was late completing the paper work required to set up my pension etc. Laurie was so kind and helpful in her gentle but very knowledgeable manner. She was the perfect person to provide guidance for me at such a stressful time. I cannot thank her enough for helping me to get everything on track for my retirement.
Shelagh Wolfe
Kim Hebert   School of Nursing, Faculty of Health
Kim has provided excellent leadership throughout the past year in her managing role as Coordinator of the Clinical Learning and Simulation Centre at the School of Nursing. Kim has been an integral member of the Faculty of Health Face to Face group. This group has been instrumental in navigating the safe return to campus for students in the Faculty of Health during this past year.
Carol Ritchie
Drew Affleck   Fauclty of Open Learning and Career Development
Drew was very responsive throughout my employment process with Dal. He kept me up to date and informed. Knowing my personal situation, he always reached out to make sure I was ok and not alone. He is a kind and compassionate colleague, thank you Drew!
Keiron Lock-Lawton
James Robar   Medical Physics
Congratulations! You are such a well-deserving recipient of the Governor General's Innovation Award! Your contributions to students, research and the health outcomes of those you treat is consistently inspirational!
Angela Siegel
Nick Pearce and Brenna MacNeil
Our first major project within the pandemic was a Faculty of Agriculture cookbook. Brenna worked remotely from Cape Breton on the design and joined us virtually and Nick's photography was second-to-none. Our cookbook went on to win a Bronze medal within CCAE. Couldn't have done it without these two.
Stephanie Rogers
Angela Pitman   Dentistry
Angela is our personal computer "hotline" savior! She is there for every dental program issue we have here at Dal Dentistry, gets the right answer faster than fast, and teaches you how to avoid the issue in the future! A TRUE HERO!
Donna Dickie
Roger McLeod   Faculty of Medicine, Associate Dean for Research
Happy Retirement Roger. Thanks for all you have done for Faculty of Medicine in your role of ADR over the past four years, particularly great work during COVID. All the best!
David Anderson
All the staff at FGS   Graduate Studies
A huge shout-out to the fabulous staff at FGS, who have kept all the balls in the air through this amazing year. I am so proud of you and grateful for all you do for our graduate studies community.
Marty Leonard
Tom Duck   Physics
I worked with Dr. Tom Duck managing the online CAPA exams for around 500+ first year Physics students. I was also working with many other professors at the time and noticed that Dr. Duck went above and beyond to create exams which were the most difficult to cheat on during COVID. We spent around 1.5 years developing a whole new testing system that would better maintain the integrity of our online exams and limited cheating through a whole subset of improvements. This was implemented and used very successfully last year.
Tolson Winters
Richard Devlin   Law
Richard stepped into the acting Dean's role at a time of great upheaval. From online teaching to student engagement to new faculty hires, Richard managed to guide the law school to great accomplishments despite the significant challenges of the past year.
Michael Deturbide
Robin Beaton and Chloe Westlake   President's Office
Chloe and Robin are wonderful colleagues who work tirelessly to ensure that the President's Office runs smoothly and efficiently. Despite the tumult of the pandemic, they went above and beyond to welcome me into the office last year and to ensure that our team didn't miss a beat. Thank you for all that you do!
Laura Hynes Jenkins
Paul Coffin   Residence Life - AC
Congratulations leading the entire ResLife team on the AC to a successful past year. Your work and thinking outside the box for solutions is much appreciated. Thank you!
Caitlyn Hutchison
Kelly Bronson   Faculty of Health School of Nursing
While working virtually, Kelly has taken on tasks and projects that were not necessarily within the roles and responsibilities of Receptionist. She has always made herself readily available, and willing to assist faculty, her colleagues and students with much enthusiasm and producing excellent outcomes. She has provided assistance to a level that has been beyond admirable.
Coleen Van Loggerenberg
Gianfranco Mazzanti   Process Engineering and Applied Science
Gianfranco and I were assigned to co-teach a lab course in fall 2020, and we had to learn and try so many new and different teaching methods on a very short timeline. This required hours and hours of video demos, editing, learning new brightspace features and eventually adapting to student needs and holding many many open tutorial sessions in various time zones each week of the semester. It was a huge undertaking, and Gianfranco really led the way.
Amyl Ghanem
Staff   Faculty of Computer Science
I want to express gratitude to all staff at the Faculty of Computer Science. You have provided excellent support to all of us - both before and during the pandemic. You have all gone the extra mile during the pandemic to ensure a seamless transition to online work, that our day-to-day work remains smooth, and that the services we offer our students remains exceptional. I think we all owe a great deal of gratitude to you, dear colleagues. Thank you! I hope you have a great day!
Raghav Sampangi