Today@Dal
»
Go to news main
Shout‑Out summary
Posted by
Communications, Marketing and Creative Services + Human Resources
on June 17, 2021 in
Community Highlights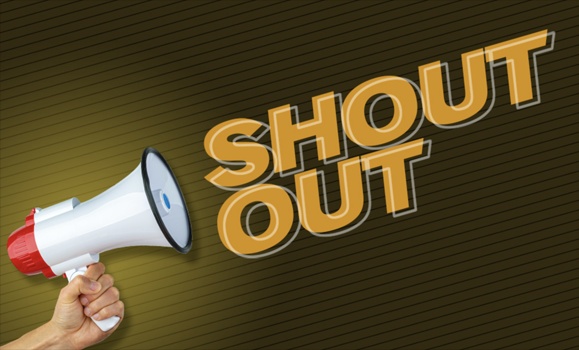 Shout-Out is a new peer-to-peer recognition program that allows you to informally give a shout-out to someone in your faculty, department or unit, or in the broader Dal community, who has helped you or your team in some way — big or small, during the past year.
And wow — after only one day, we've had over 100 shout-outs submitted by faculty and staff!
Each day in Today@Dal for the next couple of weeks we'll be featuring just some of the many shout-outs submittted. It will take us some time to feature them all, so make sure to visit the Shout-Out site in myDal for all of the latest kudos and thanks!
Submit your own "shout-out" on myDal.
--
Carolyn Bartlett   Student Affairs - AC Campus
Carolyn has been a go-to person for advice on public health protocols and the directions we could be pointing in for our own units. She has continuously scheduled and hosted meetings within our campus to keep units up to date on day to day Covid activities. Thank yoU!
Caitlyn Hutchison
Mark Monk   School of Communication Sciences and Disorders
Mark has continued to work onsite -- at risk to himself and without complaint -- in order to provide assistance to our audiologists and keep our audiology clinic running smoothly. He has provided amazing customer service to our clients by going out of his way to ensure they are received at the correct entrance to our locked building and guided inside to our clinic.
Crystal Vaughan
Dr. James Norris  Associate Professor, Faculty of Medicine, Department Head - Dept. of Anesthesiology, DECRH Fredericton NB
James has given innumerable hours during the pandemic to keep our department, the Surgical Program, and service to the people of NB as optimal as possible under the circumstances of COVID. He is calm, reasoned, approachable and friendly - a mentor for us all. Great job James. Thank you from us all.
Rick Retallick
Trisha Estabrooks (Aylward)  Academic Staff Relations
A HUGE shout out to Trisha Estabrooks for instigating our daily workout regimen that we've been carrying on since March 2020 on Teams! Every single day Trisha gets our group of approximately 8 to push our limits with a ~15 minute workout. It's turned out to be such an essential part of our COVID-19 working life! Thanks, Trisha, for always being our cheerleader full of encouragement, funny stories and anecdotes. YOU ROCK!
Dawn Belliveau
Mark MacDonald     Faculty of Open Learning and Career Development
Mark MacDonald deserves a shout out for his hard work on our Faculty's Digital Transformation development. Mark is working very hard with Program Managers and Faculty members to ensure that we are all given the proper guidelines and tools to successfully implement these changes. Thank you, Mark.
James Martin
Jason Bremner    Faculty of Medicine
Jason has been leading COVID-19 communications for the Faculty of Medicine from day one, ensuring that all faculty, staff, and students have had available, accurate, actionable, and timely disease prevention and control updates, including Dal Med's Return to Research messaging and, most recently, on-campus rapid testing clinic information. As Nova Scotia's reopening strategy gets underway, and as more of us prepare to return to campus, Jason's management of the faculty-wide COVID-19 communications strategy has become even more important and is well-received by everyone.

Jennifer Lewandowski
Isabelle Aubé     Department of Biology (SEASIDE)
Shout-out to Isabelle for designing a super cool, immersive field course that gets students excited to conduct independent research! The Intertidal Ecology course sets students up for success by building their scientist tool kit and encouraging them to develop confidence as field biologists. It's been a pleasure to learn from you Isabelle!
Ellen Jamieson
Taylor McCuaig     School for Resource and Environmental Studies
Taylor joined SRES in the middle of a pandemic, and has quickly become indispensable, modernizing our processes and bringing a smile to every setting.
Kate Sherren
Jesse Keane, Jordan Maerz & Dean Grijm (Technicians)    Civil and Resource Engineering
They have graciously taken over in-person administrative services for our students while the administrative staff are not on campus.
Shelley Parker
Cindy Tye   Athletics & Recreation
Despite the hurdles, twists and turns we have faced over the last 18 months, Cindy has remained solutions-oriented, worked tirelessly and demonstrated uncommon leadership which has provided tremendous value to our stakeholders. Big shout-out to Cindy!
Tim Maloney
Student Academic Success Teams Indigenous Student Centre, Black Student Advising Centre, Accessibility Centre, Bissett Student Success Centre, Writing Centre, Student Success Centre (AC) - Student Affairs
The pandemic has shone an even brighter light on the amazing work these teams do to support Dalhousie students. Under the leadership of Quenta Adams, Michele Graveline, Ronke Taiwo, Karen McCrank, Jen Davis, Jessica Chubb, Janice MacDonald-Eddington, and Carolyn Bartlett these extraordinary teams quickly pivoted to online (and some limited blended) delivery of almost 8000 advising appointments and over 200 programs & workshops to more than 6000 students in the 20-21 academic year. Huge thank you for all that you do for our students!
Emily Huner
Kirsten Tobin and Allison Langille   Advancement
I am grateful to this dynamic duo who pivoted and innovated quickly when we went into lock down. Together, with the university wide alumni engagement team, they took Open Dialogue, Dalhousie's in-person conversation series, to Open Dialogue Live producing 23 dynamic virtual events, engaging a global audience - well done!
Sheila Blair-Reid
Jesslyn Kinney   Faculty of Dentistry, Manager Office Academic Affairs
Jess is a consummate professional who continually goes "above and beyond" to make sure that everyone who works with her feels included, important, and cared for. The multiple disruptions and changes forced on us by the pandemic resulted in multiple new schedules having to be developed on short notice. Jess quickly undertook this complicated work, which now included the added challenge of physical distancing and room occupancy restrictions, with her usual professionalism and timeliness. Thanks Jess!
Benjamin Davis
Courtney Sutton   AVPA Office
Courtney has provided consistently excellent "behind the scenes" support to academic units across the University as they work on program proposals and undertake academic quality assurance processes. She is an amazing resource and we are so lucky to have her at Dalhousie.
Vivian Howard
Cheryl Smith   Office of the Vice Provost, Student Affairs
Everyone has unsung heroes. Student Affairs has Cheryl Smith. When the province implemented a new Nova Scotia Check-in process in November 2020 for students entering the province, Dalhousie had to respond immediately with a process to support our students' compliance. Cheryl was there to assist in making it happen and work out all the bugs and bumps along the way. Always with a positive attitude and spirit. Thank you for being our hero, Cheryl!
Verity Turpin
Carolyn Bartlett  Student Affairs
Carolyn Bartlett has been a true champion for students during the pandemic. Currently our Director, Student Success on the AC as well as being a Registered Nurse, Carolyn leaned into the critical role in supporting our students' compliance and understanding of Public Health guidelines and expectations. She spoke to countless students day and night and on weekends as well as supported discussions with Public Health to solve student challenges. We couldn't have supported our students and Dal community without your leadership Carolyn! Thank you so very much.
Verity Turpin
Carolyn Bartlett, RN - Director, Student Success (acting)   AC Campus
Carolyn has worked tirelessly as Student Affairs' expert on advising our division and students on the changing health landscape of COVID-19. She has directly overseen the compliance of almost 3000 students' self-isolation/quarantine through the NS Safe Check-In, advised the President's Office on health-related inquires through the covid19@dal.ca email, supported the Faculty of Health and AC Campus COVID Support Teams, has been a health leader and advocate with LAE and NS Public Health for Dalhousie students navigating ever-changing NS border requirements, all while supporting the Student Success Team in Truro.
Emily Huner
Craig Arthur   Environmental Health and Safety
When Dalhousie was called to host the first pop-up testing site in Halifax, Craig was there to take on the leadership role and made it happen. We have hosted many pop-up testing sites throughout the pandemic and it would not have been possible without Craig's can-do attitude and leadership. Many thanks Craig!
Verity Turpin
Jerry Aguinaga   Environmental Health & Safety Office
With good humour and empathy, Jerry (and colleagues on the Return to Campus Committee) has provided timely advice on best practices to keep everyone safe in the Dal Libraries -- our staff and our users -- during various phases of opening and closing. Jerry's guidance has been invaluable and has helped us to continue providing or resume offering more library services without compromising on health and safety.
Donna Bourne-Tyson
Karyn Hemsworth   Faculty of Engineering
Congratulations to Karyn for taking the lead in the Faculty on our new project to create a student-centered framework for mental health using the new National Standard for Mental Health and Well-Being for Post-Secondary Students from the Mental Health Commission of Canada. Karyn's passion for helping students shines through.
John Newhook
FASS Administrative Staff     Faculty of Arts and Social Sciences
We wanted to let the whole Dal community know about the Special FASS Pandemic Year Award recently given to all members of our FASS Administrative Staff team to recognize their incredible work during this challenging year. Without their dedication, efficiency, and compassion, none of the students and faculty of FASS could have made it through this year! Thank you, FASS Administrative Staff! You're the BEST!
Roberta Barker
The Centre for Learning and Teaching Team   Centre for Learning and Teaching
The team at the Centre for Learning and Teaching have done incredible work in supporting faculty to move all courses online over the past year. They have been central and indispensable to this substantial shift in faculty approaches to teaching and learning and we are fortunate to have such a dedicated and passionate team at Dalhousie! Thank you all!!
Suzanne Sheffield
International Centre   Student Affairs
Under the leadership of Said Msabaha, the International Centre team of advisors and support staff have dedicated their efforts in directly supporting Dalhousie's federally and provincially approved Designated Learning Institution plan for over 600 international students arriving from all over the world to Nova Scotia since November 2020. The team has fielded almost 3000 advising appointments, email and phone inquiries from international students planning their travel to NS and Dalhousie. They have gone above and beyond on a daily basis to ensure our students were well taken care of from the moment they arrived in Canada until the completion of mandatory quarantine.
Emily Huner
Student Health and Wellness Centre Team  Student Affairs
The Student Health and Wellness Centre team on the Halifax campus has and continues to host vaccine clinics for our community. This work is on top of the ongoing work they do supporting our students and community patients everyday! We are so fortunate to have such a dedicated team of healthcare professionals on campus.
Verity Turpin
Leslie Phillmore   Dean's Office, Faculty of Science
Leslie has led the COVID response for academic program continuity in the Faculty of Science. She has worked tirelessly with faculty, students, and central administrators to ensure our academic programs were delivered as seamlessly as possible. She is going a very well-deserved sabbatical In July. THANKS Leslie!
Chris Moore
Orla McDevitt   Human Resources
Orla has represented our department on the Return to Campus Committee this year and I appreciate her bringing the HR perspective to these important discussions. As well, in her work in Accessible Employment she has worked closely with and helped so many of our colleagues around campus during this extremely trying year. Thanks, Orla!
Jasmine (she/her) Walsh
Isabelle French  Legal Counsel Office
Isabelle has worked tirelessly with the Return To Campus Committee, the Faculties of Dentistry, Health and Medicine and other senior academic and administrative leaders to help them navigate the complex issues that arose from the pandemic. Throughout that time Isabelle never lost sight of the impact that these issues and decisions have on individuals, while continuing to be a trusted, kind and compassionate colleague.
John Hope
Aylward Fernandis   Office of Advancement
Aylward has gone above and beyond over the past 16 months to ensure that the Office of Advancement is productive in our remote environment by keeping our computers, cell phones, and other gear up and running. He supports over 250 unique pieces of equipment in a responsive, service-focused manner that makes him an invaluable asset to the Advancement team. Thank you Aylward – we would not have gotten through the past year and a half without your capable IT support!
Peter Fardy
Esther Akinkugbe   Research Services, Legal Counsel
Esther started as the ORS legal counsel during the pandemic. Despite having only met us virtually, she has become a valued part of the team. Esther went above and beyond in supporting our research community with grant re-negotiations because of COVID research stoppages, and an increased volume of new grants, because our researchers had time to write them. She has been a champion for our research community, we are so proud she is part of our team!
Alice Aiken
Leanne French-Munn   Office of the Provost, Integrated Planning and Project Management
Leanne has been superb at coordinating the efforts of the Return to Campus Committee. She is an organizer "extraordinaire" and not only that, helps out in whatever way is needed. She has been a joy to work with through every bit of our Covid-response planning.
Gitta Kulczycki