Established artist and Dal painter Zeqirja Rexhepi exhibits his colourful abstract paintings, which carry the message of everyday life through parallel symbols and metaphors. His exhibition, Retuned, is on view in the Corridor Gallery (Visual Arts Nova Scotia office at the Halifax Seaport) until July 28.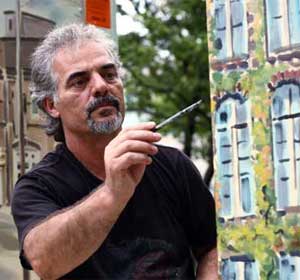 Describing the work on view, Rexhepi explains:
The work represents my achievements and personal story, painted on canvas by means of the wide range of artistic styles I have mastered throughout my career. The body of work carries the name "Revival" and so the colors are bright, the message is hope, the theme is play.
Born in 1955 in Prlepnic, Gjilan, Kosova, Zeqirja Rexhepi studied at College of Artsin Skopje, Macedonia and at the Academy of Fine Arts at the University of Prishtina (1979). He went on to specialize in embroidery design in Arbon, Switzerland (1980) and continued his education in Canada at the Nova Scotia Community College in Computer Design.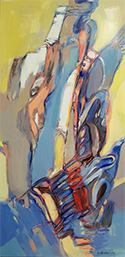 Rexhepi's solo and group exhibitions include; Saint Mary's University Art Gallery (1999), the Nova Scotia Art Gallery (2002), the UCCB Art Gallery II (Sydney, 2005), the National Defense Head Quarters (Ottawa, Toronto, Vancouver) the Dalhousie University Art Gallery (2007 through 2015), The Halifax Club (2014), Nova Scotia Archives (2015), and Gainsborough Galleries Calgary (2015).
More info on the exhibition can be found here.