Today@Dal
»
Go to news main
School visits to Dalhousie science labs a hit for students and teachers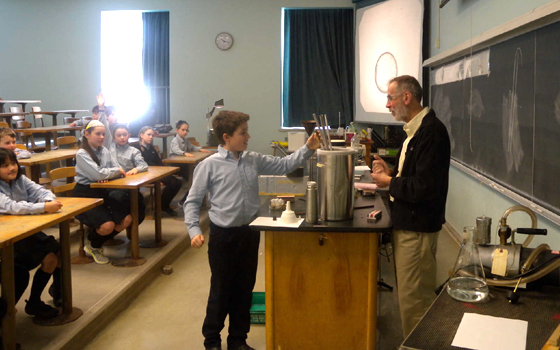 This past February 40 grade five students from Sacred Heart School had the chance to experiment with physics thanks to the Atlantic Science Links Association (ASLA), a registered outreach charity headquartered at Dalhousie. The visit was just one of many organized regularly by ASLA.

During their campus visit students got a taste of what studying physics at university is like. Not unlike the undergraduates they passed in the hallway, these young students were taken through multiple demonstrations, which show properties of states of matter by physics instructor Stephen Payne.

"You know you engaged the students when they say, afterwards, ' … now I want to be a physicist'," explains Payne, outreach coordinator for the Department of Physics and Atmospheric Science.

The students were equally excited by demonstrations of aspects of weather and climate offered by research scientist Jason Hopper. Within a week of the events Rajesh Rajaselvam, Biology and Environmental Science Sessional Professor and the Coordinator of ASLA, was hearing some rewarding feedback.

"The teachers contacted me and said many of the students who attended the demonstrations are now wishing to do their science fair project on a physics subject, which is usually a rare thing in elementary school," explains Rajaselvam.

"It shows the importance of getting students involved with science at a young age", says Payne.
Campus visits

"Professors, scientists and engineers do all the presentations so students and teachers are exposed to a high level of scientific knowledge," says Rajaselvam. "When students meet someone at the forefront of research, it can show them that a career in science is exciting."

ASLA's events cover many fields of science and technology. School students and teachers are placed in lab settings, a first for many of them, with experts in fields ranging across biology, earth sciences, physics, chemistry, and other scientific disciplines.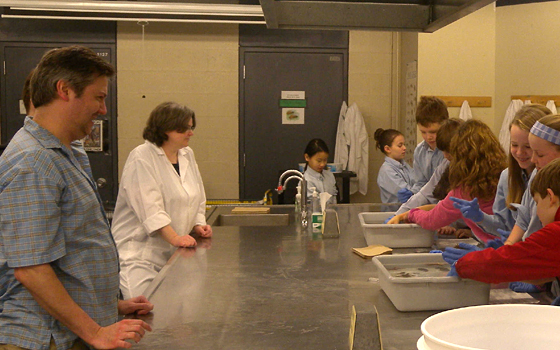 During their visit, students often tour Dalhousie's greenhouse and the popular Thomas McCulloch Museum and explore one of the many program options. Biology staff members Doug Mitchell and Karen Smith guide students during their visit.

In earth sciences, students identify rocks and minerals, many of which they've never seen before. In plant biology, student groups use microscopes to become acquainted with the world of cells, the most basic unit of life; and in animal biology, students handle marine animals during a trip to the touch tank.
Linking schools to scientists

ASLA's outreach is not confined to Dalhousie campus visits. During a single year ASLA reaches out to over 5000 students and teachers across Nova Scotia.

ASLA offers youth and teachers, programs and tools including the Scientists in the Schools (SITS) program, class visits to Dal and other academic institutions, resource packs, teacher training, science fair mentorship and judging, and the "Ask a Scientist" program available through the ASLA website.

"The volunteers make the difference," says Rajaselvam. "We have approximately 300 volunteers around Nova Scotia and across all science disciplines that make our events possible and available to all the school boards."

ASLA is sponsored by Dal's Faculty of Science, the Natural Sciences and Engineering Research Council, the Nova Scotia Department of Education, Engineers Nova Scotia, and Maritimes and Northeast Pipeline.

To find out more about ASLA or provide your support visit:
http://atlanticsciencelinks.dal.ca/
https://www.facebook.com/SITS.ASLA

Read more from Dal News:
•    Popular program links schools to scientists and engineers