Media Releases
»
Go to news main
Governor General of Canada recognizes Dalhousie University's Jeff Dahn as one of Canada's top innovators
Posted by
The Faculty of Science
on April 28, 2016 in
News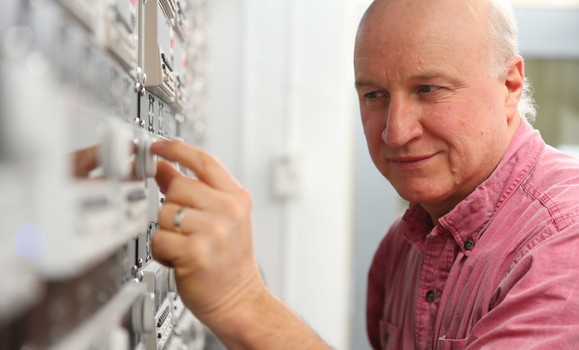 (Halifax, NS) – Thursday, April 28, 2016 – Dalhousie University is honoured to join His Excellency the Right Honourable David Johnston, Governor General of Canada, in celebrating battery researcher Jeff Dahn. Today Dr. Dahn was announced one of six recipients of the brand new Governor General's Innovation Awards (GGIA).
The GGIA honour Canadian innovation across all sectors while aiming to inspire a culture of entrepreneurial innovation. The awards are given to individuals, teams or organizations whose innovations are exceptional, transformative and impactful.
"I feel very fortunate to have fantastic students, post-docs and staff working with me to drive our innovations forward. Having our work recognized with a Governor General's Innovation Award is an absolute pleasure," says Dr. Dahn, Canada Research Chair in Battery and Fuel Cell Materials and professor in Dalhousie's Department of Physics and Atmospheric Science and Department of Chemistry.
Electrical energy storage advancements are critical for harvesting the true potential of renewable energy sources. Dr. Dahn's international reputation for advancing battery technology in support of better energy storage has been recognized for decades. His trailblazing research team has helped increase the amount of energy Lithium-ion (Li-ion) batteries can store, developed ways to test and increase their lifespan, and helped reduce their cost.
"We are really excited to see many of our advanced methods for improving Li-ion batteries being adopted worldwide," says Dr. Dahn. "One of our current goals is to double the lifetime of Li-ion batteries without sacrificing energy or power. This will help enable wider adoption of electric energy storage and electric vehicles."
As one of Canada's top innovators, Dr. Dahn is committed to inspiring the next generation of energy storage scientists. His research team currently includes undergraduates, graduate students, post-doctoral fellows, research assistants and technicians who've published, discovered and developed their own spin-off companies under Dr. Dahn's guidance and supervision.
"Dr. Dahn's passion for a sustainable energy future has driven him to become a world leader in electrical energy storage," says Martha Crago, vice-president, research at Dalhousie University.  "His commitment to collaborate across academia, government and industry has led to the advanced Li-ion battery technology used in electric vehicles, grid energy storage and power tools."
Many of Dr. Dahn's studies over the last 20 years have been conducted as a Natural Sciences and Engineering Research Council of Canada (NSERC) Industrial Research Chair in Materials for Advanced Batteries with 3M Canada. This year, that research contract will come to an end and Dr. Dahn will begin a five-year research partnership with Tesla Motors.
About Dalhousie University
Dalhousie University is Atlantic Canada's leading research-intensive university and a driver of the region's intellectual, social and economic development. Located in the province of Nova Scotia, Dalhousie's 18,000 students and 6,000 faculty and staff foster a vibrant, purpose-driven community. Across 13 faculties, Dal researchers and students conduct more than $135 million in funded research each year with hospitals, industry, governments, non-profit agencies and universities around the globe. Through learning and discovery, Dal is committed in its quest to make a lasting impact on our world.
About The Governor General's Innovation Award
The Governor General's Innovation Awards (GGIA) were created by Governor General
David Johnston to foster a culture of innovation by recognizing the outstanding and groundbreaking work taking place in our country. The GGIA are sustained through the efforts of founding and nominating partners. Winners are selected through a two-stage merit-based selection process. The selection process is managed by the Canada Foundation for Innovation while the execution of all aspects of the program is overseen by the Office of the Secretary to the Governor General. For more information, visit innovation.gg.ca.
CONTACTS

Nikki Comeau
Faculty of Science – Dalhousie University | c: (902) 223-2446 | nikki.comeau@dal.ca
Caroline Bourbonnière
Senior Account Executive | Edelman | c: (514) 261-4740 | caroline.bourbonniere@edelman.com