La Velada
The Dalhousie-King's Spanish Society is hosting their annual 'La Velada' in the McInnes room of the Student Union Building at 6136 University Avenue on Friday, March 2nd, 2018. The event is an evening to celebrate Spanish and Latin American culture through food and entertainment. The doors will open at 6pm and dinner will be served at 7pm. This year's event is sure to be spectacular, so we hope to see you there!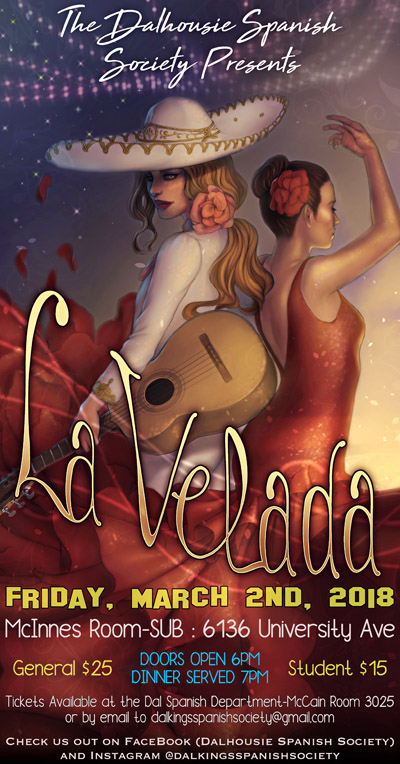 Category
Special Events
Time
Starts:
Ends:
Location
McInnes Room - Student Union Building, 6136 University Ave
Cost
Tickets are $15 for students with studentID, and $25 for general admission. Tickets are available at the Dalhousie
Spanish Department, Room 3025 in the McCain or by email to dalkingsspanishsociety@gmail.com.
For anyone who cannot buy a ticket in person, we have an e-transfer option
available, just send us an email for more details.
Contact
dalkingsspanishsociety@gmail.com
La Velada