Dal 200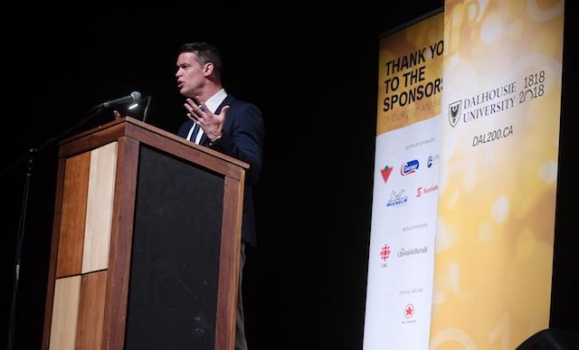 The Canadian Olympic champion and humanitarian delivered a deeply personal and often funny address on the theme of belonging to a packed crowd at Citadel High School in Halifax Thursday as part of Dal 200's Belong Forum series. Read more.
Featured News

Wednesday, April 18, 2018
There's plenty more in store for Dal's bicentennial year, including forums with U.S. civil rights legend Angela Y. Davis and Olympic gold medalist Mark Tewksbury, a battle of the wits between some of today's top ocean and space experts, and an alumni-focused cross-Canada bus tour.

A large crowd packed into the Rebecca Cohn Auditorium this week to see Canadian icon Buffy Sainte-Marie receive an honorary degree and deliver a compelling, inspiring and funny address as part of the Dal 200 Belong Forum series.

Dalhousie Coast to Coast, kicking off in Vancouver this weekend, is bringing Dal 200 celebrations to alumni and friends across the country.
Archives - Dal 200