Finding affordable housing in Nova Scotia has become far more difficult in recent years, leaving many people stuck in unmanageable situations.
Dr. Ren Thomas, an associate professor in Dalhousie's School of Planning, says while these challenges are relatively recent in the province compared to the rest of Canada, they are a product of decades of neglect. 
"Unaffordable housing has been an issue across Canada since the '80s but has only been an issue in Nova Scotia for the past eight years," says Dr. Thomas. "We are where we are because there hasn't been enough affordable rental, low-income, and student housing built in decades."
Nova Scotia has seen a rapid increase in the cost of living and economic growth in recent years. The province ranked fourth out of 13 provinces and territories for growth in the country between the years 2018-2023, according to global consultancy IBISWorld. In Halifax, in particular, middle-income households are being priced out of homeownership and rentals because the cost of living has increased so drastically.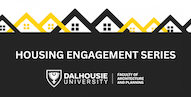 Dr. Thomas, a panelist in the final session in Dal's Housing Engagement series happening this Friday, says addressing housing affordability in the growing city will require substantial effort. In addition to boosting market-rate housing production, the city also needs to deliver more affordable housing units — something that requires changing current approaches to housing delivery in the city.
She explains that while rental housing construction has increased over the last eight years, the market-rate prices are unaffordable for most Haligonians given the low median household income in the province.
"We're still not coming close to the demand," said Dr. Thomas in a recent Global interview regarding public housing in the province. "The percentage of renter households keeps increasing because people can't afford home ownership and are in more precarious job situations."
For a single-person household in Nova Scotia, the median income is on par with most of the country. For households with two or more people, though, the median income is well below most other provinces. This suggests affordability issues may disproportionately impact larger N.S. households and families compared to other parts of the country.
Below, find more insights from Dr. Thomas on the issues facing Halifax and Nova Scotia:
The system we have now is not accidental.
 
Over the decades, government support for non-market housing options like cooperatives and public housing has declined. This has led to an almost complete reliance on private-sector housing construction, which makes up 95 per cent of the market today, explains Dr. Thomas.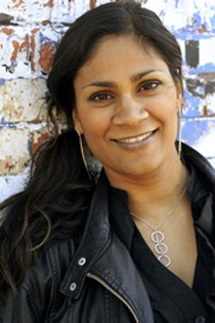 The transition from government-supported affordable housing programs during the '70s and '80s has directly contributed to our current housing issues. Although support for housing programs remains in some places in Canada, the broader story is one of government withdrawal from the housing sector in favour of an increasingly privatized and unaffordable market-based system.
"We've seen this before," says Dr. Thomas, shown left. "The housing crisis only became a mainstream concern when it started impacting those outside of low-income populations."
For groups at risk, such as visible minorities, Indigenous communities, new immigrants, refugees, students, and seniors, unaffordable housing has been an issue for years, she says.
Usually, governments intervene when affordability declines, especially for major demographic segments. They also act when housing stock is unsuitable, like if units are in poor condition or are not being built to accommodate community needs.
Dr. Thomas explains that it has been decades since the needs of low-income populations have been met, and that since the '80s and '90s, rental housing supply and public housing construction have either stopped or not kept pace with the demand.
Housing has never been affordable for Canadians.
 
Following the Second World War, the Canadian federal government has sought to stimulate the economy by promoting home ownership through long-term, low-interest mortgages offered by banks. This enabled more people to purchase homes built by the private sector, explains Dr. Thomas.
However, housing has never been truly affordable for all Canadians.
"Without government programs and bank cooperation to provide long-term, low-interest mortgages, we wouldn't have homeownership at the rate we do in Canada," she says.
Even after decades of efforts to encourage homeownership in the country, rates have plateaued at around 60 per cent, meaning that 30-40 per cent of Canadians — depending on the year — remain outside of homeownership, choosing to rent or live in non-profits or co-ops.
Progress is slow.
 
In response to the rapid growth in the province, N.S. created an affordable housing commission, which Dr. Thomas co-chaired.
"During the six months we were organized, we made various recommendations, such as creating a grant program to increase the capacity for non-profit housing," she says. "However, implementing these changes has been slow."
Nova Scotia just released a provincial housing strategy.  A plan for student housing is still in progress, which will help the province's many post-secondary institutions facing shortages of affordable options. 
Dr. Thomas says more work is needed on tenant protections as people face displacement from being unable to afford rent increases post-pandemic. While some temporary pandemic measures were enacted, much remains to be done to develop affordable housing for lower-income residents.
Halifax has successfully obtained federal funding for initiatives like the Rapid Housing Initiative to build non-profit affordable housing, and more federal funding is expected through programs like the Housing Accelerator Fund. There has also been an independent non-profit housing association initiated, which may help grow the affordable housing sector.
Planners play a key role in shaping the affordable housing sector.
 
Planners at all levels of government are actively working to enable more affordable housing through policy, funding, assessments, and land use bylaws, explains Dr. Thomas. Municipal planners have significant power to enable affordable housing through legislation and development approvals, which occur at the city level. They understand local housing needs, identify opportunities for infill and densification, and shape development through zoning.
According to Dr. Thomas, while municipalities have less direct funding control, they still have the tools to facilitate affordable housing through regulation and process improvements. Overall, planners play a crucial role in addressing the housing crisis by shaping policy, plans, and development frameworks to expand affordable options.
Recommended reading: 'There's really no safety net': School of Social Work's Dr. Jeff Karabanow on Nova Scotia's housing and homelessness crisis