(Above: Joseph D. Bourqe standing in rubble on a military construction site during service in Korea.)
A new banner is flying on a lamppost in St. Peters, N.S., this Remembrance Day, honouring the service of Dalhousie alum Major Joseph D. Bourque (DDS'51).
Not long after finishing high school, Bourque enlisted in the navy, serving in the Second World War on the HMCS Sorel, part of the 'Flower Class Corvettes' that looked out for German submarines and protected British ships.
He returned home and upon learning there was a growing need for dentists, enrolled in Dal dentistry through the Canadian Armed Forces. After graduating, he was stationed in Moncton, N.B. An early 1950s National Film Board documentary shows Bourque performing dental assessments in Moncton on soldiers heading to Korea — and before long he, too, was deployed there.
More than 26,000 Canadians served in the Korean War and there were 516 fatalities, but Bourque was spared. He returned home after nine months, having been promoted from second lieutenant to captain to major.
He practiced dentistry while in Korea, but also did basic training with the other soldiers. "He went on maneuvers. He slept in a sleeping bag in rice paddies," Bourque's daughter, Rosemary Bourque (DDH'87) says. "We [later] had his sleeping bag and army tent. Mom wanted to throw them out because they smelled, but Dad wouldn't let her." Rosemary adds, smirking, "Somehow, they managed to disappear during one of our many moves."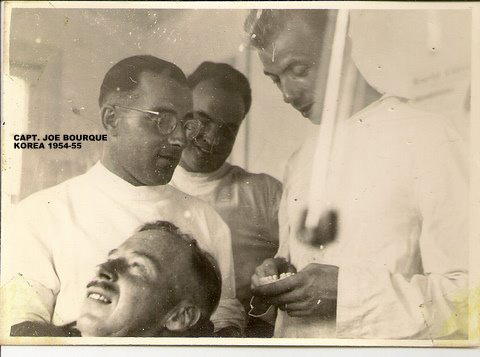 No humour in war

Rosemary says her father, like many veterans at that time, rarely spoke of war or his experiences. But he would occasionally reference things he saw on the front lines, like Vincent's Infection, an acute and painful infection of the tooth margins and gums also known as trench mouth. According to a book about the Royal Canadian Dental Corps, quality dental-record keeping also became a priority as dental records were a way to identify deceased soldiers who were otherwise unrecognizable.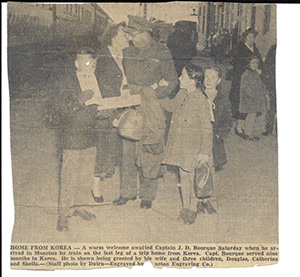 Not only was Bourque reluctant to speak of the war, "He wouldn't ever watch M*A*S*H [the TV sitcom about the Korean War]," says Rosemary, shown right. "Our family loved it but there was nothing funny about that time to him."
After active service, Bourque worked as a military dentist stationed in Greenwood, N.S., then Churchill, M.B., Valcartier, Que., and Trenton, Ont. Rosemary, the youngest of five children, says she never minded moving, and it gave her a lifelong thirst for travel. She was disappointed when her dad later went to work in Germany for a year alone.
Bourque retired from the military in 1969 and the family settled in Antigonish, N.S. Bourque became a public health dentist — and is believed to have been the last travelling public health dentist in Antigonish and Guysborough counties.

A newspaper clipping seen above right shows Bourque greeted by family upon his return from Korea. 
Fellow alum, veterans and lifelong friends

Several of Bourque's dentist friends were fellow Dal alumni and veterans, including Maurice (Moe) Harquail (DDS'54) who became mayor of New Glasgow, James McGaughey (DDS'51) and Vince McMaster (DDS'47).
"These gentlemen were lifelong friends of my dad and they practiced in N.S. and P.E.I. after their army careers as well," Rosemary says.
Bourque's switch from military to public health service, "speaks to his character for sure," says Rosemary. He recognized the need for good dentists in both situations and was confident he could help. She describes him as purposeful, ethical, funny, hard working and stern.
"He wasn't outwardly affectionate," Rosemary recalls, but she does remember waking in the middle of the night as a young girl and stumbling downstairs at 2 a.m. to find her dad in an armchair, reading. "He waved me over and held me in his arms until I fell back asleep," she says. "He was dedicated to looking after those who needed his help."
Mobile dentistry clinic: end of an era

Rosemary says his stoicism was also not a barrier to his doing excellent work for 11 years with the school-aged children he treated in his mobile clinic. He improved the oral health of thousands of children. The work ethic he modelled also made an impression on his children, three of whom studied at Dal: Daniel Bourque (BEd'83), Rosemary Bourque (DDH'87) and Catherine (Bourque) Moulton (BScN'92).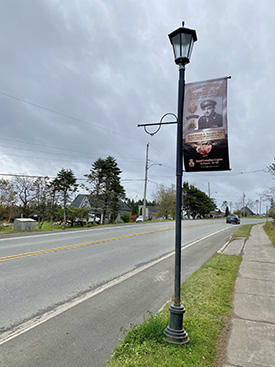 Rosemary has worked in private practice for much of her dental hygiene career, and for the last 15 years has worked in public health, like her dad before her. She delivers the fluoride mouth rinse program (now a fluoride varnish program) in schools.
Bourque suffered a stroke in 1980 that forced him to cease practicing, but he and his wife, Margaret, were happy living out their retirements on a farm they bought in Merigomish, N.S. until Bourque was diagnosed with dementia. He died in 2010 at Camp Hill Veteran's Memorial Hospital in Halifax.
The Memorial Banner Program allows family members to have a banner created with the name and photo of their veteran to be displayed on lampposts lining veterans' hometown streets leading up to Nov. 11. Bourque's children had his hung in St. Peter's, near the small community of River Bourgeois, Cape Breton, where he was from.
"It's quite a lovely presentation," says Rosemary.