Anagha Pradeep Kumar and HariChandana Valisakkagari arrived at Dalhousie in September 2020 to continue their Bachelor of Science in Agriculture. While from different provinces in India — Kerela and Telangana — their shared love for Indian culture sparked a quick and lasting friendship.
Now they are both pursuing their masters and are the organizers of a sold-out Diwali event in Truro this Friday, November 10.
Diwali, commonly referred to as the Festival of Lights and one of the most important holidays in India, marks the triumph of light over darkness and good over evil. While celebrations vary by region and religion, traditions include festive decorations and lighting, exchanging gifts, new clothes, food and burning firecrackers.  
Growing the celebration on campus

"It's difficult to be away from home, especially during festival time. For example, when you take Christmas here, we can see the festive feeling around all the time," says HariChandana. "So (during festival time) we gather with friends and neighbours and celebrate together so that we don't have the missing feeling of home."  
In 2021, Anagha and HariChandana celebrated the festival by volunteering with the International Centre to hand out sweets at a table on campus. In 2022, they attended and volunteered at an event hosted by the International Centre at the MacRae Library. This year, they found themselves wondering if the event could be even bigger — like it is back home.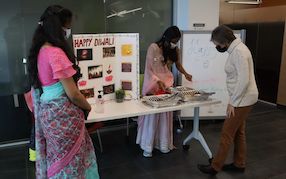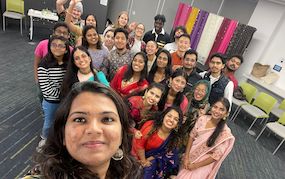 The two took the initiative and organized a larger venue, caterer, entertainment, decorations, sponsors and more. "Even though we are the organizers, it's been a collaborative effort of all of the students on the Agricultural campus, faculty and staff," says HariChandana. 
Dr. Rajasekaran Lada, a faculty member in the Department of Plant, Food and Environmental Sciences, stepped up to help the students in bringing the event together.
"Diwali is about joy. If you look at the scripts dating back centuries, Diwali has been practiced in India and around the world in all faiths. The event is really about driving ignorance away, removing darkness and bringing light," he says. "I had no hesitations to support HariChandana and Anagha to organize, make connections, and get sponsors. My contribution in helping two students to bring the community together, it's a good thing to do."
Strength in a variety of traditions

"In India, all of the provinces celebrate Diwali differently. To gather all of the cultures and traditions into one event was originally a problem that we faced," says Anagha, "but now we see it as a strength that we could represent so many in one event."
The event will begin with a prayer song, classical dance, singing and dancing, and food. The menu features samosas, pakoras, masalas, biryani, ladoo, jalebi and lassi. The decorations, including a photobooth, have been hand-made by volunteers with sustainability top of mind.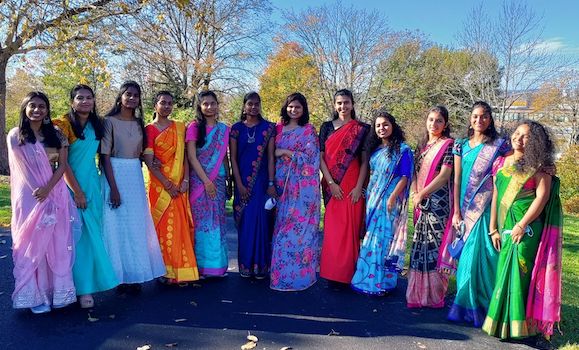 Students celebrating Diwali in 2021.
Leading the way

"We hope to pave the way for more campus celebrations," says Anagha. Since sharing their Diwali event they've received positive responses from across campus and are seeing student groups actively planning bigger events, including for Chinese New Year.
"In recent years, the number of international students coming and the numbers of countries they are coming from is growing," says Vivian Wang, international student advisor on the Truro Campus. "It's a great opportunity for students to make connections and mingle, but also for our Truro community to get to know Diwali and Indian culture."
While the Diwali event in Truro is sold out, you can join the celebration virtually by following their Instagram account (@TruroDiwaliEvent2023). You can also attend the fireworks display at 11:45 p.m. on Friday, November 10 on the lawn between the Cox Institute and MacRae Library.
Halifax celebration
 
Students in Halifax are invited to attend a separate Diwali celebration featuring a classic Hindu drama of Lord Ram and a cultural show happening from 6:45-8:30 p.m. in the McInnes Room of the Dalhousie Student Union Building. Attendance is free, with capacity limited to 500.