For a pep talk, it started out on a surprisingly sleepy note.
"I thought I'd start just by seeing who has worked hard and feels a little tired," said Dal President Kim Brooks during her opening remarks at the sixth-annual Legacy Awards earlier this week.
"When I feel like that, I remind myself that the things that make me tired in an hourly way, in a daily way, in a weekly way, monthly and then annually, are the kinds of things we are going to be celebrating today."
The Legacy Awards event, first launched in 2018 during Dal's bicentennial year, provides a chance for members of the Dal community to come together to celebrate the dozens of individuals and groups who've won university-based awards for their achievements over the past year.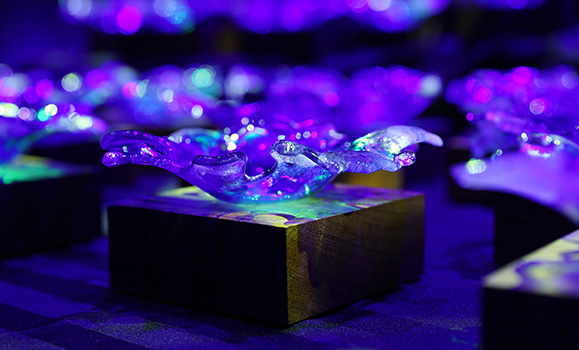 Dalhousie Legacy Awards are hand-crafted with wood and glass work.
Some of these awards have been previously recognized at small ceremonies and events throughout the year, others via announcements and communications.
But what's special about the Legacy Awards, said President Brooks, is the way in which it celebrates everyone collectively.
"Think of this as a moment that's celebrating everybody in the room and getting a chance to spend a little bit of time together, forgetting maybe about how tired we are. And thinking of how many cool things we've made possible."
Related reading: Always evolving — This year's winner of Dal's top teaching award puts students first
Chris Hattie, acting co-AVP of Human Resources, served as announcer and emcee for this year's celebration, offering a short description of each award winner's achievements as they crossed the stage in the Rebecca Cohn Auditorium for a photo in the spotlight with President Brooks.
Attendees at this year's ceremony were treated to a performance from Aquakulture, the Halifax-based soul and R&B act led by Lance Sampson. Sampson performed one tune mid-way through the ceremony and offered another to conclude the awards portion of the day's festivities as the Dal Tiger got its groove on from the sidelines of the Cohn.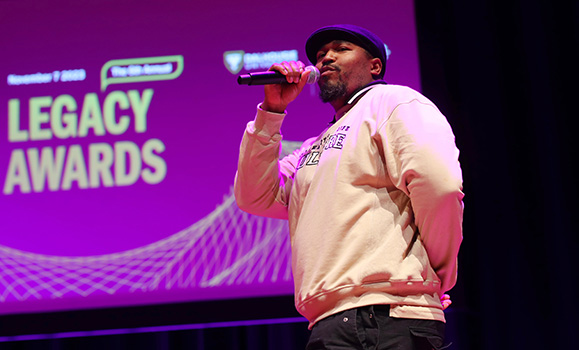 Aquakulture brought soulful vibes to this year's gathering.
As usual, each recipient took home a N.S. hand-crafted glass and wood award. A reception in the sculpture court of the Dal Arts Center followed the awards ceremony.
See the full list of this year's winners below, followed by more photos from the event.
Anne Marie Ryan Community Growth Award (NEW)
 
Dr. Megan Bailey, Faculty, Science 
Dr. Tom Ue - Faculty, Arts & Social Sciences
President's Research Excellence Awards
 
Emerging Investigator
Dr. Michael Halpin, Faculty, Arts & Social Sciences
Dr. Brandon Heung, Faculty, Agriculture
Dr. Finlay Maguire, Faculty, Computer Science
Dr. Caitlin McArthur, Faculty, Health
Dr. Amina Stoddart, Faculty, Engineering
Dr. Alana Westwood, Faculty, Science
Research Impact
Dr. Raluca Bejan, Faculty, Health
Dr. Tony Walker, Faculty, Science
Distinguished Research Professors (formerly University Research Professors)
Dr. Marsha Campbell-Yeo, Faculty, Health
Dr. Graham Dellaire, Faculty, Medicine
Arthur B. McDonald Chair in Research Excellence
Dr. Vasantha Rupasinghe, Faculty, Agriculture
DPMG Awards
 
Early Career Award 
Nicole Fraser, Faculty, Graduate Studies
Mabel Ho, Faculty, Graduate Studies
Cody Turner, Communications, Marketing and Creative Services
Career Award 
Tereigh Ewert, Centre for Learning and Teaching 
Stephanie MacKenzie, Facilities Management
Career Award (10+ Years)
Maureen Keough, Research Services
Stuart McCormack, Facilities Management
Kimberly McDonald Winsor, Advancement
IDDEA Award (Inclusion, Diversity, Decolonization, Equity, Accessibility) 
Órla McDevitt, Human Resources
Dr. Allan Cohen Memorial Award for Community Service, Faculty, Medicine
Dr. Nicholas Giacomantonio, Faculty, Medicine (Cardiology)
Environmental Health and Safety Award
Suzie Officer, Faculty, Health
Gladys Littler Award, Faculty, Dentistry
Jesslyn Kinney 
Healthy Workplace Award
Office of Advancement
President's Awards for the Advancement of Equity, Diversity, Inclusion and Accessiblity (EDIA)
Michelle Williams, Faculty, Law [Individual category]
Promoting Leadership in Health for African Nova Scotians (PLANS) [Group category]
Rosemary Gill Award
Michelle Patrick, Faculty, Medicine
Carolyn Bartlett, Health Services, Truro
Lori Gagnon, Mark A. Hill Centre for Accessibility
Staff Award for Excellence in Service, Faculty, Agriculture 
Gillian Hatch, Student Success Centre (Truro)
University-Wide Teaching Awards 
 
Award for Excellence in Online/Blended Course Development, Design, and Delivery (NEW)
Dr. Lisa Berglund, Faculty of Architecture and Planning
Dalhousie Alumni Association Faculty Award of Excellence for Teaching
Dr. Sachin Seth, Faculty, Dentistry
Contract and Limited-term Faculty Award for Excellence in Teaching
Dr. Tom Ue, Faculty, Arts & Social Sciences
Early Career Faculty Award of Excellence for Teaching
Dr. Amy Mui, Faculty, Science
President's Graduate Student Teaching Award
Dr. Adrienne Allison, Faculty, Science
Wayne Paquet Award for Indispensable Service, Registrar's Office (NEW)
Brittany Sutherland, Student Information and Operations, Registrar's Office