When Dr. Sachin Seth first began teaching at Dalhousie in the early 2000s, his driving ambition was to provide a positive experience for students. Part of that meant being approachable and creating a learning environment where students felt safe and welcome.
His commitment to student education also informed other aspects of his teaching, including course development and learning assessments.
"I was maybe a bit easy on them," says Dr. Seth, reflecting on his early days as a part-time instructor in Dal's Faculty of Dentistry.
Having passed through the dentistry program just a few short years prior, he knew how taxing it could be and was keen to help the next generation of students. What he discovered in the years ahead, though, surprised him; namely, that easier isn't always better. While Dr. Seth maintained and continues to be celebrated for his approachability and inclusivity as a teacher, his approach has shifted in other respects.
"Students need to be challenged and pushed. I've gotten to a point in my career, and I understand students enough now, to know how much I can push them," says Dr. Seth, this year's winner of the Dalhousie Alumni Association Faculty Award of Excellence for Teaching — Dal's top teaching award. "They learn the best when they are at the peak of the pressure performance curve."
Ahead of the curve

Dr. Seth's approach to teaching has also been influenced by a commitment to challenging himself. Dentistry, like many health professions, changes regularly as new techniques, tools and materials are developed. Staying at the forefront of dental innovation was a priority for Dr. Seth as he juggled teaching and private practice and remained so after he joined Dal full time in 2007.
"Staying on the cutting edge of science and technology is imperative in dentistry," he says. "I've had to put in my work in staying current in latest trends in dentistry and incorporating these concepts into what I teach."
Doing so can be easier said than done, though. Professors seeking to advance the curriculum and offer students the latest knowledge must simultaneously serve as gatekeepers of professional standards. Relying on evidence-based research is a must, says Dr. Seth.  "There are a lot of snake-oil salespeople out there."
Dr. Seth's forward-thinking teaching philosophy extends to his work in incorporating technology into his courses as well. Some of the videos on his YouTube channel, where he posts short explainers about dental techniques, have amassed tens of thousands of views since he launched it a decade ago after completing his Master of Education degree from Acadia University.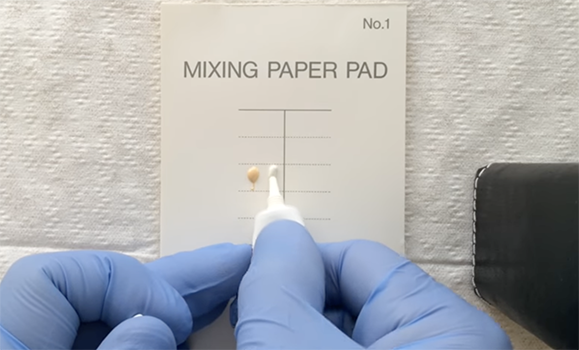 A still from one of Dr. Seth's YouTube explainer videos.
While this comes in part from Dr. Seth's own personal interest in technology, it fits well with his underlying desire to meet students where they are — and increasingly these days, that's online.
When the pandemic shut down in-person classes in 2020, Dr. Seth — who was already using all of Brightspace's many bells and whistles in his own courses — was integral in moving his Faculty's teaching operations online. That was no small feat for a Faculty so reliant on in-person instruction.
Related reading: Hard work, big results —Legacy Awards shines light on individual and collective achievements at Dalhousie
Putting students first

Now, as education has swung back to in person, the challenge of pulling students back to campus is proving formidable in its own ways. Dr. Seth is helping tackle this now as associate dean of academic affairs, a role he took on last year.
Evolving as a teacher is one thing, but recognizing and responding to how students are changing is also essential, he says. Historically, students didn't engage much with senior leaders like him unless there were problems, but Dr. Seth has worked to create closer ties with students and ensure they are heard.
"Students are built a bit differently than perhaps they were 15 or 20 years ago," he says. "The current student appreciates open communication and some say in their educational journey. I work very hard to do what I can to hear them and, when possible, adapt the program to their feedback."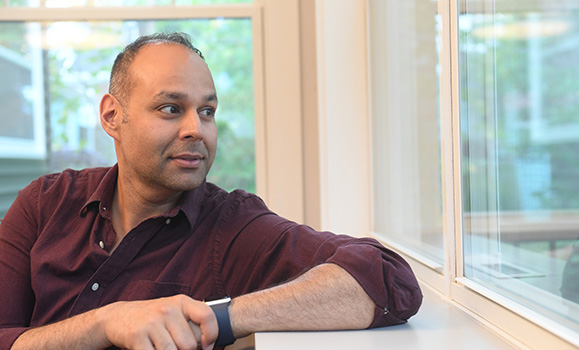 One project Dr. Seth spearheaded coming out of the COVID-19 period was the creation of an automated system for students to report an absence. Doing so used to require students to figure out what faculty members needed to be informed and then manually emailing them. With the new tool, students just use a simple form to select an absence and the courses impacted. The system does the rest.
It might seem like a simple victory, but going through dentistry school can be intense and time-consuming, so any efficiency helps.  
"I don't think people generally recognize that they are really doing the work of a four-year undergrad degree followed by a three-year residency, all in one program," he says. "Their days are full."
Preparing students for practice

Dr. Seth's time in the classroom has shrunk over the years as he's transitioned into administration, but there's one course he's kept on his docket since 2004: a first-year course in operative dentistry. 
"I really love being a clinical teacher. I love patient care. That's what I went into dentistry for was to help people, and being on the clinic floor really gives me the opportunity to do both teaching and patient care," he says.
The course serves as students' first introduction to the clinical side of dentistry and gives them their first opportunity to learn how to drill holes in teeth. The teeth are plastic, of course, but Dr. Seth says these early stages of learning are critical to building the confidence needed for when it comes time to transition to operating on real people.
Generally, his advice to students is to care for the models they work on as if they are real humans and to learn to manage their anxiety and stress. "You've got to treat every aspect of pre-clinical practice as if it were a real person. So when the time comes, you're not going to freak out or hurt someone."
Third-year dentistry student Kori Andrea says Dr. Seth inspires a level of comfort with students and takes the anxiety out of what can be an intimidating learning process. 
"When you are in first year everything is quite a foreign concept, especially the hands-on components in dentistry," she says, recalling how Dr. Seth would provide one-on-one help to students in the simulation lab. 
"He would stop whatever he was doing, make you his priority, and sit with you until he was sure you understood where you could improve," she says. "It is very clear he is passionate about both teaching and training the future cohort of dentists to be the absolute best we can be."
Recommended reading: Introducing the 2023 Dalhousie University‑Wide Teaching Award recipients
Breaking down silos

Preparing students for practice has been a passion of Dr. Seth's since the start. He led the development of the Faculty's interprofessional team approach to clinic in which they mimic real-world practice where dentists and hygienists work in the same space collaboratively. It dovetailed with a renovation of the dental school's clinic that empowered students to learn in this way.
"They get to learn with each other and care for their patients together and not in silos anymore. In private practice, we don't work in silos and say, 'Well, this morning is only about pulling teeth and this afternoon is only about doing root canals.' Now, you look at your day as you would in private practice — you have to be ready for anything," he explains.
As he looks back on more than two decades with Dal's dental school, Dr. Seth speaks about his successes as a labour of love. 
"I've always had a love for teaching. One of my biggest goals was getting to this current position that I am in as associate dean of academic affairs. I had a passion for academia early on and wanted to be in a position to affect change in academics, and so I guess I'm living my dream, which is really great."