Dalhousie's Faculty of Management looks slightly different after adopting a new operating structure in the summer. The transition follows years of conversations, reviews and approvals.
Even though it's early days and there's still work ahead, Acting Dean Dr. Mike Smit says he can already see how these internal changes are having a positive impact on faculty, staff, and students.
"We're engaging a broader set of people in leading the faculty, we're working together in new ways to support our students, and we're having hard but valuable conversations we've put off for years," he says.
Holding onto the core

At the core of the new structure are  eight departments that serve as academic homes for the expertise in the Faculty, replacing the former School-based organization. Undergraduate and graduate programs are delivered by the Faculty, with the addition of a Graduate Student Services unit that Associate Dean Jenny Baechler says is already opening new possibilities and opportunities for students.
Three of the Schools from the previous structure have been retired (Rowe School of Business, School of Public Administration, School of Information Management). A fourth, the School for Resource and Environmental Studies, has moved to the Faculty of Science.
Dr. Smit describes this project as being about capacity building and supporting internal colleagues  without losing the pieces that are most important.
"We are still the Faculty of Management in the Kenneth C. Rowe Building. The programs we offer, the scholarship and research of faculty and students, the degrees we grant and the connection to community all remain in place. The exciting things you'll see from us in the future will build on that strength."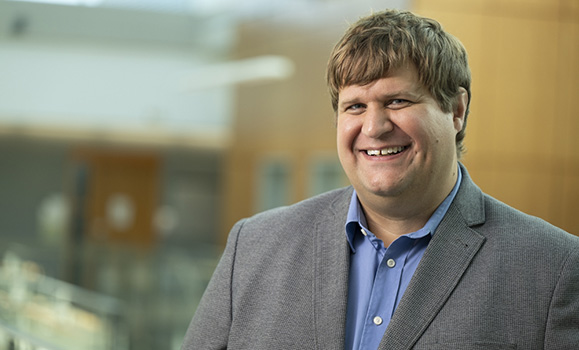 Acting Dean Mike Smit.
Building bridges across disciplines

Dr. Smit emphasizes that "we continue to embed environment and sustainability in our programs and remain committed to the essential role of management in responding to climate and environmental challenges." He is confident that this new structure "will support interdisciplinary work and make us more responsive to the changing world."
Dalhousie President and Vice-Chancellor Kim Brooks was dean of the Faculty of Management during much of the planning discussions around these changes. She says the work was motivated by "building bridges across disciplines.
"We always knew that the Faculty of Management at Dalhousie was a place of distinction. We have exceptional students, and we owe them the ability to build not just depth of expertise (say, in finance or public administration) but also to open doors for them to think broadly — to connect with the creation of exceptional user experiences and the power to mobilize people." 
You can learn more about the Faculty of Management at its website.