"The greatest medicine of all is teaching people how not to need it," Hippocrates.
The concept of food as medicine is not new and dates to Hippocrates of Kos, the father of medicine. Functional food is built around this same concept and is the crux of years of work by Dr. Vasantha Rupasinghe at the Faculty of Agriculture in Truro.
A professor of functional foods and nutraceuticals, his research over the last two decades has targeted the understanding of the health-promoting properties of ancient food and applying this knowledge to innovate value-added health foods and dietary supplements.
"Personally, I believe in this concept as well as interdisciplinary research as a way to find solutions to global challenges such as food insecurity and good health and well-being," explained Dr. Rupasinghe. "My grandparents and parents have prepared meals with this historical concept in mind, and this has influenced me," he added.
Dr. Rupasinghe has been named a Dalhousie Arthur B. McDonald Chair of Research Excellence, one of just three of the prestigious positions at the university. Established in 2016 to honour Dr. Arthur McDonald, a Dalhousie alumnus and Nobel Laureate, the chairs were created to recognize and retain researchers of the highest calibre. The chair comes with $50,000 a year for seven years to support the chairholder's research goals.
"Dalhousie's Arthur B. McDonald Chairholders have achieved international prominence and impact in their fields of research, and Dr. Rupasinghe is just such a world-class researcher," said Dr. Alice Aiken, Dalhousie's vice-president research and innovation. "His work to understand how the foods we eat affect our bodies is having a tremendous impact in advancing the field of food science and is helping to shape new food products that will improve people's health and well-being."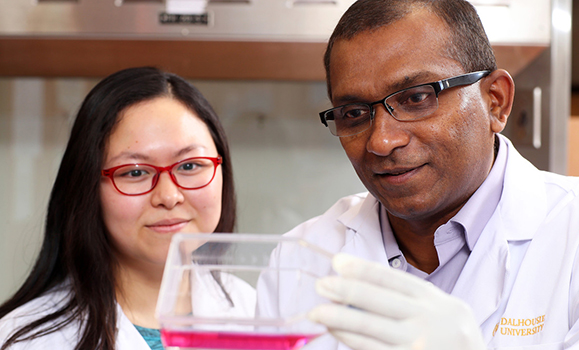 International influence

Ranked among the world's top 2 per cent of researchers by the AD Scientific Index, Dr. Rupasinghe's food bioactive research program is globally recognized for increasing understanding of dietary flavonoids in human health and the innovation of value-added food from cool climate fruits. Food bioactives refer to the non-nutrient, naturally occurring constituents of food that have protective effects against noncommunicable diseases.
"His fundamental investigations and development of modern techniques in these areas have had international influence while quantitatively and mechanistically reinforcing principles of food as medicine," explained Dr. Chris Cutler, associate dean research. "Moreover, Vasantha applies his discoveries to support local industries in innovation of value-added processes and products such as healthy foods, ingredients, and natural health products using Atlantic bioresources, their byproducts, and food waste."
Dr. Rupasinghe has conducted pioneering investigations that demonstrate the ability of apple flavonoids in arresting degenerative processes responsible for stroke, multiple sclerosis or Alzheimer's disease using advanced pre-clinical experimental models.
More recently his team demonstrated the flavonoid-rich haskap berry can reduce carcinogen-induced genome instability and carcinogen-induced tumors in animals.
His research, which has attracted over $8 million in external funding, has resulted in five patent filings, one license agreement (Cora Therapeutics, ON), one spin-off company (Clever™ Fruit Products, NS), as well as contributions to the commercialization of over a dozen value-added agri-food products.
Over the last five years, he has made a significant impact on the innovation of supplemented and fermented food, food ingredients, and natural health products for companion animals and humans through delivering research projects to a variety of companies.
"I am greatly honored to receive this prestigious award and seven-year research chair privilege that will help our research program to continue to contribute toward Dalhousie's Food Security and Healthy People, Healthy Communities, Healthy Populations signature research clusters," said Dr. Rupasinghe.
Recommended reading: Two Dalhousie scholars bestowed one of Canada's highest academic honours