Sciographies is a radio show and podcast about the people who make science happen, presented by The Faculty of Science and campus-community radio station CKDU 88.1 FM. This article is the first in a series that will feature excerpts from each new episode released this fall.
Dr. Chuck Macdonald's (BSc'94, PhD'98) career path began in high school when he won a contest to spend a week exploring the chemistry labs here at Dalhousie. The on-campus experience and exposure to chemistry left quite the impression. A few short months later, he began his first year as a Dal undergraduate chemistry student. Eight years later, he wrapped up his studies at Dal with the completion of his PhD in inorganic chemistry.
Born and raised in Halifax, Dr. Macdonald returned to his alma mater two years ago to become dean in the Faculty of Science, bringing a wealth of university administration experience along with him.
In this week's episode of Sciographies, host Dr. David Barclay sits down with Dr. Macdonald to talk about his experience specializing in inorganic chemistry and how he tackles big-picture projects as dean.
Listen to a preview of Dr. Macdonald's episode
Here are some excerpts from the episode, edited for clarity and length.
Taking on leadership roles

Barclay: I'd like to start with the fact that you're the dean. Why did you want to become a dean?
Macdonald: Within about six months of starting as a faculty member [at the University of Windsor], I was assigned to be the graduate coordinator for my department… So, very early on I had substantial administrative responsibilities. I found that I could do them and I could still be a successful scientist. Then the dean where I was working at the time took another role and tapped me to become the acting dean. I did that for a year and realized that I liked it, and I could make a difference. For me, that's what it's about. It gives you the opportunity to make change… and to choose to put resources and efforts into making things as best as possible for everyone.
Discovering an interest in chemistry and research

Barclay: Was it kind of a no-brainer decision that you were going to do a chemistry degree when you came to Dal?
Macdonald: In high school, I always assumed I would be a dentist, but I took chemistry, physics, and computer science in my first year of university and I liked all of them. But I liked chemistry the most, so I decided to pursue that.
Barclay: Was it the lab work or the theory? What really got into you?
Macdonald: What I've always liked about chemistry, more broadly, is that everything is made from matter, and chemistry is really the science that lets you understand how that works... I mean, I liked physics and math too… But I enjoyed [chemistry] and that particular approach to looking at problems.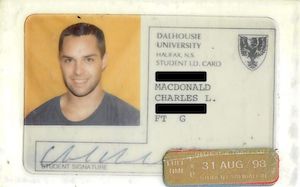 Barclay: During your undergraduate degree, how did you get an appreciation for doing research?
Macdonald: Another student told me that there were these scholarships that would pay for you to do research in the summer. I always had jobs in food service, so the opportunity to do something that would probably be more relevant to my career was exciting. I was able to get one of the NSERC Undergraduate Student Research Awards and went to work for Professor Neil Burford. It was exciting because it wasn't [like in class with] a set lab where you already knew what the result was going to be. We were doing something new and making something that hadn't been made before. I did my fourth-year honours project with Professor Burford as well.
Encouraging science outreach

Barclay: You mentioned that one of the things you're passionate about is outreach. What sort of infrastructure are you building to increase community engagement?
Macdonald: One of the most exciting projects is the Beaty Centre for Marine Biodiversity. I have two boys — a 13-year-old and a 10-year-old — and we love to go to places like the Discovery Centre and museums, especially when they're interactive. This is what the Beaty Centre is going to be. It will be a centre, here on campus, with displays that people of all ages can interact with to learn how they can help with biodiversity loss while showcasing what we do here, in terms of research and training, that contribute to solving these problems. It will be a real showpiece for the community with a sizeable aquarium space, which I think is really exciting for Halifax and for Dal.
Listen to the entire episode of Sciographies at 4:30 PM today on CKDU 88.1 FM in Halifax or find it on Apple Podcasts, Spotify, Google and other popular podcasting platforms. You can also listen to previous Sciographies episodes on the same platforms or at soundcloud.ca/sciographies and dal.ca/sciographies.