Nine months after making history and launching Atlantic Canada's first satellite into orbit, members of the Faculty of Engineering's Dalhousie's Space Systems Lab (DSS) are gearing up for their next space mission under new leadership.
The Canadian Space Agency (CSA) has awarded the team — now led by fourth-year electrical and computer engineering student Alex Amellal — $350,000 to design, build and launch a second CubeSat nonosatellite into low-Earth orbit.
Students will begin working on the project this fall, with a launch date set for 2025.

The funding comes from a set of grants awarded under the CubeSats Initiative in Canada for STEM (CUBICS). The initiative builds on the success of the Canadian CubeSat Project, which helped launch DSS's LORIS (Low Orbit Reconnaissance and Imagery Satellite) satellite into space in December of 2022.
Dal's LORIS satellite was deployed 400 kilometres above earth from the International Space Station by the CSA, NASA, Nanoracks and SpaceX and stayed in space until it deorbited in June.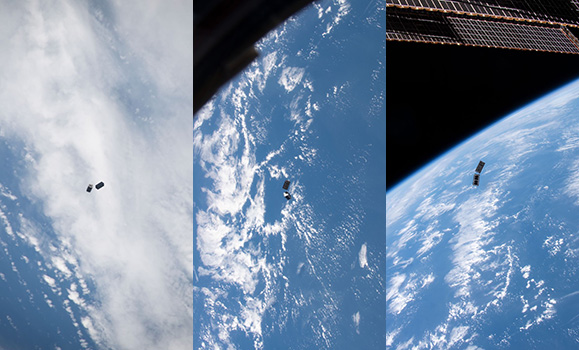 The LORIS CubeSat is shown in orbit above Earth. Image taken from the International Space Station. (NASA images)
From LORIS to MANTIS

More than 200 Dalhousie students from various faculties were involved with the LORIS project, which further opened the doors for space technology and space science in the Atlantic region.
"LORIS was our first try and it was our baby. With LORIS, it was 'can we do this?'" says Alex. "This time the novelty has worn off and we know what we're doing. I'm just as excited, if not more excited for the new satellite."
The new satellite will be called MANTIS and will be a bit larger than LORIS, says Alex

MANTIS which stands for Multispectral, Autonomous, Natural Transformation Imaging Satellite will include a variety of new technologies including a multispectral camera and edge computing processors designed to monitor and study climate change concerns on earth such as the formation of toxic algal blooms in the ocean.

While LORIS packed an impressive array of electronics into its small size, Alex says MANTIS's multispectral cameras will allow researchers to better analyse imagery and assess how well algal blooms can be detected.

"LORIS had a simple colour camera. We now want to expand that to have a multitude of different bandwidths and colours that can look at the earth," he says.
The CubeSat will have a list of geographic regions of interest and capture multi-spectral images of these target areas when they are in range.
Alexl says another objective of the mission is to study the thermal dissipation of the chassis and develop models to predict and optimize its structure and composition. The onboard camera and edge computing processors will also elevate temperatures within the CubeSat, potentially interfering with camera focussing and computer performance.
Recommended reading: Into orbit! Dal‑built satellite launched from International Space Station
Learning on many levels

While creating MANTIS will provide a big technical challenge for students, Alex says other hurdles also arise in such projects.
"The part that you don't expect to face is the project management challenges, people coming and going, and losing track of information," he says. "We have a really good core team of people from LORIS who have seen some of this stuff before and that gives me a lot of faith in how this new project is going to go."

In addition to exposing students to areas such as space technology, additive manufacturing, advanced electrical and software control systems and AI edge computing, students also gain hands-on learning experience in areas such as communications and time management. LORIS attracted a diverse group of students from across Dalhousie including students from engineering, computer science and arts and social sciences.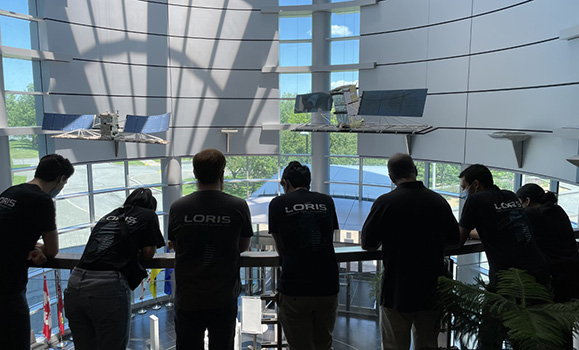 Dal's LORIS team pauses for a moment in the atrium at the Canadian Space Agency outside Montreal. (Provided photo)
Alex would like to see even more students get involved with MANTIS.  

"Seeing the numbers that LORIS had, I think the sky is sort of the limit in terms of student involvement," he says. "I would really like to see as many students as possible get the chance to get their hands on this project and learn something."
Space-tech company MDA has also stepped on board with a three-year sponsorship to provide students with the tools, equipment and expertise to complete their missions, and learn more about the space industry.