This article is part of How I Spent My Summer, a series of articles showcasing what students got up to over the past few months -- from work-intergrated learning to mini-courses and more. Find more articles in the series at the bottom of this article.
This summer, travellers around the world made up for lost time, taking trips they put off during the pandemic.
Biology graduate student Diana Haider was no different. In July, Diana headed abroad to take part in the Blue Science and Technology Summer Training Program at Belgium's Ghent University, a two-week mini course that offered attendees the chance to learn from experts about the blue economy, including the changing ocean environment in Europe and beyond, sustainable seafood and energy production, and entrepreneurship and social innovation.
Diana and the program's 15 attendees — a mix of master's and PhD students from around the world, as well as professionals from the ocean sciences field — participated in lectures, a poster presentation day, and visits to laboratories and research institutions, as well as boat trips to mussel farms and offshore wind farms.
Seeing the bigger picture

A PhD student in Dr. Julie LaRoche's lab, Diana's research focuses on the computational biases introduced in the data analysis of microbial communities.
"To study communities of microbes in the ocean, we sequence the DNA in water samples and then, through bioinformatic tools, we identify who is there, and in which proportions," she explains. "I research how confident we can be in the results, and how different methods can give different results. It is important to evaluate the robustness of the methods we use to increase reproducibility between microbiome studies."
Of course, with such a focus on data analysis, Diana admits that it is sometimes easy to fail to grasp the bigger picture of what is going on in the ocean sciences field. When she learned from the Dean's Office about an opportunity for a Faculty of Science grad student to attend the Ghent University program through funding provided by OceansAdvance, she eagerly applied. 
"The pandemic disrupted the end of the first year of my PhD program, so I have not had the chance to travel and network in person with professionals in the field."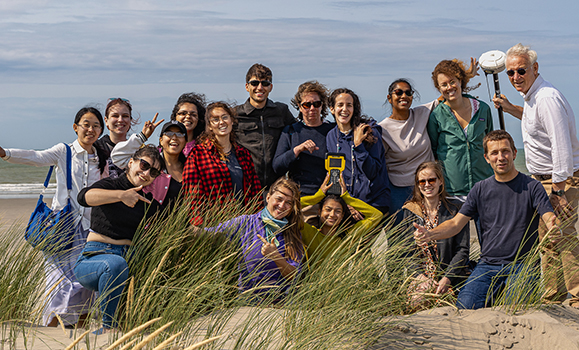 Diana, centre-front in yellow, program participants and instructors are pictured together on a beach in Oostende where they were taking wind, wave, and sand measurements.
Having never previously been to Europe, Diana arrived in Belgium a day early to visit Brussels. The program was mainly based out of Belgian cities Ghent and Oostende, but also involved a visit to Zeeland, in the southwest of the Netherlands. "The program was intensive, but I used evenings and weekends to explore the city and immerse myself in the culture," Diana says, noting that the "beautiful" Ghent was her favourite place she visited.
Back in Halifax, Diana can reflect on the trip abroad. "This was an opportunity I was extremely grateful for," she says. "I was able to travel and do something I love, learn about the ocean and meet a diverse group of similar-minded people who are just as passionate as I am."
As she nears the end of her doctoral studies, Diana welcomed the chance to make connections and network with people in her field. "I know I want to continue working in the field of ocean sciences and this was the perfect project for me to bridge the gap between industry and academia."
Visit dalscience on Instagram to see more photos from Diana's trip.
Also in this series: