Incense smoke wafts through the air. A hushed congregation waits reverently for a lone voice to rise from the front of the cathedral, their plaintive song filling the space with Latin verse that attempts to convey the enormity of spiritual life.
It's a scene from the Middle Ages that seems distinctly at odds with our current digital world. But the texts that underpin this scene — plainchants — are central to a new data-driven research project led by Dalhousie musicologist Dr. Jennifer Bain.
Over the next seven years, Dr. Bain will create an online platform that links and synergizes plainchant databases around the world. The new digital tool will provide scholars with a vast electronic resource to deepen their understanding of the a cappella chants and those who created and recited them.
To help the researcher take her program from solo performance to orchestral symphony, Canada's Social Sciences and Humanities Research Council is providing a $2.5-million Partnership Grant. The funding will support the work of 23 co-investigators, 24 collaborators and 20 partner organizations in Canada and around the world who have committed more than $3.5 million in in-kind contributions.

Discovery in difference

A core component of traditional Catholic liturgy, plainchant, often referred to as Gregorian chant, began as a central part of Catholic religious life in the medieval era and continues in some traditions today.
At first blush, the study of these chants may seem like a niche academic endeavor. But Dr. Bain is quick to correct the impression, noting that there are thousands of scholars, early music performers, and church musicians the world over studying and performing the liturgical expression to gain insights into how people lived and worshiped over time.  
"It is a big, amorphous field, where there's a lot of data," she says. "It involves tens of thousands of manuscripts and within each of them, thousands of individual pieces, which can change from one manuscript to another. Because the manuscripts are handwritten, no two are identical."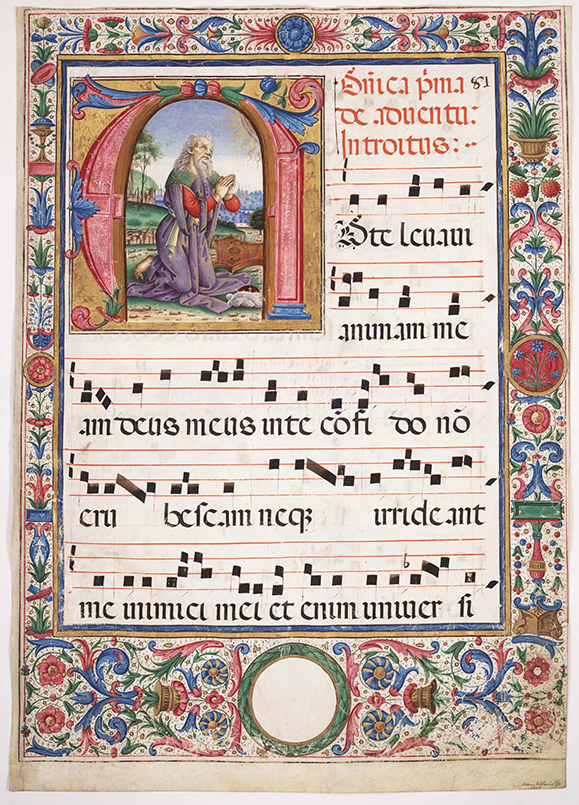 A miniature of King David and plainchant notation.
It's the differences between these manuscripts and musical compositions, and the decisions made in their production, that open new avenues for discovery. Dr. Bain explains that plainchant developed and changed with religious reforms and the influence of international missionary activity that accompanied European colonial expansion.
As Catholicism spread, so did the plainchants that comprised religious services. As they were performed for increasingly diverse congregations in all corners of the world they began to evolve — changing to suit their new environs.
The glorification of God can look different depending on who is penning the text, composing the melody, or interpreting either, where or when. So, the ability to compare liturgical materials across place and time is fundamental to advancing the field.
Piecing together the puzzle

At the heart of Dr. Bain's project lies an abundance of data, derived from thousands of handwritten manuscripts that have preserved the melodies and texts of chants throughout history. Computing advancements have allowed numerous libraries and research groups to digitize their collections, but they aren't linked, and some have fallen into disuse or disrepair as funding lapses or projects end.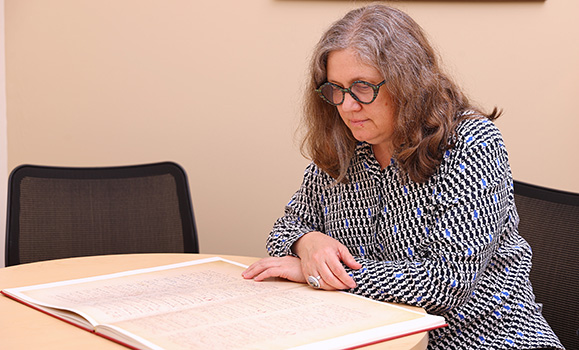 Going beyond digitization and cataloging, the researcher's project will foster an interactive research community, actively involved in shaping the development of databases and creating interoperability between online archives. The concerted effort will bring together a fragmented landscape and provide scholars with the tools to navigate the vast world of medieval chant across time and geography.
"The most important thing is that we're trying to think about sustainability," says Dr. Bain. "The more that we can do to come up with shared protocols and procedures for how to connect and run these things, the better able we're going to be to be able to sustain them. That's the big picture."
How ideas travel

Historically, when a liturgical scholar wanted to study a plainchant manuscript, they had to travel to Spain, or Germany, or Argentina, or Japan, or wherever liturgical books found themselves throughout history. Then, if they wanted to contrast it with another plainchant manuscript, they had to travel to another destination.
With Dr. Bain's new digital platform, researchers will travel digitally to access far-flung collections at a click. They will be able to access multiple databases and repositories simultaneously for search and analysis from the comfort of their own homes. She also notes that the new technology will empower a more expansive approach to plainchant research, by including countries and communities that have not typically been the subject of study.
"The work has customarily been focused on Western European traditions," she says. "One of the things that my project is doing that is new, is looking at not just how things traveled within Europe, but also how they traveled beyond Europe, and beyond the Middle Ages."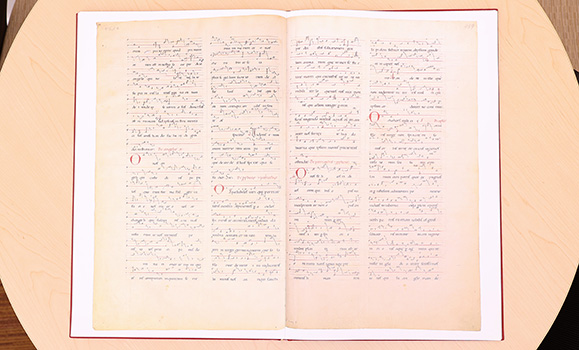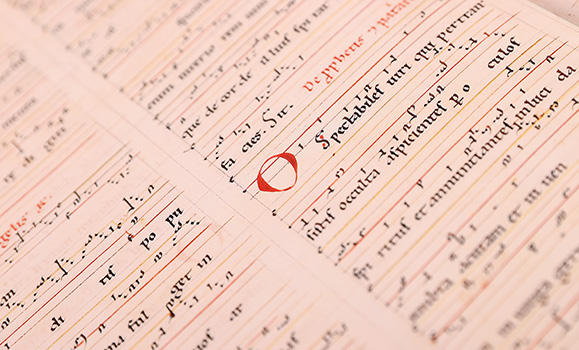 From global to local

She explains that missionaries took liturgies around the world and translated them from Latin into local languages as part of their mission to bring Catholicism to Indigenous populations. This includes plainchant that was translated into the Mi'kmaq language when priests first arrived in Nova Scotia 400 years ago.
Dr. Bain is working with a team of Mi'kmaq scholars, including colleagues and students at Dalhousie, at McGill University and the University of Cape Breton's Unama'ki College to study the Mi'kmaq liturgy. She says that while the research reveals interesting details about how Mi'kmaq people adopted Catholicism, it also provides insight into Mi'kmaq culture and language.
"Thinking about what vocabulary they used to describe these Christian ideas can tell us a lot about the Mi'kmaq worldview. The way that they describe God, and Jesus and St. Anne, and all of these things tells us something about how they understood these spiritual concepts that were being introduced."
Similar work is taking place in Taiwan as part of the project, where a scholar is studying how Latin plainchants were translated into Mandarin and adopted in that culture. But Dr. Bain cautions that it was not a one-way relationship. Local cultures were also influencing the liturgy and the people who were delivering it.
"Understanding our shared cultural histories and the ways in which our contemporary culture has been shaped by this religious history is important to understand who we are today," says Dr. Bain. "It's one more window, or lens we can use to understand the impact of colonialism."