K.R. Byggdin (BA'22) is still wrapping their head around their big literary win.
Byggdin is the latest recipient of Atlantic Canada's most prestigious prize for fiction, the Thomas Raddall Atlantic Fiction Award. Even more impressive, they won for their debut novel, Wonder World (Enfield & Wizenty, 2022).
"I was so surprised when they called my name, I had to double check the screen to make sure my picture was really there before I made my way to the podium!" they recall.
At a reading and Q&A at Halifax's Glitter Bean Café this past Monday (August 14), Byggdin spoke about the support they've received from Atlantic Canada's literary scene. The event was co-sponsored by Dal Libraries and the Writers' Federation of Nova Scotia (WFNS), and Byggdin acknowledged the positive impact both institutions have had on their writing career.
"This book would not have happened without the community I found here," says Byggdin, who is originally from Manitoba. "The workshops, the mentorship, the encouragement I've received from other authors and professors, it's all helped me grow tremendously as a storyteller. Being recognized by my peers in the region for writing this story feels really special."
'A virtuoso exploration'

Wonder World  follows 27-year-old Isaac Funk from his small-town Mennonite roots in Manitoba to the queer scene of Halifax and back again.
"There's a certain glee in writing a character as bold and brash as Isaac," says Byggdin. "His life is messy at times, he's not perfect, but he has a big heart and I think his search for connection and belonging in his hometown is one a lot of queer people can relate to."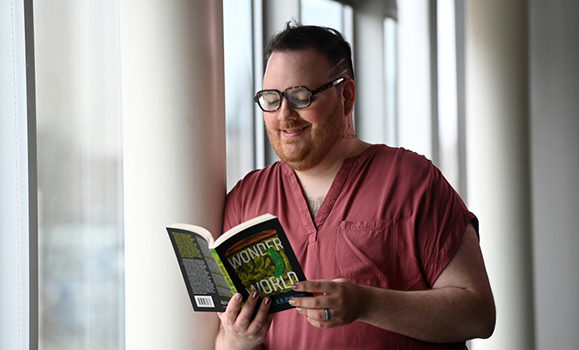 K.R. Byggdin. (Danny Abriel photo)
The Raddall Award is a $30,000 purse administered by the WFNS and awarded to the Atlantic Canadian writer whose work exemplifies a high calibre of writing, social and/or cultural merit and an original concept.
Clearly, Byggdin's novel exceeded all requirements. "As funny and sassy as it is poignant and observant, Wonder World is a virtuoso exploration of love and hope, a story of building bridges to family and community while staying true to oneself," reads the jury citation from the WFNS.
Recommended reading: FASS student celebrates debut novel
The man: Thomas Head Raddall

The Raddall Award's namesake, Thomas Head Raddall (1903 – 1994), was a renowned and prolific Nova Scotia author who received the Governor General's Award for three of his books and enjoyed both commercial and critical success during his long literary career.
After his death in 1994, Raddall's family donated his personal library of over 1,200 volumes — many heavily annotated — to Dalhousie and also established a memorial fund to support the ongoing purchase of Atlantic Canadian literature.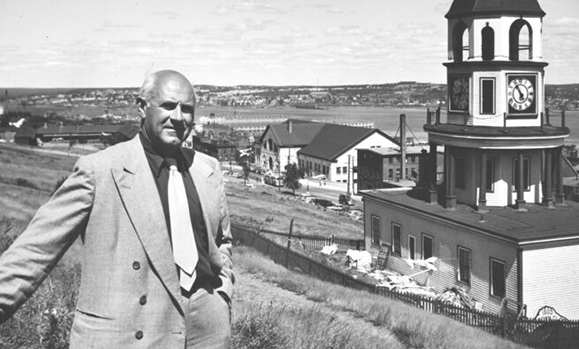 Thomas Raddall.
Karen Smith, special collections librarian for the Dalhousie University Libraries, calls the Raddall Collection one of their most significant research collections.
"It documents all aspects of the long writing career of one of Atlantic Canada's most accomplished and influential writers," she says. "His characters and his careful research notes continue to be a rich resource for historians and literature scholars here at Dalhousie and beyond."
The Raddall family continues to steward their patriarch's eponymous award — they have increased the value from $5,000 when it was established in 1991 to the $30,000 it is today — which provides writers with "the gift of time and peace of mind" according to Thomas Raddall Jr.
"I just think it's amazing when you consider the impact this one family has had on Atlantic Canada's literary scene," says Byggdin. "So many writers have benefitted from this generosity and I'm very grateful to be among them."
The future: where to from here?

Come fall 2023, Byggdin will join the University of Guelph's Creative Writing MFA program and plans to continue honing their craft.
"It's a lovely confidence boost to know this story has resonated with folks on the East Coast and that they're eager to hear more from me," they say. "I hope to keep writing both from and about this special place for many years to come."