A new partnership between Dalhousie's Faculty of Engineering and an Indigenous-led charitable organization announced this week aims to help build a more representative and diverse engineering profession that will better serve society and the people it impacts. 
The partnership with Ulnooweg Education Centre paves the way for the launch of an Indigenous stream of the Faculty's new Inclusive Pathways to Engineering Careers Program, an initiative designed to remove barriers and increase access to an engineering education for individuals from equity-deserving groups.
"Increasing diversity in the profession begins with welcoming more engineering students from all equity-deserving groups to Dalhousie University," said Dr. John Newhook, dean of the Faculty of Engineering, at a launch event Wednesday (July 19). Dr. Kim Brooks, Dal's acting provost and incoming president, served as MC at the event and signed the official partnership agreement. 
The Inclusive Pathways program offers tailored supports, resources, and opportunities to underrepresented youth — services in line with Ulnooweg's own mission to empower Indigenous communities through the advancement of education, collaborative research and the delivery of educational programs and initiatives.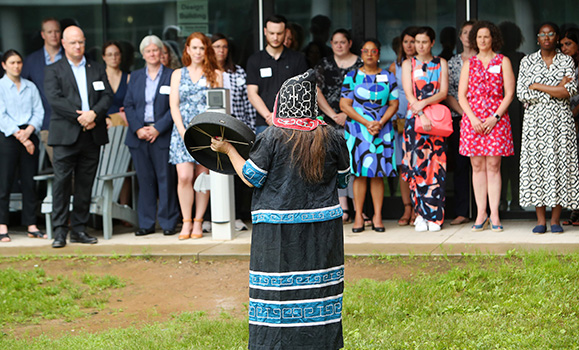 Merging perspectives 

Over the next year, Dalhousie and Ulnooweg will begin laying the groundwork for the Indigenous stream of the program. This will include working to engage communities and ensuring the program meets the needs of current and future students.
"Our goals are to create new learning opportunities and initiatives such as a prep year, student supports, mentorship, skills development and career advising that will attract students interested in engineering as a career, regardless of their background," said Dr. Newhook.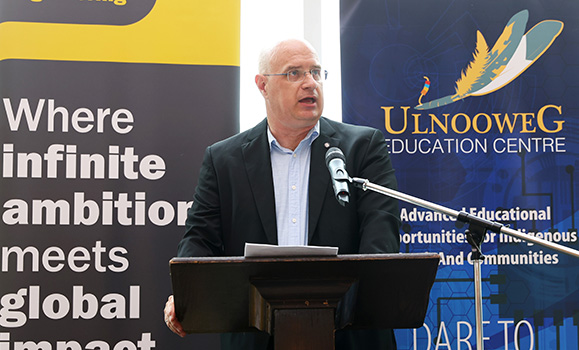 John Newhook.
"Indigenous peoples have been solving complex engineering problems across Turtle Island for time immemorial. Our partnership with Ulnooweg will enhance opportunities to practice Etuaptumumk — the gift of multiple perspectives, which is also referred to as Two-Eyed Seeing."
The guiding principle of "Two-Eyed Seeing" is grounded in the approach of viewing the world from one eye with the strengths of Indigenous ways of knowing and to see from the other eye with the strengths of Western ways of knowing. The idea is to use both eyes and perspectives together.
"Hearing our language applied to the spirit of Etuaptmumk provides opportunities for us to share the practical application of engineering in our history throughout our stories," said Chris Googoo, CEO of Ulnooweg.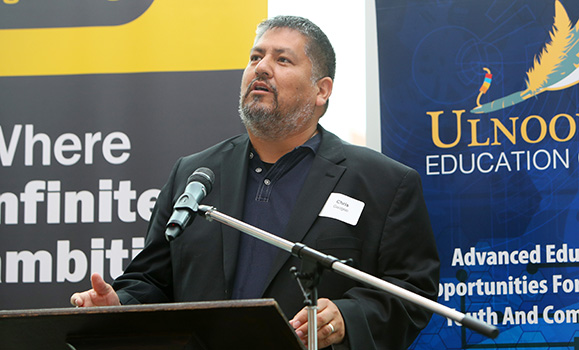 Chris Googoo.
"We know knowledge comes from all directions, north, south, east and west. As Mi'kmaq standing here, it is time the global community hears our voice as Indigenous people, from all directions."
The partnership announcement comes the same week as the North American Indigenous Games officially kicked off in Halifax and other communities. The week-long event celebrates the athletic achievements of Indigenous people as well as their identity and culture as well.
"As I started off this week, I had the privilege to witness an amazing expression of Indigenous culture and language, as well as an expression of the power of Indigenous youth as 5,000 athletes from across Turtle Island marched into the Scotiabank Centre for the North American Indigenous Games," said Googoo.  "Those 5,000 Indigenous youth from all across Turtle Island deserve a good life. We must ensure we come together and work together to achieve a better society."
Founding partnership and supporters

Despite being in the "building" phase, the Inclusive Pathways to Engineering Careers Program has garnered support from local donors and partners eager to build a more diverse and dynamic engineering profession. 
"We have the opportunity to drive our profession forward by supporting a unique engineering education. By making engineering accessible to more Indigenous youth, we're making a better, more diverse future," said John Flewelling, president and CEO of CBCL Limited, at this week's announcement.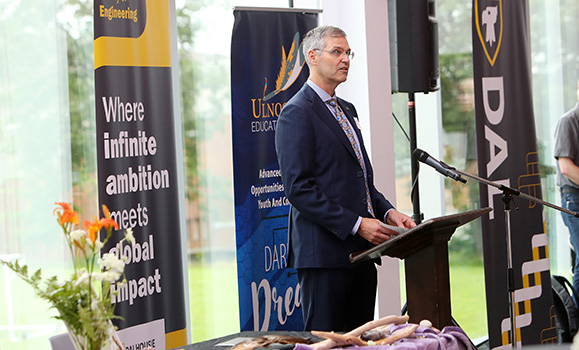 John Flewelling.
CBCL, an engineering and environmental consulting company, came on board earlier this year as the first founding partner of the Inclusive Pathways program. 
A long-time partner of the Faculty of Engineering, CBCL has played a valuable role within the engineering community, embracing differences in backgrounds, perspectives, and experiences, and striving to create a positive and lasting impact on the people they serve.
"At CBCL, we truly believe that the Inclusive Pathways to Engineering Careers Program will inspire Indigenous youth to pursue opportunities in the engineering field," said Flewelling. "Providing equitable opportunities in the industry today will drive a shift that will boost innovation, foster creativity, and inspire solutions with tomorrow in mind. The sooner we act on these conversations the sooner these opportunities will come to fruition."
Other founding partners of the program also include EverWind Fuels and Dalhousie Engineering donor and alumnus Dr. Bernard MacIsaac and his wife, Ann MacIsaac."Initiatives such as the Pathways Program are only possible with the help of our partners and donors. Indeed, diversity and inclusion require the participation of many individuals, organizations and communities. No one can do this alone," said Dr. Newhook. "As we build out each stream in the Inclusive Pathways program, we will be engaging new partners. Our hope is that the impact of this program will one day change the face of the engineering profession and society as a whole."

Recommended reading: New pathway program to grow number of Indigenous students entering Dal undergraduate medical studies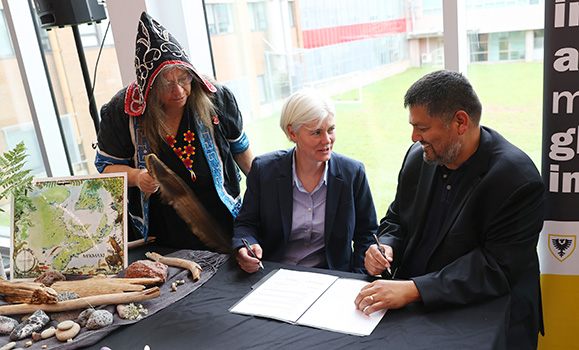 Kim Brooks and Chris Googoo sign partnership agreement as Catherine Martin looks on.