A family connection and a desire to make the world a better place led Emily Gowan to the Agricultural Campus to study engineering.
"Growing up, both of my parents worked on campus, so I spent a lot of time there as a child," explained Emily. "Both of my parents are also alumni (Traci Gowan, Class of 1993, Lisa (Orlando) Gowan, Class of 1994 and 1996), so choosing to go to the AC myself felt natural, like a family tradition."
As for engineering, Emily knew she wanted to work in a field where sustainability is considered in every project and a key practice in the workplace.
"The environment is very important to me and if I am not in school or working, you can find me out in nature, hiking with my dog, gardening, and kayaking."
Like coming home

Although Emily has since moved to the Sexton Campus to complete her Civil Engineering degree, she has spent two of her past four work terms on the Truro Campus.
"Coming back to the AC to work felt like coming home in a way," Emily added. "I've always loved spending time on campus from the time I was little, to completing classes on campus, and now the opportunity to work on campus."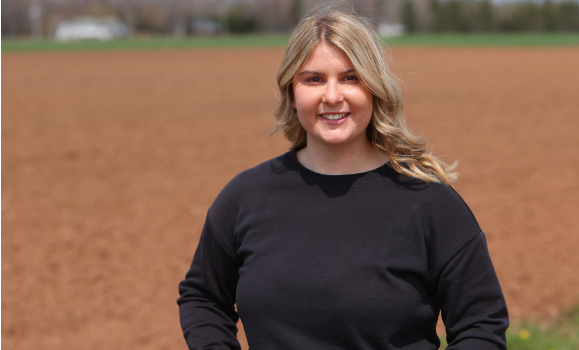 Civil engineers typically choose one of two paths — infrastructure or earth and environmental, with many options within each specialization. Emily is completing the Earth and Environmental side of civil engineering and hopes to work as a civil engineer in the waste management field or potentially water/wastewater treatment.
Emily's final work term is with Dr. Gordon Price and the Innovative Waste Management team in the Engineering Department in Truro.  
"This project involves 25 Ontario dairy farms which are treating the cow bedding as a compost pack to look at pack management," Emily explained.  "I have been completing respiration tests for carbon dioxide using CO2 sensors."
Emily started with Dr. Price in January 2023 and enjoyed it so much she decided to return and complete her final co-op work term through the Dalhousie Engineering Co-op Program. Her focus has been on a project for the Ontario Ministry of Agriculture, Food and Rural Affairs Dairy project looking at pack management and greenhouse gas emissions.
"It's critically important to ensure that all disciplines, but Engineering in particular, are fully represented from an equity, diversity, and inclusion perspective, added Dr. Price.  "Emily is a prime example of why encouraging greater representation of women in Engineering is extremely important for the success of the discipline. When presented with challenging research activities, Emily has excelled at bringing creative solutions forward and has shown an exceptional focus at completing the work."
Part of the solution

Over the summer months Emily will also work on an independent research project in which the data she collects will be used for a research course her following semester.
"The project involves measuring greenhouse gas emissions and fluxes produced from source separated organic composted material from the Colchester and Pictou composting facilities, and anaerobically digested materials from Gore, NS over the growing season on a field site in Truro," she added.  
Emily hopes to complete her degree in May 2024 and work in the environmental sector of the civil engineering field.
"I want to help protect our environment and be a part of reducing our carbon footprint," she added.