Kristal Ambrose's relationship with ocean plastics began shortly after finishing high school. While working at an aquarium in The Bahamas, she spent two days helping to save a turtle with an internal blockage of plastics. "As I was working to extract the plastics from the turtle's body, the turtle actually began to cry," she says, explaining that scientifically, this process is known as 'turtle tears', and enables a turtle to excrete excess salt from their bodies. "I started crying too, and from that moment on, vowed to never drop another piece of plastic on the ground again."
In 2012, when Ambrose was 22 years old, she earned an opportunity to join an expedition studying the Great Pacific Garbage Patch, a collection of marine debris bounded by the massive North Pacific Subtropic Gyre in the North Pacific Ocean. "Snorkeling at the Garbage Patch, I observed dying and dead fish, hundreds of plastic fragments, toys, toothbrushes, plastic bags, and straws floating in the water," Ambrose says.
Brought by ocean currents and wind patterns, this same plastic trash is choking the ocean and washing up on the beaches of the 700 islands that make up The Bahamas, contaminating the environment and impacting tourism, which so many residents depend upon for income. "I had about 50 straws in my cupboard at home, and plastic bags, so I was just as much part of the problem as I was part of the solution."
Inspired, she returned home to The Bahamas determined to mobilize youth in the nation to tackle the issue of plastic waste harming ocean ecosystems.
Finding solutions, mobilizing youth

In 2013, Ambrose founded her non-profit environmental organization, the Bahamas Plastic Movement, to find solutions to alleviate plastic pollution and inspire Bahamian youth to create real change. "Education has been a huge part of the organization's mandate, with tuition-free camps allowing youth to act as citizen scientists conducting research and becoming engaged and empowered on this vitally important issue," shares Ambrose. The other piece of the puzzle was to guide the Bahamian government to make changes in policy that would have a real impact on the ocean plastics issue.
"With the help of a lawyer, we wrote a bill of what a single-use plastics ban would look like for the Bahamas," Ambrose explains. With a group of exuberant youth accompanying her—singing and dancing along the way—Ambrose took that draft bill, her research, and plenty of data to The Ministry of Environment and Natural Resources, with a goal of raising awareness and applying pressure for the government to take action. Thanks to Ambrose's efforts, the government of The Bahamas banned single-use plastic bags, plastic cutlery, straws, and Styrofoam containers and cups in January 2020 (the ban was announced in 2018).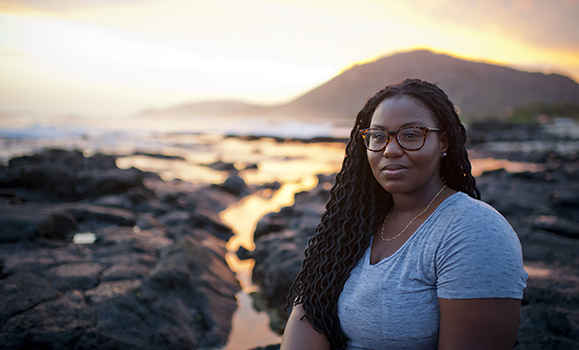 Continuing to grow while saving the seas

Throughout her crusading work, Ambrose earned her Bachelor's degree in Interdisciplinary Studies, with a focus on Environmental Science, Biology and Education, from Gannon University in Erie, PA, before coming to Dalhousie to earn her Master's degree in Marine Management, focusing on plastic pollution research. In 2020, Ambrose won The Nippon Foundation Scholarship to join the World Maritime University's WMU-Sasakawa Global Ocean Institute—a specialized agency of the United Nations in Malmö, Sweden—where she is currently working towards her Ph.D.
Ambrose has received numerous awards for her work—including the prestigious 2020 Goldman Environmental Prize—and has been recognized as an environmental leader by Sierra Club Magazine and Coastal Living Magazine. Musician Jack Johnson has called Ambrose an "ocean hero" and wrote the forward for her recently published children's book Kai and Gaia Discover the Gyre, written to inspire children to help the planet.
Ambrose is aware that being a young, Black Bahamian woman working at a grassroots level of an environmental issue working is vitally important for representation. "It sends the message to young people that you can do this too," she explains. "This is my planet, this is my ocean. I deserve to fight. My voice matters."