When Pamela Edmonds joined the Dalhousie Art Gallery last summer as its new Director and Curator, it felt a bit like a full-circle moment for the influential art-world maven.
One of her first jobs following art school in Montreal had been as a gallery assistant at the campus arts hub 25 years ago when curatorial work was just on the cusp of professionalization. 
"A lot of us who are curators, especially those with more grassroots backgrounds, were artists that wanted to see exhibitions and took it upon themselves to organize. That's how my trajectory happened," explains Edmonds, who was born in Montreal, raised in Halifax and built her curatorial career in Ontario over the past two decades.
This week marks another cyclical moment of sorts for Edmonds as she debuts an exhibition at Dal featuring an African Nova Scotian artwork she first crossed paths with all those years ago when working a separate gig at NSCAD's Anna Leonowens Gallery. 
Passages, a quilt from 1998 by Myla Borden, is on display as part of The Secret Codes: African Nova Scotian Quilts, which opens this week. The exhibition was curated by David Woods, a celebrated African Nova Scotian artist who just happened to include the Borden piece in a 1998 NSCAD exhibition, In this Place: Black Art in Nova Scotia, that Edmonds helped work on.
It's yet another thread connecting Edmonds to the community and her past here in Nova Scotia. 
"David and I always stayed in touch and this exhibition brings together over 20 painters and quiltmakers who have made these beautiful textiles and canvas works, which are all about the community and culture," she says. 
For Edmonds, creating art shows has a lot to do with showcasing connections between art and society.
"One of the reasons I got into curatorial practice was to support the work of artists from diverse communities and to recognize the importance of regional makers," she says. 
The Secret Codes, organized and circulated by the Black Artists Network of Nova Scotia and The Vale Quilters of New Glasgow, runs at the Dalhousie Art Gallery from May 11-Aug 6, with an opening reception this Saturday, May 13 from 2-5pm. 
Learn more about Edmonds and her vision for the Dalhousie Art Gallery below.
You worked at the Dalhousie Art Gallery more than 25 years ago. What can you tell me about your past and what brought you back all these years later?
Both of my parents are originally from Nova Scotia. Even though I was born in Montreal, I spent a good part of my life here. My mom is from New Glasgow and my dad is from Dartmouth, but with family ties to Lucasville and Tracadie. Being in Quebec in the 1970s, there was the separatist movement happening and my parents said, 'We're gonna go back home to our roots.' So, I spent my formative years here in Nova Scotia. I went back to school in Montreal to do a BFA in Art History, but once I had finished my degree I moved back home in 1998. One of my first jobs in Halifax was working at the Dalhousie Art Gallery as a gallery assistant. I didn't really know I was going to get into curatorial work back 25 years ago. I ended up volunteering in a lot of galleries, including Mount Saint Vincent Art Gallery and at NSCAD. I worked for a summer at Dalhousie as a gallery assistant and running the film program by Black directors curated by Ron Foley MacDonald. 
I have worked in the curatorial field for 20 years in Ontario, but after COVID, I rethought a lot and wanted to come back home. And I knew and kept in touch with the former Dalhousie Art Gallery Director Peter Dyhkuis who was retiring. I decided to apply and here I am. It's really full circle for me to be back to lead the organization. A lot of the reasons I got into curatorial practice was to support the work of artists from diverse communities and to recognize the importance of regional makers. I want to lead the charge of collecting their work and recognizing the uniqueness of African Nova Scotian art and culture, Mi'kma'ki culture, and contemporary art and what it says about who we are where we are heading. I'm very much interested as a curator in a social practice. That's the world we are in now, so a lot of things are aligning in terms of my own personal interests and professional interests and how Dalhousie is moving forward in its strategic plan to be a civic university that's local but globally minded.
You've worked in a lot of different types of galleries and art spaces over the past 20 years. What unique opportunities does a university gallery offer?
I've worked in many different types of spaces from co-ops to public galleries to museums to artist-run centres. What I've liked about working in a university gallery is as curators we deal not only with art; we also deal with ideas. And an important interest for me as a curator has been engaging with philosophy and looking at the different contexts that art relates to. Art is about the world, our lives, the future, the present and the past. It's exciting for me to engage with students on ideas. In university galleries, we have a tendency also to be able to explore more experimental forms of art. This used to be more of the artist-run centre milieu in the 70s and 80s, but a lot of pubic galleries are now presenting work with more social and political contexts and looking at their collections in terms of diversity as well. As our world has shifted with the pandemic and beyond, the university is a place to test these ideas and to discuss and dialogue and that's also what art does. To be able to be a in space such as this is vital. 
Your career has centred in many ways around projects showing how the visual arts and media intersect with issues like gender, race and identify. How do you see your role at Dal supporting this larger set of values you bring?
I started as an artist in the late 1990s in Montreal but found it quite difficult to break into the exhibition world. It was at a time when a lot of artists were questioning getting a seat at the table, so to speak. I became quite politically engaged at that time with artists from the margins: Black artists, Indigenous artists, queer artists, feminist makers.  I was very much interested in how we could contribute to more inclusive conversations about what is being seen within our institutions and what is it saying about the stories of our world. There has been a disparity between who comes into the gallery and who is around us every day. For me, it is important to try to create art spaces that are more equitable in terms of representation.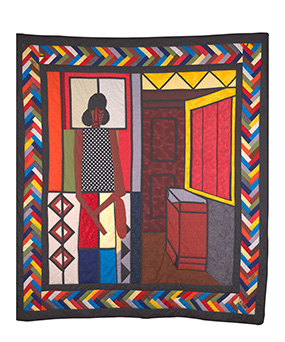 Dalhousie is a very diverse university community. There is an African Nova Scotian strategy, which I'm very excited about. This work is about recognizing the uniqueness of the community, which I always advocated for when I lived in Ontario because Nova Scotia is really the genesis of Black culture in the country. So, my interests align with that. One of the first exhibitions I programmed being here is an exhibition called The Secret Codes: African Nova Scotian Quilts, curated by David Woods, who recently received an honorary doctorate from Dalhousie. He's an early mentor of mine that I met when I was in high school and he ran an after school program called the Cultural Awareness Youth Group, which taught us about art and culture. We used to do Black history competitions between the schools, we did floats in the Natal Day parade, lots of collaborative events. 
Pictured above: Myla Borden, A Visit from Mamay, appliqued, machine stitched and machine quilted, 93.5"x 85", 2012. 
What does a day in the life of a university Director and Curator look like? 
There's no one typical day. Like many careers in the arts where we put on shows, it goes in cycles. There are times when you're researching and getting ready for an exhibition or project. There's the time when I may be helping with installing art in the gallery and looking at design of the space, lighting and labels. Then there's time negotiating with artists. I see my role as curator as a facilitator between the artist and the institution and the public. Not only do we work with artists, we are also contextualizing the work for the public, promoting it and putting it into conversation with other artists and other types of art. 
It's very rewarding. It's the kind of job that never really ends because I am always thinking ahead on the next project. It's not 9-5, let's put it that way.  I am planning two, three years or more years into the future with exhibitions and about I would like to see. I aim to ensure there is a cohesiveness in the types of programs that the gallery presents, and I hope that people will perceive the exhibitions that present here at Dalhousie as inclusive and they hopefully help to  break barriers as it is important for me to having all kinds of different people in our space. I'm someone who believes that art really should be accessible and open to everyone. 
How do you come up with ideas for exhibitions and find artists to showcase?
The pandemic was challenging as it had many of us as curators rethink how we use our public spaces. I've been also thinking more about digital space and how to curate online exhibitions. In terms of programming, I usually follow the mandate and mission of the gallery as a guide. So part of what I'm interested in for the gallery is to develop a strategic plan. It's so important to set the vision and say, 'Okay, we are going to focus on this thematic or artist working in this way.' It's about building partnerships and I'm interested in working with guest curators. I also want to make sure we are also highlighting artists from the Atlantic region. 
Part of my programming is also intuitive. I research artists from here and around the world and try to keep my antennas up about what I feel is impactful and what feels forward looking. I get a sense about artists who are exploring things I've never seen expressed before. I'm interested in  looking at artists who are engaged in issues relative to the moment. I also seek balance: group shows versus solo exhibitions, giving space to artists who have maybe not had exhibitions or who may have been overlooked by the mainstream art world. I am attracted to artists who are speaking to communities in new ways. People might not see quiltmaking as art, but when audiences see it these compelling works in the gallery, there will be no question! These textiles are amazing examples of contemporary abstraction, figuration, landscape, storytelling, community life and speak to culture and the preservation of heritage, which is what this work is all about.