When a traveler arrives at the Halifax airport, they are met with a sea of brochures near the arrivals exit advertising different tourist experiences around Nova Scotia. Dr. Camilo Botero, a visiting scholar in Dal's Rowe School of Business, believes these don't currently reflect all the province has to offer, particularly when it comes to coastal areas.
This spring, Dr. Botero plans to hit the road along some of Nova Scotia's 7,500 kilometers of coastline in search of answers to how the province can boost tourism by working more intentionally to improve beach experiences.
"Nova Scotia's official tourism slogan for 2023 is "Your ocean playground," which is a clear call to highlight the importance of beaches for the province and tourists," says Dr. Botero.
"We want to assess as many beaches as we can, mainly in the provincial parks as these are free access beaches," he says of his upcoming project.
Dr. Botero, a researcher from Colombia's Sergio Arboleda University who specializes in coastal management, says his team will explore and assess beaches using the coastal scenery evaluation method to classify them from most scenic to least scenic using a numerical scale from 1 (most scenic) to 5 (least scenic).
Then, they will use that information to help create a better business model regarding brochures and attractions and to identify changes that could be made in different coastal areas to improve visitor experiences.
He says beaches should be recognized as an important part of Nova Scotia and Canada's heritage and any potential upgrades would have to consider the protection of these sensitive coastal landscapes.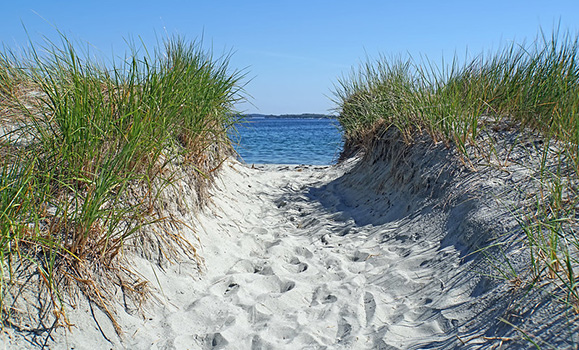 Above, a beach in Taylor Head Provincial Park. (Dennis Jarvis/Flickr)
From dunes to beach access and beyond

Dr. Botero, who plans to recruit master's student researchers to help him carry out the research, will also include appraisals of various shore towns around the province in his analysis. Lunenburg, Guysborough, and some towns in Cape Breton are currently on the agenda.
The coastal scenery evaluation method was originally developed in Europe. The 26 parameters include assessment of dunes, traffic noise, water and skyline clarity, beach access, and whether there is a rocky or sandy shore.
"Nova Scotia's beaches can be studied in different ways, according with the season," says Dr. Botero. "In Latin America and Europe, where I did most of my research, the beaches are public areas. In Canada, the beach could be private land, which is a big difference for management purposes." 
Spots are still available for the field trip, which is open to anyone in the Dal master's program with previous experience or studies in tourism, geography, or marine sciences. Contact Dr. Botero at cmbotero@dal.ca
Recommended reading: What's in the water? Dal expands water surveillance projects with new funding