Mady Shivgulam is no stranger to chasing time. Her first year on Dal's varsity swim team, Shivgulam missed the national cut by a hair. Fractions of a second determined her next four years of training in the pool. Overtaking an instant became her personal summit.
Since retiring from varsity, Shivgulam has gained a new perspective on wins and losses. Now in her second year in a Master of Science in Kinesiology, she looks forward to applying her experience to all aspects of her life — from coaching swimmers to mentoring young women in science.
This is Shivgulam's fifth-straight-year as an Academic All-Canadian at Dal, an award honouring student-athletes who achieve an 80 per cent average or above while playing varsity sports. Her career also includes four straight Atlantic University Sport (AUS) championships with the Tigers.
Shivgulam describes the life of a student-athlete as "an emotional journey," but one she felt naturally suited for.
"I wasn't the fastest in the pool," said Shivgulam, "so, finding my successes in other things and being able to be resilient and have learning experiences while growing up in that environment was a huge win for me. Some people don't thrive in that environment. I did."

Mady Shivgulam, centre in red dress, with fellow Tigers at the Academic All-Canadian celebration.
A formative experience

Balancing the hard-won hyphen between student and athlete is not always "peaches and cream," said Shivgulam.
"There are many tears, there are many 'I can't do this, I don't have time for this' moments. It's very stressful [because] there's a lot of pressure on all aspects of your life. But the saving grace is that you're going through it with all of your teammates at the same time."
This journey — from 5:30 a.m. mornings, to full-time studies, to evening practices and meals on the road — is one Shivgulam cherishes as formative and irreplicable.
"It's a lot but it's all I really knew, so it was an easy transition" to Dal, said Shivgulam. "That's what I did in high school. Then university. That was my life. And I loved it."
Recommended reading: Dal spotlights triumph of latest U SPORTS Academic All‑Canadians
Thirteen years since stepping on deck for the first time, Shivgulam, 23, is embracing a slower pace.
"When I was in it, every single success and every single challenge, I'll call it, was end-all be-all," said Shivgulam. "And I really struggled with that, especially in the pool. But now that I am out of it, everything is more relaxed. Things are going to ebb and flow. And that's the natural progression of things. And if things don't work out, 'It's okay, we'll get them next time.'"
Shivgulam understands the need to succeed is often felt the hardest from yourself. Now, as a swim coach with the Tigers, Shivgulam wants to share this newfound pace with other swimmers.
"I want to take them and tell them, 'It's gonna be okay,'" she said. "I wish I could have told myself that."
Her parents never pressured her, but instead encouraged her to do what she liked. "But I've always just really been driven academically and very driven in the pool," said Shivgulam.
Redefining success and failure

Since leaving the swim team, Shivgulam has reflected on some of these impulses she took for granted.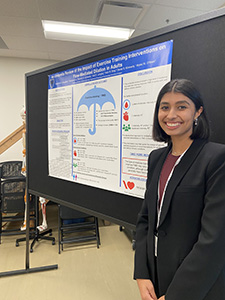 "Emotional maturity and emotional intelligence are coming as I age, and I'm able to have more perspective on things, like, it's not the end of the world if everything doesn't go the way I plan," said Shivgulam. "Redefining what failure is to myself is also important. And I think everyone should have a conversation with themselves about what is success?"
Last fall, as a master's student, Shivgulam attended the Canadian Society for Exercise Physiology (CSEP) Conference in Fredericton, New Brunswick. There, she had a revelation during a symposium on imposter syndrome and the relationship of similarities between high-performance sport and academia.
"Academia is filled with rejection and no's, like wanting to get published and applying for grants," said Shivgulam. "Things don't work out and you have to do it again — it's frustrating. And through sport, you really learn how to deal with failure and how to be resilient, and that helped me in academia."
For Shivgulam, both sides of her hyphenate also embrace collaborative success.
"The experience is really defined by the people you're surrounded with. In sport, when you have wonderful teammates and wonderful coaches, it's easy to have a good time and succeed and enjoy what you're doing. And that's the same thing in academia. I feel really lucky now that I'm in a wonderful lab."
A different kind of reward

Shivgulam's lab, the Autonomic Cardiovascular Control and Exercise Lab (ACCE), is a part of the Kinesiology Department at Dal. It's run by Dr. Derek Kimmerly, who was Shivgulam's undergraduate and now masters' thesis supervisor.
Shivgulam's undergraduate thesis was published in the science journal, Vascular Medicine, and looked at sedentary behavior patterns, or the time spent sitting or lying down while awake, and how that time affects the vascular health in our legs.
A PhD student in the lab at the time, Dr. Myles O'Brien, encouraged Shivgulam to shoot for a masters by explaining how wonderful and rewarding research can be. Bolstered by support and self-drive, she applied.
Now, Shivgulam is halfway through a 12-month feasibility study to see whether it's possible to reduce people's time spent sedentary by using educational and motivational prompts and other intervention strategies.
If it works, Shivgulam hopes to see a relationship between decreasing sedentary time and potentially improved peripheral vascular health, especially in the lower legs.
Shivgulam will complete her master's degree this summer, after analyzing nine months of her study's data. She hopes this work will be published, crediting the lab's collaborative nature with empowering her to succeed.
"When one of your teammates goes the best time, that's also a win for you and a win for the team. And then the same thing academically, when one of your peers or friends or lab-mates gets an article published, that's a win for everyone because it's a reflection of the lab and a reflection of the environment and your work."
Recommended reading: Carson named U SPORTS Top 8 Academic All‑Canadian for 2021-2022 season
Doors open

As a woman in STEM, Shivgulam says she would enjoy giving other people the same positive learning experience she's had.
"I think that goes hand in hand with my role now, as well as when I was a captain on the swim team," said Shivgulam.
After the summer, the five-time Academic All-Canadian plans to pursue a PhD in the Geriatric Medicine Research Lab at Dalhousie. This lab, based in the Halifax Infirmary, will focus on older adults and examine frailty.
"I'm at this point in my academic career where all of my doors are open," said Shivgulam. "But right now I think I really like research."
As for working with varsity athletes in a researcher capacity, "Never say never," said Shivgulam, "but I don't think I would want to mix work and play."
Ever the hyphenate, albeit in transitioning forms, Shivgulam will travel with the Tigers' swim teams to Newfoundland in mid-February for the AUS Championships. As of now, nine swimmers have already qualified for USPORTS.
"But we can still have qualifiers at AUS," says Shivgulam. "There's still time."