For Aparna Mohan, Tuesday is grocery day. Not because it is more convenient for her, but because she can use the student discount to stretch her limited budget much further.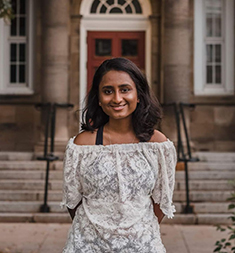 "It reached a point when I felt that if I did not get that discount, I would get fewer groceries for the week or make significant changes in what I am getting," says Mohan, president of the Dalhousie Student Union (DSU). "I have heard the same from many Dalhousie students. Between higher rents and increased inflation, they are coming out of the grocery store with less food than ever before."
Less food means more hunger, and more students looking to the Dalhousie Student Union (DSU) Food Bank for help. Mohan says the food bank, which operates twice a week, has struggled to keep pace with that increase, and to meet growing nutritional demands from both the community and students from other universities. 
The Food Security Project — a Giving Tuesday initiative led by Dalhousie and postsecondary institutions across Nova Scotia in partnership with the J & W Murphy Foundation — plays a vital role both in the DSU's efforts to keep the food bank open and in the operations of the Agricultural Campus's Food Pantry.
"We had been planning to cut back on the food bank's operations just to keep it going," Mohan says. "I was relieved to hear that Giving Tuesday is continuing this year because it is essential to the food bank's existence."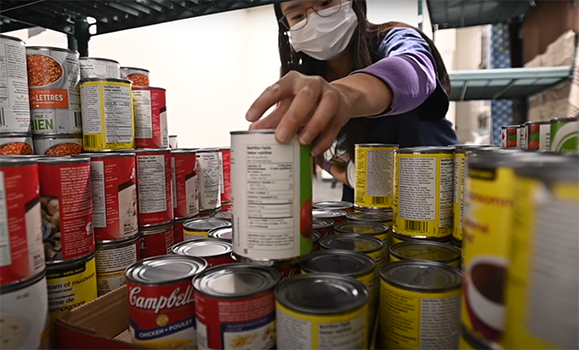 A volunteer restocks shelves at the DSU Food Bank. (Danny Abriel photo)
Meeting the need

An international grassroots movement that encourages and amplifies small acts of kindness and giving, Giving Tuesday happens every year right after American Thanksgiving, Black Friday and Cyber Monday. The Food Security Project has benefitted greatly from that movement and from the generosity of Dalhousie alumni. 
Launched in 2020 by Dalhousie in partnership with the J & W Murphy Foundation, the project is in its third year. Through this undertaking, the foundation matches all donations from individuals up to $20,000 at Dalhousie and at other Nova Scotia postsecondary institutions that have joined the effort to address student food security. In 2021, the project raised more than $200,000 provincewide. At Dal, the community came together to raise more than $80,000 for student-led food security programs, substantially exceeding the original fundraising goal of $50,000.
The foundation's support of the project means that Giving Tuesday will once again help address the urgent issue of food security among students on November 29. The goal is to raise $60,000 at Dalhousie — funds that will ensure all its students have access to the nourishing food they need when they need it, including culturally appropriate options. 
"When we first set out to address student food security on Giving Tuesday 2020, we couldn't have known the extent to which the situation would persist all these months later," says Lisa Murphy, who co-directs the J & W Murphy Foundation with her sister, Karen Spaulding.
"Collectively, we've made a real difference, but the need is still growing. We are delighted to join with our postsecondary partners once again to meet that need, ensuring that all postsecondary students have access to nourishing meals that enable them to succeed in their studies and beyond."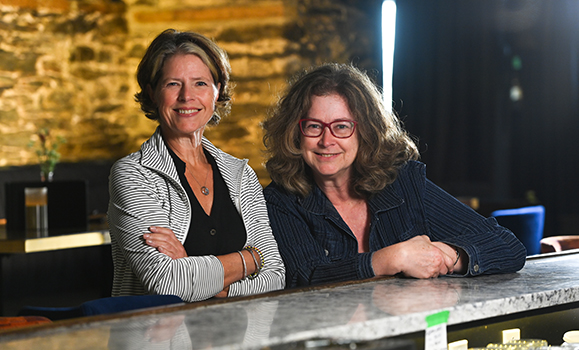 The Murphys. (Danny Abriel photo)
Businesses step up for students

Local businesses — many connected to the food industry — are also stepping up to support the Project and address food security among postsecondary students. They include Aramark, Coburg Social, RCR Hospitality Group, Oceanstone Seaside, Budapest Bisztro, Salty's, Split Crow, and Le Bistro by Liz.
"As an industry hit hard by the pandemic, we can appreciate the challenges that students are facing as they continue to navigate some of its more lasting effects, like food inflation," says Robert Risley, chairman with RCR Hospitality Group. 
"If there's anything we've learned over the last few years, it's that a little help goes a long way in hard times. That's why we didn't hesitate to support the Food Security Project."
Hard times, hard choices

The need that the foundation, the 10 partner institutions, and a growing list of local businesses are taking on is acute and growing. Even before the COVID-19 pandemic, an estimated 40 per cent of postsecondary students reported that they were experiencing food insecurity — approximately triple the then-national average of 10 to 14 per cent. 
The situation has been further exacerbated by inflation, which peaked at a 41-year high for food this year. In Nova Scotia, food prices have increased by almost 15 per cent in the last two years.
But it is sky high rents that are increasingly contributing to food insecurity among postsecondary students in Nova Scotia. A rentals.ca survey found that the average rent in Halifax in September 2022 based on all property types was $2,453 — a 33.5 per cent increase from the previous year. The average rent for a one-bedroom apartment was $1,711 — an 8.7 per cent increase from 2021. For a two-bedroom apartment, the average rent was $2,169 — a 6.3 year-over-year increase. 
"Students are often on a limited budget," says Rick Ezekiel, Dalhousie's vice-provost of student affairs. "Their income is not necessarily increasing in a way that is proportionate to the current cost of groceries or the cost of living in general. That puts them in a position where they must make hard choices about necessities such as food. Thus, more students are relying on food banks and other services to access nutritious food."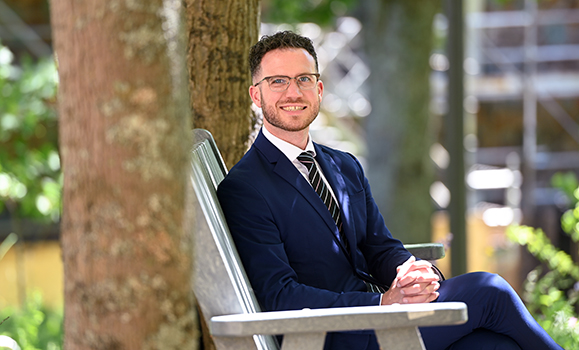 Rick Ezekiel. (Danny Abriel photo)
Tangible, meaningful change

Funds raised through Giving Tuesday enable Dalhousie student-led initiatives to address food insecurity in a holistic manner, such as providing access to free food, subsidizing the cost of locally grown produce, and delivering education about the importance of healthy eating. 
"If we want students to engage with their learning, be connected on campus, and pursue their dreams of making a difference, whether that is in our community or abroad, they need a foundation where they are not going hungry and wondering where they are going to get their next meal," says Ezekiel. "Giving Tuesday goes a long way to making that possible." 
Adds Mohan, "This is an opportunity to be the change you want to see in the world and pay it forward to a new generation. It is hard to think of other ways in which you could so tangibly, and so meaningfully, contribute to student quality of life.  It is satisfying to know the food bank will be open next semester, contributing to the wellness of the whole community, and to see the Dalhousie community stepping up to make that possible through Giving Tuesday."
Learn more about the Food Security Project and show students you care this Giving Tuesday on projectDAL.