Imagine it: Thirty-six days at sea without touching or seeing land.   
Far from fanciful, that was reality for a pair of students from Dalhousie and Memorial University of Newfoundland (MUN) this past summer. And it was just one stretch of a much bigger journey.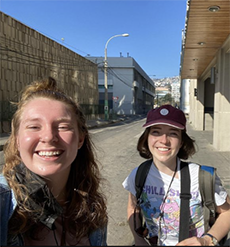 Molly Wells, a fourth-year marine biology student at Dal, and Alannah DeJong, a third-year archaeology student from MUN, spent about 10 weeks on the open seas aboard Norwegian tall ship Statsraad Lehmkuhl as part of a summer course at sea funded by the Dal-led Ocean Frontier Institute. 
Image: Alannah, left, and Molly before boarding the boat.
The sailing vessel took off from Valparaíso, Chile on May 1, 2022, and ended with a final anchor in Palau on August 25, 2022. 
This was the ship's first sail across the Southern Pacific as part of the One Ocean Expedition. The legs of the trip included stops in Tahiti, and Fiji for three weeks.
Steering the ship

For Molly, the journey started when she encountered a pamphlet circling around Dal in 2021. It was then that she learned about the once-in-a-lifetime opportunity to study at sea in a course offered by Norway's University of Bergen.
Part of the ship's crew, Molly and Alannah would gain some serious seafaring chops on the journey where everyone on board took turns sailing the tall ship. 
"I didn't know anything about sailing, and one of my first nights on board — it's pitch black, it's late at night — and they're like, 'Okay, Alannah, it's your turn to steer the ship.' This giant, three-masted [ship], the treasure of Norway, and I am steering it!"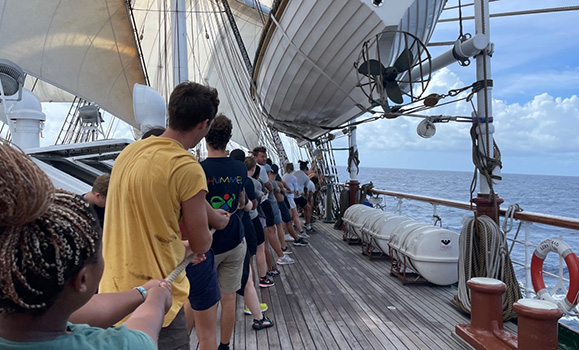 Throughout the course, they focused on the United Nation's 2030 Sustainable Development Goals which enhanced their understanding of sustainable climate action, especially regarding the world's ocean.  
"We need to reimagine our relationship with the environment to one based on respect and reciprocity, just giving back more than we take," says Molly.
There were 90 students on board the ship from 12 countries and 35 fields of study, ensuring a rich interdisciplinary environment for learning, supporting the idea that it will take all people from all sorts of specialties to solve the problems of the climate crisis.
 "I was really excited about the course because with everyone talking about it from all their different backgrounds," says Molly. "I think that's where real progress happens."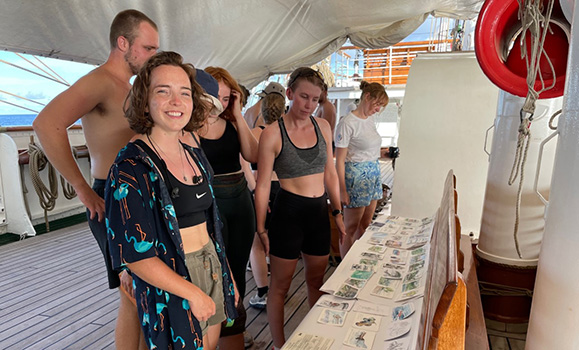 Recommended reading: Transforming climate action — Dalhousie pushes to position ocean at centre of global climate conversation
The human toll of rising sea levels

For both Molly and Alannah, the trip's greatest learning experience was a three-week stay near Suva, Fiji. 
"It was really about the people," Alannah says. "They made us this incredible food, and we had a party every night — they would play music and drink kava, and smoke, and we just hung out. We would play on the beach with the kids, and we stayed in their homes — they took us out to a reef to go snorkeling and see dolphins. That was a really memorable experience." 
In Fiji, they learned valuable lessons about the problem of rising sea levels. 
"Often from a Western perspective, home is family-based, or it can be very fluid," says Molly. "But in Fiji — and a lot of Pacific Island countries — home, and the idea of it, is completely linked with the land. They call the concept 'Vanua.'"
As sea levels rise, the people on Fiji's coastlines are being told they need to move away from the land they've lived on for generations. 
"What this means is that when you're asking people to go and live — even if it's five to ten kilometers inland from their original home, and they're still on their ancestral lands — you're completely asking them to change their way of life," says Molly.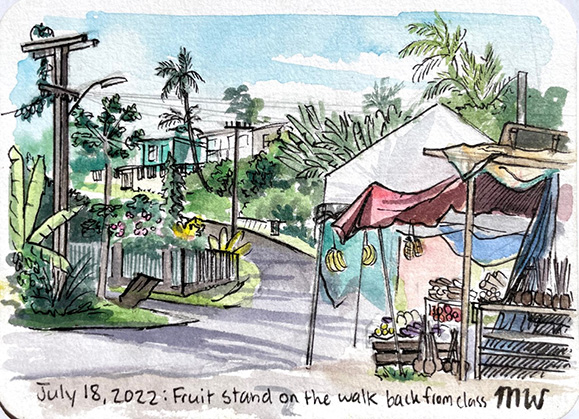 Alannah is currently in the archaeology program at MUN and learning first-hand the impact of rising sea levels was something that remained with her as well. 
"Villages are requesting archaeologists to come and move their ancestors so that they will be safe," she says. "It's quite an emotional thing, to move your dead. But this is something that is happening as people are needing to move from the place that their ancestors lived — to be safe from storms and to be safe from sea level rise."
Both students left with a vivid sense of the threat rising sea levels pose to the people living on these Pacific Islands. 
"It is urgent," says Alannah. "It's something that is happening now."  
Sharing their experience

Alannah and Molly shared snippets of their experiences aboard the ship — when Internet connectivity allowed — on Instagram with the @chiletopalau account they created for the trip.
It showcases Molly's art from the trip, along with some photos. 
Upon returning to land and more conventional studies, they co-hosted a podcast documenting their ocean expedition. Tall Ship Tea is available now through Spotify and buzzsprout.com.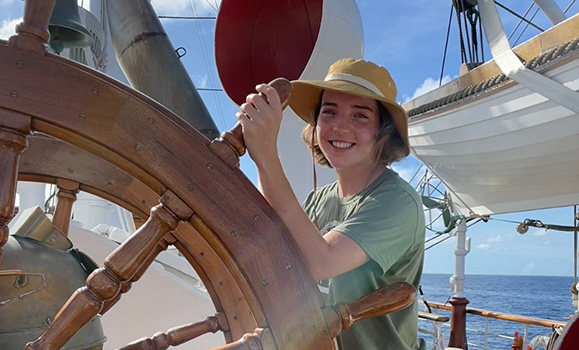 Molly takes the wheel.
Recommended reading: Ocean Frontier Institute calls for ocean‑climate action at COP27 in Egypt