The Department of Classics is celebrating a nike or a victoria. To those not well versed in Greek or Latin, that means a victory! 
The department recently found out that three of its recent grads (one now a Dal grad student) swept advanced-level competition at last year's national sight translation competition hosted by the Classical Association of Canada (CAC), scooping up awards in both Greek and Latin.
Malcolm Sepulchre took first place in the Senior Latin competition and Joanna Daley took first place in the Senior Greek competition. Angus Wilson received an honorable mention in both the Senior Latin and Senior Greek competitions.
The annual competition is open to undergraduate students at Canadian institutions who have had two or more years of study in Greek or Latin. The competition itself feels much like writing an exam, with each candidate given 90 minutes at their own university to complete the translation into either French or English. No dictionaries allowed, of course.
"The contest is extremely competitive, and usually all the best undergraduate ancient language students in the country try their hand at translating the unseen Greek and Latin passages selected that year," says Dr. Eli Diamond, chair of the Department of Classics. "Although we are the biggest Classics program east of Montreal, we are still tiny compared to other much bigger and better-resourced programs across Canada. This makes their achievement all the more remarkable."
The path to victory

The three students began their undergraduate studies in the Foundation Year Program at the University of King's College and then went on to complete majors in Classics at Dalhousie.
"These competition results are also a testimony to the remarkable collaboration between the Foundation Year Program and Dalhousie Classics in attracting and educating some of the best Humanities students in the country," adds Dr. Diamond.
All three students graduated last spring with first-class honours. Joanna wrote her honours thesis on Augustine with supervisor, Dr. Michael Fournier; Malcolm wrote his on Plato with Dr. Diamond, and Angus wrote his on Virgil with Dr. Peter O'Brien.
While Malcolm and Joanna are taking some time off from studies this year, Angus, who received the University Medal in Classics at Spring Convocation, is continuing his studies in Classics at Dal and began his MA studies this fall funded by the Social Sciences and Humanities Research Council.
Angus was initially encouraged to pursue Latin after reading the Latin epic poem, The Aeneid, by Virgil, during his first year at King's, a text which he says continues to interest him very much. He then took introductory Latin in an intensive summer course and began studying Ancient Greek the next year.
"I've been very fortunate in my teachers, all of whom have explained the difficult ideas necessary to learning a language as approachably as possible," says Angus. "A firm foundation is really important for language learning, and I'm very glad to have received just that. Latin and Greek sparked a real interest in languages for me."
Recommended reading: Dal Classics professor retells Star Wars saga as epic poem
A love of languages
 
Angus has since studied Old English, Norse, and early Celtic languages. He has also brushed up on his Spanish after traveling to Spain last summer.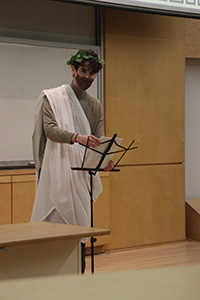 During his undergrad, Angus was a member of the Classics student society, Res Publica, serving as vice-president for a year and president for two years. He also participated in the Pythian Games each year, as both an organizer and performer, usually performing poetry in Latin or Old English.
"The CAC competition was a flattering recognition to receive after several years of enthusiasm for this subject matter, and it's especially validating to be recognized in both languages," he says.
Angus says that as an MA student in Classics, he's continuing to pursue a language-heavy focus and is continuing his work on the Roman poet Virgil and The Aeneid.
"I specialize in Latin poetry and add a splash of Greek philosophy for good measure. Being able to work with both of these in the original is a highlight for me. In order to pursue this sort of work further, I'm applying to PhD programs for entry next year."
Recommended reading: Creating a community through Classics