The ocean holds 50 times more carbon than the atmosphere. It absorbs more carbon emissions than all the globe's rainforests combined. Yet major changes that may impact the ocean's role as the world's most important carbon storage depot are not accounted for in Canada's goal to achieve net-zero carbon emissions by 2050. In fact, these changes are not seriously considered in any global carbon targets.
It is an omission Anya Waite, Dalhousie's associate vice-president research (ocean), says we can no longer afford to make. To address the issue and its broader implications, Dr. Waite (pictured left) and a team of researchers initiated Dalhousie's application to the Canada First Research Excellence Fund, a program that empowers universities to transform key research strengths into world-leading capabilities.
"The ocean is doing almost all of the work to keep the world cool," say Dr. Waite, who is also the scientific director and CEO of the Ocean Frontier Institute. "It has already absorbed 90 per cent of the heat humans have produced and 40 per cent of fossil fuel emissions as carbon."
While policymakers acknowledge a possible gradual decline in the ocean's ability to sequester carbon, Dr. Waite says their targets don't come to grips with the impacts of significant environmental shifts.    
"The collapse of the Antarctic ice sheet at the same time as a slowing of the Gulf Stream or a massive Arctic melt; if these happen in concert, suddenly we have events that could completely change ocean carbon absorption," she says.
Just skimming the surface

Dr. Waite asserts that without comprehensive data reporting on the dynamics and composition of the ocean, policymakers will continue to draft targets that only skim the surface. They may also overlook opportunities to harness the ocean's power to help mitigate climate change or build equitable adaptation policies that protect people from what might be a more rapidly accelerating problem than we thought.  
In an interview with Dalhousie's President Deep Saini for his Deep Dive series, Dr. Waite discussed the issue, and described the stakes and how Dalhousie and its partners at Université du Québec à Rimouski, Université Laval, and Memorial University of Newfoundland plan to tackle the challenge if they receive support from the Canada First Research Excellence Fund.
A whole-university approach

If funded, the project will span a wide range of disciplines. It will include oceanographers, chemists, physicists, and atmospheric scientists focused on the ocean and its interaction with the air and land. It will include computer scientists and engineers who will leverage machine learning and artificial intelligence to create the computational models, processes, and data sets necessary to inform decision-makers. It will also include social scientists, legal experts, and Indigenous scholars with the skills to ensure scientific discoveries are transformed into policies that protect lives and preserve cultures.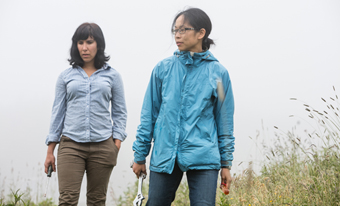 "We need to understand how energy, gases, and particles are exchanged between the atmosphere and the ocean. It's not a simple process and it can go in both directions," says Rachel Chang, Dal's Canada Research Chair in Atmospheric Science (pictured right in blue). "There are layers on top of the ocean that prevent gases from absorbing, there are waves, there are storms, there is sea spray, they can all have an impact. And the ultimate question is, how do they affect climate?"

It's queries like this that need to be resolved to provide a better picture of how to bring the ocean into the climate target equation. But calculations don't stop there. Kiran Banerjee, Dal's Canada Research Chair in Forced Migration and Refugee Policy is focused on how climate is playing an accelerating role in the displacement of people. If the ocean's carbon absorption processes change dramatically, his work will be more urgently needed than ever.
"Record levels of forced global displacement are pushing the issue onto the international agenda. And yet, we've made no progress dealing with the climate-induced migration that promises to displace people at a scale of magnitude that far exceeds anything we have seen before," says Dr. Banerjee. "Future challenges require a better understanding of what climate changes are coming so the global community can respond."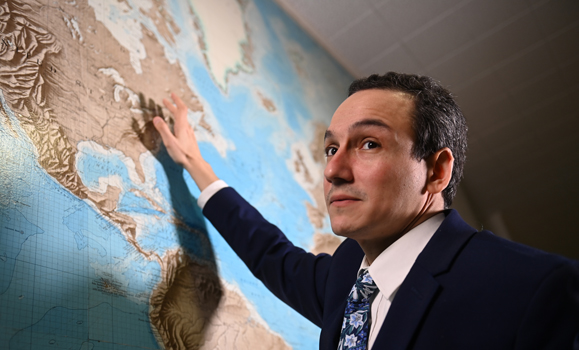 Kiran Banerjee.
Building a swell of support

"With this project, Dalhousie would take a leading role nationally and internationally in contributing to the science and policymaking required to contend with climate change," says Alice Aiken, Dalhousie's vice-president, research and innovation. "Our long term and steady investment in building expertise in ocean and climate research across the natural, applied and social sciences and our partnerships with similarly-focused universities makes us the natural choice for this research mission."
At the beginning of April, a letter of intent was submitted to inform the Canada First Research Excellence Fund selection committee that Dalhousie and its partners would like to participate in the application process. A decision on whether Dalhousie may go forward with its application will be made in June and a final decision on the funding application itself will be made in January 2023.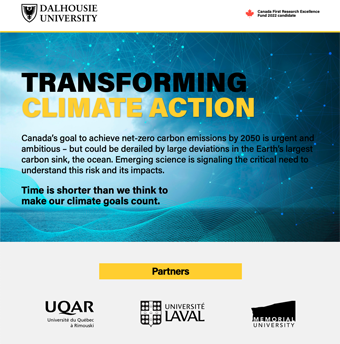 To fortify Dalhousie's application, the Transforming Climate Action website was launched to build awareness and engagement with key stakeholders. Throughout the review process, profiles of the researchers contributing to the project from across the four universities will be shared.
The project has already received substantial international interest and support from organizations such as NASA and GEOMAR Helmholtz Centre for Ocean Research Kiel in Germany, as well as key scholars in the United Kingdom and from industry which will play an important role in mitigation strategies.
"There has been a surge of support internationally for this proposal," says Dr. Waite. "We have a number of colleagues around the world crossing their fingers that we're successful."