The Faculty of Dentistry's Strategic Plan for 2021-2026, released this fall, provides a comprehensive guide for the next five years — one informed by extensive consultations with internal and external stakeholders over the past year and a half.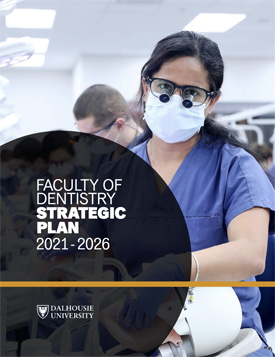 As Faculty of Dentistry Dean Dean Ben Davis says in his introductory message of to the plan, the objective of this process was to create a comprehensive plan that would "guide, motivate, and inspire our diverse community of students, faculty, staff, alumni, and external partners."
In addition to its mission and vision, the plan also includes a new section called "What We Value." Covering eight key points, including accountability, respectful leadership, communication, inclusion and diversity, and advancing health through community involvement, these are the core values that underpin every aspect of the strategic plan as a whole.
"I'm proud of this section of our plan," says Dr. Davis. "It speaks to the way we aspire to treat our patients, students, and colleagues each day. These values are central to who we are and what we do as a Faculty."
Faculty of Dentistry Strategic Plan 2021-2026 [PDF]
How it fits with Dal's overall strategic plan

The Faculty's strategic plan was developed at the same time as Dalhousie University's strategic plan, Third Century Promise, was also taking shape.
Not surprisingly, the central core of both plans is a focus on providing an exceptional academic experience for students and excellence and innovation in teaching and research. They also share a commitment to equity, diversity, inclusion, and accessibility.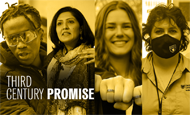 "Diversity and inclusion comprise one of the over-arching themes of our plan," says Dr. Davis. "It is part of everything we do, from recruiting new students, faculty, and staff, to the way we treat our patients and teach our students, the types of research we carry out, and the leadership decisions we make."
Both Third Century Promise and the Faculty of Dentistry strategic plan also emphasize the role of the university in the community — the civic university. For Dalhousie as a whole, that means being "a leading instrument of strengthening our province and our region . . . to deploying our research, scholarship, and innovation capabilities to help improve the human condition from local to global levels".
Like Third Century Promise, the Faculty of Dentistry's plan sets out its ongoing responsibility to support its communities, both local and global. Through outreach clinics, it uses its skills and knowledge to make oral health care available to priority populations and underserved communities, explains Dr. Davis.
"Our Faculty has over ten outreach initiatives, including clinics that provide oral health-care to new immigrants to Nova Scotia and the populations served by the North End Community Health Centre and elementary schools in North Preston and East Dartmouth," says Dr. Davis.  "By giving our students extensive outreach experience, our hope is that they will seek out ways to serve their communities during their professional lives."
The positive impact of COVID-19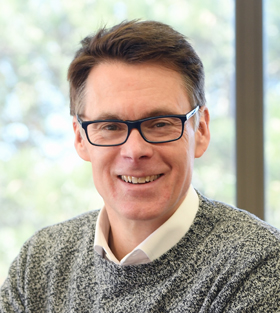 The arrival of COVID-19 in March 2020 slowed down the consultation process for the strategic plan. By October, however, the Faculty had adapted to online teaching and was ready to consult with its stakeholders virtually.
Dr. Davis, shown right, believes the consultation process benefited from the unique perspectives that responding to and living with COVID-19 has made possible, including the importance of research, interprofessional learning, and prioritizing health and wellness for students, staff, and faculty.
"Our aim throughout the strategic planning process was to arrive at a plan that will guide, motivate, and inspire everyone in our Faculty community and our external partners for the next five years," says Dr. Davis. "It addresses learning, patient care, serving our communities, research, and the health and engagement of everyone who learns and works here."