Twice a week, the Dalhousie Student Union (DSU) Food Bank opens its doors in the lower level of the Student Union Building to serve university students who are struggling to access and afford groceries. More than 300 students visit the food bank during its operating hours, which means there are a lot of boxes to prepare and many different needs to meet, from Halal meat to vegan options. And when the last box is handed out at the end of one day, it is time to start planning for the next one.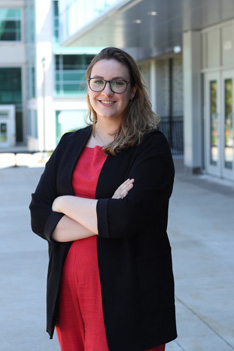 "On one hand, it is incredible that we are running a full-service food bank," says Madeleine Stinson (shown left), president of the DSU. "At the same time, we shouldn't have to be. We need more structural, sustainable resources in place so students can readily access more affordable and good food."

But Stinson knows that, if not for the food bank, these students may struggle to stay healthy, focused and active. And she says the Food Security Project — a Giving Tuesday initiative led by Dalhousie alongside universities from across Nova Scotia — plays a significant role in the DSU's efforts to meet that need.
An opportunity to give

Giving Tuesday happens every year right after American Thanksgiving, Black Friday and Cyber Monday. It is an international grassroots movement that encourages and amplifies small acts of kindness and giving.

The Food Security Project was a major success on Giving Tuesday 2020: Dalhousie partnered with the J & W Murphy Foundation, which agreed to match all donations up to $20,000, and went further by offering similar matches to other Nova Scotian universities who joined Dalhousie in efforts to support students. Altogether $165,000 was raised province-wide. At Dal alone, the community came together to raise $71,000 for student-led food security programs, substantially exceeding the original fundraising goal of $40,000.

The Food Security Project campaign is returning again for this year's Giving Tuesday (November 30), with the continued support of the foundation. The goal is to raise $50,000 at Dalhousie — funds which will go a long way to ensuring all Dal students can access the nourishing food they need when they need it.

"We couldn't be more enthusiastic about joining our university partners again this year to help ensure that postsecondary students have access to regular, nourishing meals, which are a basic right," says Lisa Murphy, who co-directs the J & W Murphy Foundation alongside her sister Karen Spaulding.

Last year, nine N.S. universities partnered in the project and this year it's grown to also now include NSCC and Université Sainte-Anne.  "We are thrilled to have Nova Scotia Community College and Université Sainte-Anne on board this year. The impact of this initiative will be felt on campuses across the province."
A growing need

The degree to which students rely on the DSU Food Bank is likely to increase over the coming months. The COVID-19 pandemic has created supply chain issues that are impacting food availability and costs. Inflation rates are at an 18-year high. And the cost of groceries has increased by as much as 10 per cent in the past six months, according to Statistics Canada data cited in a Dal Agri-Food Analytics Lab report.

All these developments have significant impacts on food security—the availability of food and the ability to access it. Students who have reliable access to affordable, nutritious food are typically healthier mentally and physically, and that enables them to succeed academically. But research conducted on campuses across the country shows that 39 per cent of postsecondary students are experiencing food insecurity.

"Students joke about getting by on coffee and energy drinks, but that's not always a joke," says Stinson. "That is their diet, so everything they eat has that nutritional value or less. When you think about the cascading health and other effects of that lifestyle, you realize how much could change if students had access to a more well-rounded diet."
Making a difference

Giving Tuesday efforts have a tangible benefit to students who use the Food Bank. For example, funds raised help cover the salary of a food bank manger, groceries, and general expenses. In that way, Giving Tuesday has a tangible benefit. But Wyatt Noel, offfice manager of the Dalhousie Student Union Sustainability Office (DSUSO), says the importance of Giving Tuesday goes beyond that.

"Investments like these have tangible benefits for students, such as improved health and wellness," he says. "All of these benefits will have a multiplier effect that will be good for students and our communities."

Stinson agrees, adding, "people who support Giving Tuesday not only help students succeed but also Dalhousie, because today's students could be tomorrow's professors, board members or president. Or they could go out and change the world in other ways. You are not just investing in students; you're  investing in the community."