Women and children are being left out in the cold when it comes to housing from domestic violence, according to new research out of Dalhousie University.

In an article published today in The Lancet Public Health, lead author Alexa Yakubovich reports there is a massive and growing need for safe and supportive housing for women escaping intimate partner violence that is largely or entirely unmet in most countries, including Canada.

The Lancet Public Health released the article today to coincide with International Day for the Elimination of Violence Against Women on November 25.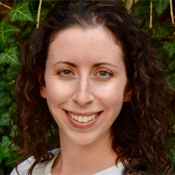 Dr. Yakubovich (shown left), an assistant professor in the Faculty of Medicine's Department of Community Health & Epidemiology, conducted a systematic review of the international literature to see what policies and programs have been evaluated around the world that provide housing to women who have fled their homes to protect themselves, and often their children, from violent intimate partners.

The most startling finding, says Dr. Yakubovich, is that of the 24,000 records they scoured, she and her team found only 34 studies.
"There is a huge lack of resources going into studying this problem and evaluating potential solutions, nothing even close to the scale of the problem," she says. "We also found a huge gap in evaluations of longer-term housing solutions for women experiencing violence. Most of what's available is short-term emergency shelter, which is typically mandated for only a month of safe housing."
Pandemic exacerbates issue

Dr. Yakubovich and her colleagues found little evidence of any negative impacts of housing solutions on women. In terms of the positive impacts, they found that mental health outcomes improve substantially when there are housing solutions available.
"Women feel safer and experience less stress, their anxiety and depression are relieved, and they are more likely to feel supported in leaving their violent partner when they have viable housing options," she says. "This has become even more important since the advent of the pandemic and the resulting increase in violence against women."

Studies show an overwhelming increase in violence against women related to the pressures of the pandemic, reflected in a dramatic uptick in reports to police, calls to domestic abuse hotlines, demand for women's shelters and visits to hospital.
This rise in violence against women and girls has been classified by the United Nations as a "Shadow Pandemic."

"Service providers report not just an increase in the number of clients since the pandemic began, but also in the severity of the violence," says Dr. Yakubovich, noting that there has also been an increase in the use of weapons to inflict violence against women.
"Women are at high risk of extremely poor outcomes, including serious injury, chronic pain and even death if they stay in their homes, but they may have few viable options for housing should they decide to go."
Read also: Ask an expert: Social Work's Nancy Ross explains the surge in domestic violence during the pandemic
The first step

The systematic review is the first part of a multi-part project, "Bridging the Evidence-Practice Gap in the Housing Response to Violence Against Women," for which Dr. Yakubovich has received two years of funding from the Social Sciences and Humanities Research Council of Canada (SSHRC).

The next stage is to explore how women report experiencing different housing interventions and how service providers feel delivering them. In the final stage of the project, Dr. Yakubovich and her team will assess the acceptability and feasibility of a range of potential policy solutions in the Canadian context.

"It's really clear there is an urgent need for a gender focus in housing policy from coast to coast in Canada," says Dr. Yakubovich. "Intimate partner violence is the number one cause of women's homelessness, yet we are still waiting for a national strategy to address gender-based violence, let alone coordinated action for the homelessness that results."
Progress being made

The United States, United Kingdom and Australia have more developed housing policies and coordination across sectors to address women's need for shelter from violence, she says, while in Canada a lack of focus on this issue and a lack of coordination across housing, health care and women's advocacy sectors hamper progress and keep women in danger.

"Most homeless shelters in Canada are oriented towards men and can be scary, even dangerous places for women and their children," notes Dr. Yakubovich. "And we lack policies to support 'stay at home' models where the violent partner is removed and the victim is given tenancy and protection."